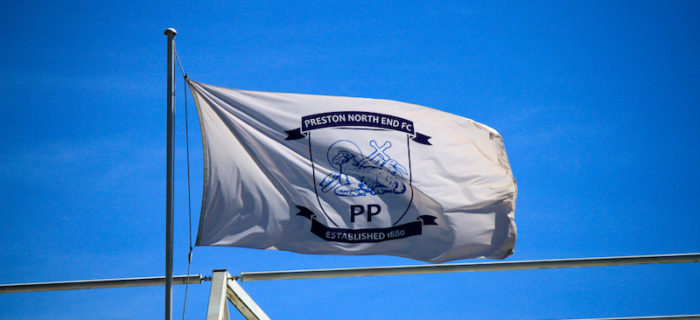 Deepdale Stadium is one of the most famous old stadiums in English football, although naturally it has been updated over the years.
The home of Preston North End has been in continuous use since 1878 for football and sits just a mile from the centre of the town.
Deepdale Stadium History
1875
While still effectively farmland, Deepdale was leased in 1875 by the North End Sports Club to be used for rugby and cricket. It held its first football match sometime later in 1878.
1800s
With the game blowing up in the late 1800s, it became clear something akin to terracing was needed to accommodate more spectators at football matches. Preston built the West Paddock in the 1890s.
1921
Expansion was needed in 1921 by which time crowds had begun to exceed 10,000. The Spion Kop was built and other areas being extended.
1928
In 1928, the Town End was built and the pitch relayed although the new stand was quickly destroyed by fire in 1933 and had to be replaced. The Pavilion Stand was opened in 1934 and by 1938 the club was drawing crowds in excess of 40,000.
1960
More extensions and renovations including the addition of roofs on stands were commissioned between 1960 and 1990, and in the mid-'80s Preston was the centre of attention in the game because of the use of their controversial plastic pitch.
1986
The pitch was laid in 1986 and was similar to those used by Luton Town, Oldham Athletic and QPR, however, it ultimately proved to be very unpopular and was replaced in 1994.
1995
More renovation was needed in the mid-'90s with the updates beginning on Deepdale in 1995. The old West Stand was razed and replaced by the Sir Tom Finney Stand, the structure costing over £4million and featuring the club's press rooms and hospitality areas.
1998
In 1998 the Bill Shankly Kop was next in line to get its makeover, with the Alan Kelly Town End following on in 2001 which replaced the Town End Terrace, something that had proven over the years to be incredibly popular with home game regulars.
2008
As modernisation continued slowly but surely, a 25-metre screen was placed on top of the Bill Shankly Kop in 2008 showing replays etc and in one sense moving Preston North End ahead of some Premier League set-ups.
2009
The last major update was in 2009 when the Invincibles Pavilion finally replaced the old Pavilion Stand. The new structure houses Preston's executive boxes and a pitch-view restaurant and various control rooms. As well as this, an NHS health centre has also been incorporated into this stand for the local community.
In recent years Deepdale has kept its modern looks despite no major further updates, something owed to its design which is based on Genoa's Luigi Ferraris Stadium and continues to generate an excellent atmosphere, something that one day may just push Preston over the line in terms of gaining promotion to the Premier League.
Stats
Deepdale has a proper footballing history, but these days it is, of course, a lesser-stated place. The following numbers and facts are what make it what it is:
Capacity: 23,404
Record Attendance: 42,684 for Preston versus Arsenal on April 23, 1938, in a First Division match
Pitch: 101m x 69m, made up of a pure grass surface
Stands: The Invincibles Pavilion and Sir Tom Finney Stand line the pitch and are the bigger stands. Behind each goal stands the Bill Shankly Kop and the Alan Kelly Town End.
What Else Is There to Know About Deepdale?
While largely being a second or even third-tier ground for the majority of its time in the modern era, Deepdale has in fact been used for certain international games.
Back in 2005, Deepdale hosted three group games and a semi-final of the UEFA Women's Championship while in 2011 it was used by England's under-21 team for their clash with Iceland.
The ground was also the venue of England under-19's Elite Qualifying Round games against moth Switzerland and Slovenia in 2012.
As well as this, Deepdale is famous for its statue of the great Sir Tom Finney. Outside the stand named in his honour, the statue sculpted by Sardajee Om Puri, a Preston native, was unveiled in July 2004. The status is based on a game played between Preston and Chelsea back in 1956.
Place Your Bets at Deepdale Stadium with Roger.com
You can wager on Preston North End's home games any times via our recommended online bookmakers. Get on now via Roger.com to bet safely and securely.