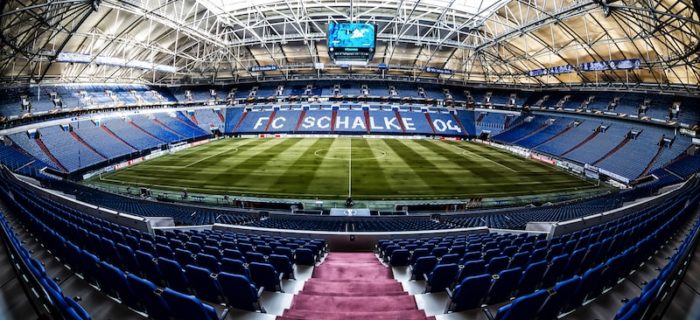 The Veltins-Arena is the home venue for top-level German football side FC Schalke 04 in Gelsenkirchen. Under a naming rights agreement, the title was changed to its current moniker from the Arena Auf Schalke.
A relatively new build, the stadium was needed as a new home ground for Schalke but also due to both the club and the nation's ambitions to host tournaments. It hosted the 2004 Champions League Final between Monaco and Porto, as well as several games at the 2006 World Cup.
Famous for its retractable roof, this is a very modern stadium. It sits around four miles from the centre of Gelsenkirchen.
History & Stats of Veltins-Arena
This stadium sprung to prominence among a wider audience in 2006 when it was part of the FIFA World Cup.
Stadium facts;
Built: 1998-2001
Opened: August 13, 2001
Renovated: N/A
Capacity: 62,271 for domestic football games, 54,740 for international and European matches as no safe standing is allowed
Record Attendance: 77,803 – achieved for an ice hockey game made possible by the retractable pitch
Pitch: 105 metres x 68 metres, the pitch is a slide-out meaning it can be removed entirely
Stands: The Ost Tribune (east) and the Victoria Tribune line the pitch, while the Veltins Nordkurve (north) and the Erdgas Tribune stand behind the goals. The corners are filled.
Classic Matches at the Veltins-Arena
One of the newer stadiums in Germany, the Veltins-Arena has no right to have such a huge history.
However, it has, in fact, hosted some wonderful matches already, of which these are just some:
Schalke 04 3-2 FC Nurnberg
In Schalke's first season at this terrific venue, they went all the way in the German Cup. Ultimately winning the DFB-Pokal Final 5-0 against Duisburg in Berlin. Their famous semi-final win against Bayern was set up by this end-to-end encounter at the Veltins in the quarter-final.
1-0 and 2-1 down in the tie, a second-half equaliser from subsequent Barcelona star Ivan Rakitic is what changed the game, the hosts putting their best foot forward in extra-time to land the win via a goal from Germany star Julian Draxler, scored one minute before penalties were needed.
Monaco 0-3 Porto
In 2004, Ricardo Carvalho, Deco and Jose Mourinho sprung to prominence when they surprisingly won the Champions League final.
After taking care of Manchester United with a late goal at Old Trafford, one that led to Mourinho's infamous touchline slide, Porto arrived in Germany full of confidence.
That confidence was rewarded with a dominant display at the Veltins, Carlos Alberto, Deco and Dmitri Alenichev all scoring to give their boss the perfect send-off before he took the reins at Chelsea.
England 0-0 Portugal
Five games in total were afforded to Gelsenkirchen at the FIFA 2006 World Cup. One of which was this crucial quarter-final tie.
A hugely entertaining and at times bad-tempered match ended 0-0. However, it was famous for Wayne Rooney's sending off and Ronaldo's cheeky wink which did very little to endear him to England fans!
Portugal couldn't make their one-man advantage count through extra-time. England fought incredibly hard but ultimately came out on top on penalties. The final shoot-out 3-1 in front of the maximum crowd allowed of 52,000.
Schalke 04 0-0 Borussia Dortmund
Schalke qualified for the 2011 German Super Cup as DFB-Pokal winners. They played the mighty Borussia Dortmund who had beaten Bayern Munich to the Bundesliga title. The game was played at the Veltins-Arena in front of some 61,000 with the away side favoured.
While the game was close and ended 0-0, Schalke won the penalty shoot-out to claim more silverware.
Schalke 04 4-3 Sporting Lisbon
The Veltins-Arena's home team reached the knockout stages of the 2014-15 Champions League. On the way played out a classic with Sporting of Portugal.
1-0 down through Nani, Schalke went 3-1 via goals from Edu Obasi, Klaas-Jan Huntelaar and Benedikt Howedes. It's fair to say, they appeared to be cruising.
Two goals in 14 minutes from Adrien Silva, however, had levelled the game for the Portuguese team. As the 90 minutes ticked by it seemed Schalke would have to settle for a point.
However, with 93 minutes approaching a penalty was given. Dispatched by Choup-Moting to land a famous encounter for Schalke.
Wager on Games at the Veltins-Arena with Roger.com
You can bet on all matches at the Veltins-Arena via Roger.com. Get on now to bet quickly, safely and securely with one of our highly recommended online bookmakers.