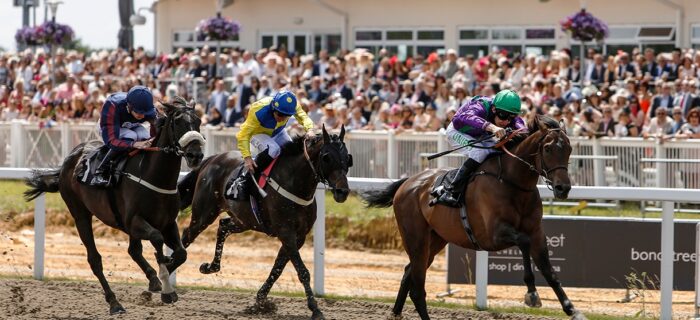 The Chelmsford City Racecourse was formerly known as the Great Leighs Racecourse and it is dedicated to thoroughbred racing. It is situated close to Chelmsford, Essex.
It only opened in 2008, making it the first racetrack to newly open in the UK since 1927. The track serves an area that did not have a lot of racing facilities. However, it was forced into administration in January of 2009 and it would not reopen up until January of 2015.
The History of the Chelmsford City Racecourse
The Chelmsford City Racecourse was supposed to open its doors in October 2006 as the Great Leighs Racecourse. However, there were numerous delays that forced the opening date to be pushed back.
It was finally on April 20, 2008, that the track had its first race meeting. There was only a particularly invited audience in attendance, with this being a dress rehearsal for larger sale meetings. It was on May 28, 2008, that the first race meeting open to the public to attend was held at the track.
It was not long after in January 2009 that the track had to go into administration and the racing authorities took away its racing license. A number of takeover deals fell through over the intervening years. A syndicate involving the founder of Betfred Fred Done bought over the track in 2013. It was then approved to hold racing from 2015 onwards as the Chelmsford City Racecourse. There were 58 race meetings fixed for the year and it officially re-opened in January 2015.
Since 2017, there have been plans for the development of a casino at the Chelmsford City Racecourse, as well as laying down a new turf course that will be located within the all-weather track that is currently in place.
The Racecourse
At the time of opening, the Chelmsford City Racecourse was the first newly created racetrack to open in the UK since Taunton did so back in 1927. It is an oval track that is left-handed and is made up of eight and a half furlongs. The home straight is two furlongs in length. There is a grandstand that can hold 10,000 people. The turns are sweeping, with galloping being encouraged as a result. The surface is always top-quality and has come in for high praise over the recent years.
Ticket Prices
The tickets for race meetings at Chelmsford City Racecourse will vary depending on the type of races that are taking place on a given day. You will normally get cheaper rates if you are booking online in advance of the meeting rather than waiting until the day of the races itself to buy tickets at the gate.
For a standard race meeting, a normal ticket for grandstand and paddock admission will cost £17. If you are booking in bulk, you can get discounts on ticket prices. There is also a student ticket for just £10. If you want to look at further packages for food and drink deals, you can do so on the Chelmsford City Racecourse website.
Tactics to Consider
Generally, the turns are easy-going at Chelmsford City Racecourse and the home straight is a long, steady one. Most horses will be suited to these bends and they can be ridden into hard. The frontrunner in a race usually does the best, with those lagging behind usually struggling to make up the lost ground, with a severe kickback being in place.
Biggest Races
As there are so many races that take place at Chelmsford City Racecourse each year, it can be a bit difficult to pick out just a few of the bigger races. In April, the Cardinal Stakes takes place over one mile. This race is for three-year-olds and is a qualifier race for the famed Kentucky Derby.
The Chelmer Fillies Stakes takes place in May over six furlongs and had its first run to much fanfare in 2019. Finally, the Queen Charlotte Fillies' Stakes takes place in June over seven furlongs and is a commemorative race for an event that was taking place in both the 18th and 19th centuries.
Place your bets with Roger.com
If you are looking to place bets on racing at Chelmsford City Racecourse, you have plenty of chances throughout the course of the year to do so. The all-weather track allows for regular racing, which is ideal for racing fans.
At Roger.com, you can quickly see what leading betting operators are best-suited to your needs. You can easily choose from the list of bookmakers and get your Chelmsford City Racecourse bets placed quickly and easily.