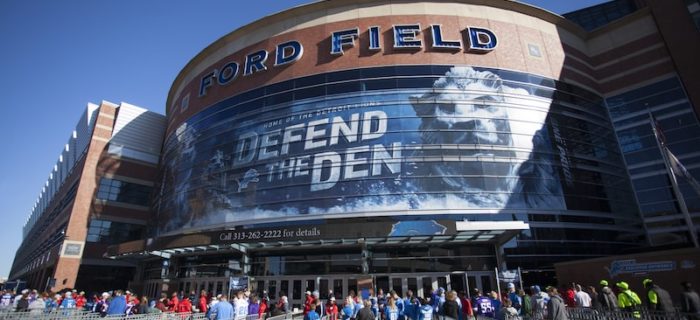 Another one of the very recognisable names on the American football scene is that of Motown's finest, the Detroit Lions.
Based at Ford Field in downtown Detroit, Michigan, the Lions play their football in the NFL as part of the NFC North division.
The Detroit Lions are famed for their Honolulu blue and silver uniforms as well as their "Gridiron Heroes" fight song, though success on the field hasn't always matched their ambition.
Many betting markets are available on Lions' games with major online bookmakers, so watch out for their appearances and take advantage of knowing a little more about the franchise.
History of the Detroit Lions
The franchise can be traced back to Portsmouth, Ohio, where the Portsmouth Spartans were founded and joined the NFL in 1930 in time for that season.
The team did well but would not be able to thrive in the competition's second-smallest city, and so the franchise was bought and moved to Detroit to become the Lions in 1934.
The team struggled throughout the 1940s but then things looked up and they made the playoffs in 1952, 1953, 1954 and 1957.
More tough times were to come, however. The team went through the whole 2001, 2002 and 2003 seasons with only one victory but more recently they have found their feet again, making the playoffs in 2011, 2014 and 2016.
Ford Field
Before settling at their current home venue, Ford Field, the Detroit Lions played in four other stadiums.
Between 1930 and 1933, when the team was the Portsmouth Spartans, the Universal Stadium was called home. The franchise moved to the University of Detroit Stadium in 1934 and after that to the Tiger Stadium, where they stayed up until 1974.
The Lions' next long-term home field was the Pontiac Silverdome, a stadium they moved into in 1975 and played at until 2001. The Silverdome had a capacity of some 82,666 which made it the biggest NFL stadium around until Washington's FedExField was expanded.
The Silverdome was iconic and featured a fibreglass fabric roof, but ultimately it needed to be replaced and eventually, it was demolished.
Work on Ford Field began in late 1999 and it was ready to open in the summer of 2002. The stadium was built at a cost of more than $700 million in today's money and sits next door to Comerica Park, a major baseball venue, right near the Detroit River, which forms a natural border between the USA and Canada.
Ford Field's current capacity is 65,000 for NFL games, though this can be expanded to 70,000 and when basketball is played it can increase to 78,000.
Notable Detroit Lions
Detroit Lions players who have been inducted into pro football's Hall of Fame included:
Lem Barney, Bobby Layne, Jack Christiansen, Dick LeBeau, Dutch Clark (also a coach), Ollie Matson, Lou Creekmur, Hugh McElhenny, Curley Culp, Barry Sanders, Bill Dudley, Charlie Sanders, Frank Gatski, Joe Schmidt (also a coach), John Henry Johnson, Dick Stanfel, Alex Karras, Doak Walker, Dick Lane, Alex Wojciechowicz and Yale Lary.
The Lions have retired the numbers of Dutch Clark (7), Lem Barney (20), Billy Slims (20), Barry Sanders (20), Bobby Layne (22), Doak Walker (37), Joe Schmidt (56) and Chuck Hughes (85) as a special tribute.
Detroit Lions' Greatest Achievements
The Detroit Lions have taken down several championships over the years in American football's various competitions. While they have never won the Super Bowl, they have rewarded their loyal fans by achieving the following:
Championship Wins (before the 1970 merger) x 4 – 1935, 1952, 1953, 1957
National Win – 1952
Western Conference Wins x 3 – 1953, 1954, 1957
Western Division Win – 1935
NFC Central Division Wins x 3 – 1983, 1991, 1993
As mentioned, Detroit Lions haven't won the Super Bowl as yet, though they did reach the playoffs in 1935, 1952, 1953, 1954, 1957, 1970, 1982, 1983, 1991, 1993, 1994, 1995, 1997, 1999, 2011, 2014, 2016.
Bet the Lions with Roger.com Now!
You can wager on all Detroit Lions games via Roger.com. Bet with one of our recommended online bookmakers now to wager quickly, safely and securely.