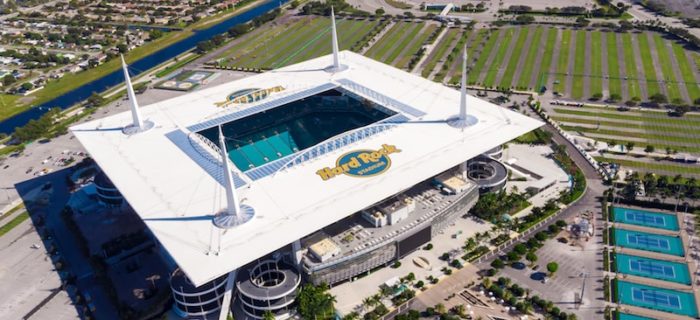 The Hard Rock Stadium is a pro football venue in Miami Gardens, Florida. The stadium, resplendent with all its lights, glass and famous Hard Rock logo, sits around 15 miles from Downtown Miami and Miami Beach, close to the Hollywood Beach area.
Famous for being the home of NFL team the Miami Dolphins, the Hard Rock Stadium plays host to various events.  Italso counts university team Miami Hurricanes as one of its tenants.
As of 2019, this stadium is the venue for the Miami Open, an ATP tennis tournament and a Premier Mandatory event on the WTA tour.
History of the Hard Rock Stadium
For twenty-one seasons the Miami Dolphins played at the famous Orange Bowl, which eventually closed down entirely in 2008.
Apparently, in 1976 the city of Miami threatened to quadruple the Dolphins' rent and so a new, totally privately-funded stadium was needed which would be the first major sports stadium in the States to be built this way.
With the stadium built between late 1985 and mid-1987, it was opened as the Joe Robbie Stadium in summer 1987. The first pre-season game played in August '87 between the Dolphins and Chicago Bears. The stadium was a hit and in 1993, the baseball team the Miami Marlins also moved in.
Some problems developed that led to change. During the Super Bowl XLI in 2007, there was very heavy rain which meant around a third of the lower-level seats were left empty during the second half.  This was not a good look for TV!
In 2010, the NFL threatened that it would not consider the stadium for any more Super Bowls or Pro Bowls unless the necessary renovations were undertaken.  Finally, in 2015, major modernisations were made which have kept this brilliant arena up to scratch.
The venue was originally named for Joe Robbie, the Miami Dolphins founder. It then became Pro Player Park and fthen Pro Player Stadium under a naming rights deal from 1996 to 2005.
Other such deals have meant name changes to the Land Shark Stadium (2009-2010).  The Sun Life Stadium (2010-2-016) and now the Hard Rock Stadium (2016-). In between times, the venue is simply known as the Dolphins Stadium or, since its renovation, the New Miami Stadium.
Important Stats & Facts
The Hard Rock, as it is now named, is an iconic stadium that hasn't been without its controversies. Here are the facts and figures:
Opened: August 16, 1987. Construction started on December 1, 1985.
Initial Cost: $115 million, equivalent to around $275 million today.
Renovated: 2015. A privately funded $350 million cost was met to modernise the whole stadium inside and out.
Capacity: 64,767 for football games, down from 75,000 after the 2015 renovation. At one point it even packed in 80,120 for a 2013 postseason college football game. It can also host 14,000 when converted for tennis.
Playing Surface: Tifway Bermuda Grass. The Hard Rock is a rarity these days in having a grass surface rather than an artificial playing field.
Major Events at the Hard Rock Stadium
As well as being home to the Dolphins, the Hard Rock Stadium in its own right has hosted other major football games.
Six Super Bowls have been played here; 1989 – Super Bowl XXIII (Cincinnati Bengals 16-20 San Francisco 49ers). 1995 – Super Bowl XXIX (San Diego Chargers 26-49 San Francisco 49ers). 1999 – Super Bowl XXXIII (Denver Broncos 34-19 Atlanta Falcons). 2007 – Super Bowl XLI (Indianapolis Colts 29-17 Chicago Bears). 2010 – Super Bowl XLIV (New Orleans Saints 31-17 Indianapolis Colts) and Super Bowl LIV in 2020 (San Francisco 49ers 20-31 Kansas City Chiefs).
Many major college games have been played here too.  The 2009 and 2013 BCS National Championships games and many an Orange Bowl among others, but it hasn't been all about football.
Wrestlemania XXVIII was played out in front of more than 78,000 people in 2012.  Also, two of baseball's World Series' have been hosted at the stadium.  Miami Marlins beating Cleveland Indians 4-3 in 1997 and then beating New York Yankees 4-2 in 2003.
Many a major gig featuring some the world's biggest music acts, as well as major football (soccer) games, have also taken place here down the years.
Bet on All Games at the Hard Rock Stadium with Roger.com
You can wager on all games played at the Hard Rock Stadium via Roger.com. Bet with one of our recommended online bookmakers only to get the best possible odds and service.