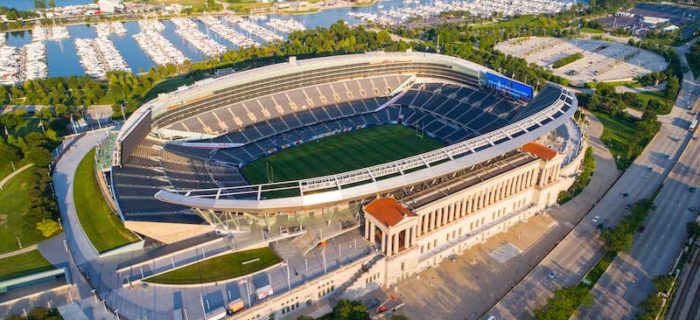 One of the best-known and best-loved NFL stadiums anywhere in the States, Soldier Field is the famous home of the Chicago Bears and now MLS side Chicago Fire Football Club.
Soldier Field has one of the lowest capacities in the NFL at 61,500, in part due to it being the oldest stadium in the league.
Its age and its location mean that this stadium has far more history and culture than any other NFL venue, although a major modernisation project has taken place.
Soldier Field sits within the Near South Side of Chicago, close to Greektown, Chinatown and Little Italy near the docks and it does indeed strike as being very Greek in its design.
Importantly and unusually for the NFL, there is no naming-rights deal attached to this important venue, with Soldier Field having been its name for almost 100 years.
History of Soldier Field
Initially designed in 1919, Soldier Field opened in 1924 and was named the Municipal Grant Park Stadium. It was renamed in 1925 in honour of the fallen.
The original design allowed for more than 74,000 fans in a U-shaped formation.  Additional seating was added for major games meaning a capacity of some 100,000 people.  This was all before the Chicago Bears moved in. The Bears initially signed a three-year agreement in 1971.  They previously played their football at Wrigley Field, the famous home of baseball team the Chicago Cubs.
The interior of Soldier Field was comprehensively rebuilt as part of a major renovation project in 2002, resulting in a completely modernised venue, albeit with a lowering of its capacity.
There have been pros and cons associated with the stadium modernisation in terms of its cultural standing. The 2002 renovations meant that Soldier Field is no longer considered a National Historic Landmark in the States.   However, as of 2012, it has achieved Leadership in Energy and Environmental Design status.
Important Stats & Facts
Soldier Field has essentially led two amazing lives, before and after its almost complete modernisation. As of now, the most important facts and figures surrounding it are:
Opened: October 9, 1924. After being designed in 1919, building work began in 1922.
Owned By: Chicago Park District
Initial Cost: $13 million ($198 million in today's money).
Renovated: 2002 – 2003. These major works added a further cost of some $632 million, or $915 million in 2020 value.
Capacity: 61,500 for NFL games. This has gradually come down from a maximum of 100,000 in its early years, to 66,900 in the 90's and now to this current figure.
Playing Surface: Kentucky Bluegrass. While from 1971 to 1987 the old synthetic Astro Turf surface was in use, but from 1924 to 1971 and from 1988 onwards, the natural grass playing field has been in use.
Tenants: 13 different teams have played their home games here over the years, most notably the Chicago Bears and the Chicago Fire.
Major Events Hosted at Soldier Field
Football has always been Soldier Field's bread and butter. More than 100,000 people attended the Army-Navy game in 1926.  A college football attendance record was set here in 1927 when Notre Dame beat USC Trojans.
In more modern times major hockey games have taken place.  Five games were also hosted here during the 1994 FIFA World Cup, including a classic knockout game in which Germany beat Belgium 3-2.
The 1999 Women's World Cup was also partly hosted here.  Games during the 2007, 2009, 2011, 2013 and 2015 CONCACAF Gold Cups were played out at Soldier Field.  The USA playing here twice during that period in front of more than 50,000 people.
As is the case with many high-profile NFL stadiums, music concerts are also a major source of revenue at Soldier Field.  They have been hosting big tours since the 1930's.
Over the years some major shows that have taken place here are:
Johnny Cash
Barbara Streisand
Pink Floyd
Lynyrd Skynyrd
The Rolling Stones
Bruce Springsteen
Madonna
Paul McCartney
The Grateful Dead
Pearl Jam
U2
NSYNC
Bon Jovi
Kenny Chesney
the Eagles
Jay-Z
Justin Timberlake
Beyonce
One Direction
Guns N' Roses
Coldplay
Metallica
Taylor Swift
Ed Sheeran
Bet on All Games at Soldier Field with Roger.com
You can wager on all games played at Soldier Field via Roger.com. Bet with one of our recommended online bookmakers only to get the best possible odds and service.