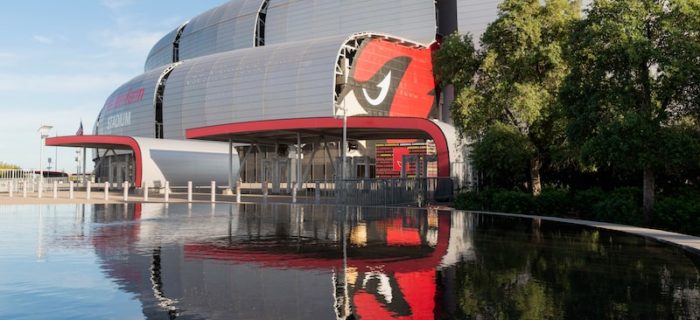 The State Farm Stadium opened in 2006, albeit under a different name, and since then has been the home of NFL team the Arizona Cardinals. The venue sits within Glendale, Arizona, around six miles from the centre and just 14 from major hub Phoenix.
Originally known as the Cardinals Stadium, the State Farm Stadium was designed by renowned New York architect Peter Eisenman, along with HOK Sports.  It presents a perfect example of sophisticated technology and engineering.
HOK, now known as Populous, have worked on many prestigious sporting projects around the world.  Some of their achievements include Ascot Racecourse, Wembley Stadium and Hard Rock Stadium.
The stadium is covered in chrome, making it look more like a spaceship than a football stadium, and is rather imposing inside given its rather tight feel, despite having a capacity of some 78,000.
History of the State Farm Stadium
The Cardinals originally played in Missouri but, having moved to Arizona in 1988, they began their life in the state at the Sun Devil Stadium on the campus of the Arizona State University. The original plan was to stay there only for a short time before moving to a purpose-built venue in Phoenix. Due mostly to frustration and unease at being a tenant on a college campus, the Cardinals finally put in place a proper plan to move to a brand-new stadium at the turn of the millennium.
Ground was broken on the new site in 2003, and after a few years of construction the stadium was ready for business in the summer of 2006. Since then it has hosted various big events including two Super Bowls and is already pencilled in for a third in 2023.
Initially, the building was to be known as the Cardinals Stadium, though a naming rights deal was secured which changed its title to the University of Phoenix Stadium in 2006. As of 2018, the insurance firm State Farm owns those rights, hence the current name, with that deal not scheduled to run out until 2036.
Key Stats and Facts
The State Farm Stadium is yet another extraordinary-looking NFL venue, and these are its main facts and figures.
Opened: August 1, 2006. Construction began on the project for real in April 2003.
Owned By: Arizona Sports and Tourism Authority.
Initial Cost: $455 million, which equates to around $588 million in 2020 values. Given the scope of the project, this is a fair cost compared with the likes of Wembley or the Tottenham Hotspur Stadium in London.
Renovated: 2014 and 2017 with further costs incurred.
Capacity: 63,400 for NFL games, expandable to 72,200 in one configuration and even 78,600 with standing room allowed.
Playing Surface: Tifway 419 Hybrid Bermuda grass, an increasingly popular sports field surface.
Major Events at the State Farm Stadium
As well as hosting all Cardinals home NFL games, the State Farm Stadium has also been the venue for two Super Bowls.
In 2008 Super Bowl XLII was staged here between the New York Giants and the New England Patriots.  The Giants won 17-14. Super Bowl XLIX was also hosted here when the Patriots beat the Seattle Seahawks 28-24 with the great Tom Brady as MVP.
Major college football is also played here.  Top top soccer games have taken place here as well, including three USA national team games.  The first of these games attracted 62,000, against Mexico. In fact, all six of the top attendances for soccer games here are for matches featuring Mexico.  They manage to play in this area virtually as a home team.
WrestleMania has been another top attraction since the venue opened. In 2010, WrestleMania XXVI brought in a crowd of more than 72,000 and grossed nearly $6 million in ticket sales.  An even bigger draw are national and international music tours featuring some of the world's biggest acts.
The State Farm Stadium has hosted the following music greats:
The Black Eyed Peas
The Rolling Stones
Kenny Chesney
U2
One Direction
Guns N' Roses
Metallica
Taylor Swift
Beyonce
Jay-Z
Garth Brooks
There are many more major acts set to follow in the coming years.
Bet on All Games at the State Farm Stadium with Roger.com
You can wager on all games played at the State Farm Stadium via Roger.com. Bet with one of our recommended online bookmakers only to get the best possible odds and service.