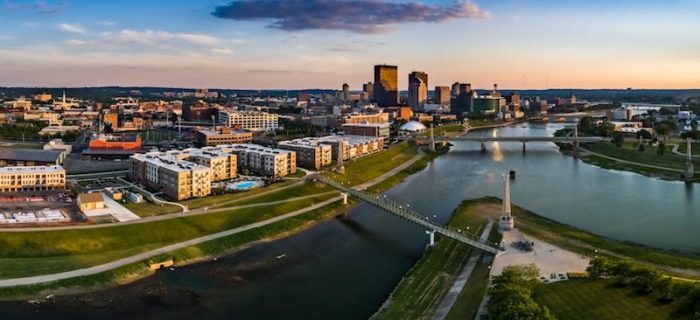 There has been racing taking place through the Dayton Racecourse license since 1959 when it was known as Raceway Park. Its original site was a host for motor racing and thoroughbred horse racing for many years.
It is now under the ownership of Gaming and Leisure Properties and it is under the operation of Penn National Gaming through its Hollywood Gaming brand. At the current site in Dayton, Ohio, the Dayton Raceway opened in August 2014. There are many notable races that take place at the track every year.
Dayton Racecourse Ticket Prices
Ticket prices for racing taking place at Dayton Raceway are very reasonable. For most race meetings, it will only cost a few dollars to gain general entry. For more notable race days, there will be higher prices in place. This is to reflect the demand for these top-quality races.
Course Details
The main track at Dayton Racecourse is dirt and it is an oval-shaped course that is five-eighths of a mile in length. It is one of seven racetracks that are still in operation in Ohio and the current track has been open since 2014. Standardbred horse racing usually takes place during the fall and the winter, with over 80 days of racing. Generally, there is racing on Monday, Tuesday as well as Thursday through Sunday at this time of year.
There is a racino facility at the tracks which contains more than 1,000 video lottery gaming terminals. While previously there was thoroughbred racing, harness racing is the main type of racing that takes place at the facility, with the season beginning in September. All during the year, there is simulcast betting available at the facility This means that people can place bets on horse races that are taking place across the country seven days a week.
Tactics to Consider
The track at the new Dayton Racecourse is specifically in place for harness racing. As a result, you know that the surface is going to be a good one, with the track being very well-maintained. This means that true sprinter will tend to do well, with not a lot of variables going to come into the equation when placing bets on these races.
Track History
The licensed racetrack that is currently in Dayton, Ohio was originally in Toledo, Ohio as Raceway Park, opening there in 1959.
At the original facility, there was both motor racing and thoroughbred racing taking place. The track's specialty since 2011 has been standardbred harness racing.
It was in 2011 that the Ohio Governor John Kasich gave the all-clear to the seven racetracks in the state to install video lottery terminals at their facilities to help them drive more revenues in order to survive.
Penn National Gaming did not want Raceway Park having to compete with the Hollywood Casino in Toledo. Therefore, Penn National got approval from the state to move the track to Dayton Raceway from Raceway Park. This move was completed in the spring of 2014 with the racino opening in August 2014.
Biggest Races
With so many races taking place at the Dayton Racecourse during the season, there are a number of notable races. Perhaps the biggest ones to watch out for include the Buckeye-Wolverine Pace and the Ohio Sire Stakes. The Buckeye-Wolverine Pace race was paused for a while, but it is expected to return in the future. The fall meet generally has the best races on offer, which is certainly something to keep in mind.
Place your bets with Roger.com
If you want to place bets on Dayton Raceway races, then there are a few different options to check out. Roger.com has selected the best online betting sites for horse racing that will give you great access to a variety of markets and great odds for these races.
This means you do not have to spend a lot of time researching the different platforms out there. Instead, you can focus your efforts on your betting selections after choosing one of these platforms to sign up for an account and get started with.