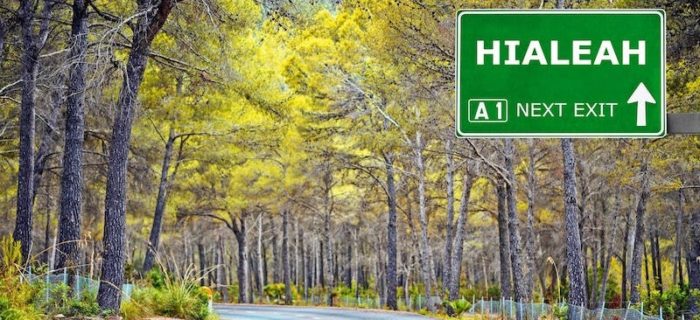 Hialeah Park Race Course, home of the Miami Jockey Club, is a well renowned and much-loved quarter horse track situated in Hialeah, Florida. It's only around 13 miles from downtown Miami meaning it has always been very well supported over the years.
The track was opened way back in 1922. Originally used as a greyhound track, that sport being particularly prevalent around Florida.
After beginning horse racing, however, Hialeah Park grew exponentially in popularity. It was eventually placed on the National Register of Historic Places in 1979. Then in '88 was deemed eligible to be known as a National Historic Landmark such was its beauty.
Inside the track here is the famous Lake Flamingo. The beautiful pink birds having first been transported in from Cuba but thriving at Hialeah now for years.
In 2001, Hialeah had to, unfortunately, stop racing after it could no longer compete with Gulfstream Park and Calder, In 2004, owner John Brunetti had to close the facility down completely after the racing licence was revoked due to inactivity.
Although the stables were demolished, the rest of the once-great venue stayed intact. Finally, in 2009, a new racing permit was granted to Hialeah Park for quarter horse racing. The last thoroughbred race here having been run back in 2001.
Since then renovations have included a new casino featuring slot machines, temporary stables and many other facilities. The aim is to get Hialeah back to its former brilliant best, however, that seems a long way off just now.
Although quarter horse racing isn't for everyone, this is an American breed with smaller heads and more defined, muscular quarters than thoroughbreds. Races in these parts are popular and they can be bet on whenever a meet takes place, including here at Hialeah Park.
Admission Prices at Hialeah Park
As a racino, admission to Hialeah Park is completely free. Visitors are invited in every day to play slot games and to watch races from around the States via the simulcast system. This takes place even when no live racing is being shown here on the track.
General admission is open to all, however, deals can be bought. Offers include better seating, meals and drinks to make the visit a little more special.
Hialeah Park Race Track Details
The quarter horse race track at Hialeah Park is a standard one-mile dirt oval, stretching left-handed around the famous Lake Flamingo. It has a chute linking with the home stretch, is flat in nature and features tight bends.
While the going will be described as 'sloppy' when the rain comes, the track will actually ride faster as the surface compacts making it akin to running on firmer, damp sand as opposed to running through drier, looser sand.
As for the draw, remember we are once again racing around very tight bends here as is common at American tracks, and so getting a low post position draw can often prove crucial. Racing wide around the bends here means giving a way ground, sometimes as much as a couple of lengths in fact which is enough to lose a race.
As for pace, it's important to find a horse with decent speed figures at Hialeah. Don't confuse this with simply being a front-runner, as not all pace-setters, of course, go on to win. Some front-runners go off too quickly and burn out, yet even when that happens those sitting too far back don't have enough time around this tight course to sort themselves out and get up along the stretch.
With a horse showing good speed figures though, which are available around race time, it means your chosen animal has tactical speed and can get easily into the right position when it counts, whether that be from the start or nearer to the business end of the race.
Biggest Events at Hialeah Park
Given the history and beauty surrounding this track every meet here is a little special. This is a track that holds a special place in the heart of many racing fans, with the only pity being that it can only host quarter horse racing these days.
Back in its thoroughbred days however Hialeah used to host major events such as:
the Flamingo Stakes,
Bahamas Stakes and
the Widender Handicap.
Place Your Bets at Hialeah Park with Roger.com
With your knowledge of the Florida track now enhanced a little, you can place bets at Hialeah Park with more confidence. Get on via any of our recommended online bookmakers now!