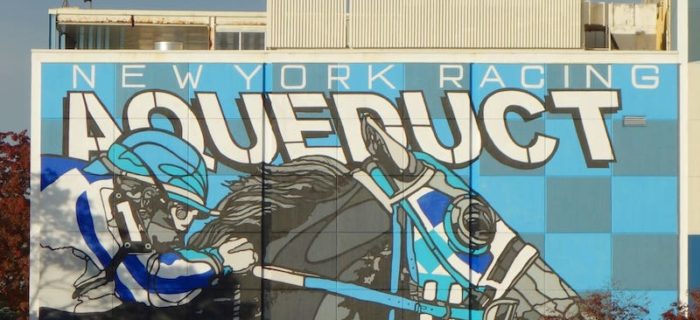 Situated right next to JFK Airport at South Ozone Park in Queens, New York, Aqueduct Racecourse is one of the better-known tracks in the States. It hosts a stakes schedule that includes well over 30 races of either Grade I, Grade II or Grade III standard.
Despite being sat in a part of the States known for being seasonal in terms of weather, this is not a flat track venue only open in summertime. Instead, Aqueduct's season begins in late October or early November and runs right through to April, when the Wood Memorial Stakes is run among other things.
One of the oldest thoroughbred racing facilities in the States, Aqueduct has been racing since way back in 1894, with the name coming from the old Ridgewood Aqueduct and has been updated many times since.
Racing under NYRA, the New York Racing Association alongside Belmont Park and Saratoga, Aqueduct is one of the most popular tracks in the country with trainers, owners and jockeys and is regularly shown live on TV around the world.
Admission Prices at Aqueduct Racecourse
For a typical race meeting, admission at Aqueduct is set at only $1 for the Grandstand and $3 for the Clubhouse. The amazing value comes from the fact that visitors are regularly invited in to play casino games and watch races from other US tracks via the simulcast system, as well as to drink and dine.
Aqueduct Track Details
Aqueduct Racecourse is furnished, as are most major American racing venues, with different tracks to accommodate both dirt and turf horse racing but in this case, there are three and not two of them.
The main track is a dirt oval of nine furlongs in length, going left-handed and featuring very sharp bends which tend to make races mostly about speed. With most American dirt tracks being a mile in length, Aqueduct is one of the biggest and most testing out there.
Certainly, getting a good race position early achieved usually by breaking fast and/or receiving a favourable post position draw is crucial but is not the be-all and end-all.
Occasionally front-runners can go a little too fast around here, especially those used to a dirt track one furlong shorter than this and thus with less kind bends, leaving those with good tactical speed, i.e. being able to lay-up with the pace early without burning themselves out, to often overtake them up the short home stretch after the final turn.
Over on the main turf course, which is a mile in length and sits inside the main dirt track, we again go left-handed and as is often the case on the grass it's not quite all about speed.
Once again, a low draw and good racing position is important on the tight turns, but depending on the weather horses can come from behind more regularly on the turf and so it's not all about going at a breakneck speed.
The turf courses can be extremely quick here in the summer so look out for those showing good speed figures, but when the bad weather comes Aqueduct rides like any other rain-softened turf course meaning while the position remains important, saving something for the final two furlongs is even more crucial.
There is an extra turf course, the inner course, which is just seven furlongs around providing much more of a speed test around its even tighter bends, especially when the going is described as firm.
Aqueduct Racecourse Biggest Races
The New York Racing Association has a huge stakes schedule as you can imagine, with Aqueduct hosting more than 30 of the graded races on offer including these events at the top two levels of the sport:
*Major prep race for the Kentucky Derby, and listed as one of the main 'Road to the Kentucky Derby' races handing out points to the first four home.
Place Your Bets at Aqueduct with Roger.com
Aqueduct is one of the premier race tracks in all of the United States and you can place bets there with any of our highly recommended online bookmakers now. Racing is competitive at Aqueduct so make sure to get the best price you possibly can!