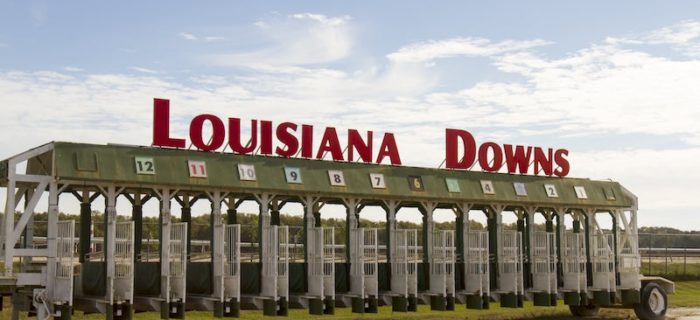 Louisiana Downs Racecourse is a track for horse racing and a racino that is found in Bossier City in the northern part of Louisiana. It is under the ownership of Vici Properties, with the operating license being held by Caesars Entertainment and is operated under the company's Harrah's brand. The track first opened back in 1974 and there is both a turf course and a dirt course at the track, providing the best of both worlds when it comes to racing.
Louisiana Downs Racecourse Ticket Prices
The ticket prices for racing at Louisiana Downs are usually very reasonable. For most race days, the standard admission tickets will only cost a handful of dollars. If you are looking for certain types of seating, the price will rise a bit higher. You will often get better deals by buying tickets online in advance of the race day rather than on the day itself.
Course Details
There is both a dirt track and a turf track in place at Louisiana Downs Racecourse. The dirt track is a mile in length and the turf course is 0.875 miles in length. There is thoroughbred racing taking place at Louisiana Downs starting in May and going all of the way until October.
There are also quarter horse race meetings taking place at Louisiana Downs between January and March. This type of racing sees the fastest breed of horses battling it out. There are a number of notable races that take place every year at the facility.
For the racino, it is well-stocked with more than 1,300 slot machines as well as table games. There is also pari-mutuel racing betting available. This means that you can place simulcast wagers on horse races that are taking place across the nation.
Tactics to Consider
The tactics you use when placing bets on Louisiana Downs racing will depend on if you are backing horses on the turf track or on the dirt track. Generally, the dirt track will suit faster horses, while the turf course is going to need a nice blend between speed and stamina. Keep on eye on those horses that have a good handicap.
Track History
It was in October 1974 that Louisiana Downs Racecourse opened for the first time. This opening day of racing saw more than 15,000 people attend the racing. The original developer for this project was Edward J. DeBartolo Senior, who was a shopping centre magnate in the region.
He was able to make a great success out of Louisiana Downs from the beginning. There were many national records broken by the track in terms of total handle and attendance levels throughout the 1970s and the 1980s. For example, about $224 million was wagered at the track in a standard year at the time.
It was during the 1980s that the first Super Derby took place, the biggest race to take place at Louisiana Downs each year. The idea of starting this race was to attract the best three-year-old horses across the nation. At the time, it was the richest race for three-year-old thoroughbred horses in the nation.
The race holds a lot of prestige, with a lot of its winners going on to claim the Kentucky Derby, Preakness Stakes and Belmont Stakes among other prestigious races. It was in December 2002 that Caesars Entertainment bought the track and committed to continuing offering thoroughbred horse racing.
Biggest Races
The big race that takes place each year at Louisiana Downs is the Super Derby. This has been taking place since 1980 and has long attracted the best three-year-old horses for across the country. Many have gone on to win prestigious horse races. It takes place on the dirt track at Louisiana Downs over just more than a mile.
These days, it is a Grade III race and it holds the highest purse for any race that is held at the Louisiana Downs track. It was previously a Grade I race between 1983 and 2001. It was in 2016 that it was then downgraded to a Grade III race. It was in 2017 that the race temporarily lost all graded status as it transitioned from the dirt track onto the turf track at Louisiana Downs. Another one of the notable races is the Tiznow Handicap.
Place your bets with Roger.com
If you are looking to place wager so racing at Louisiana Downs, then there are a few leading online betting sites that will be a good fit for you. These have been handpicked by the expert team at Roger.com, conducting objective reviews of these platforms. This means that you can quickly find an operator that properly fits your needs.