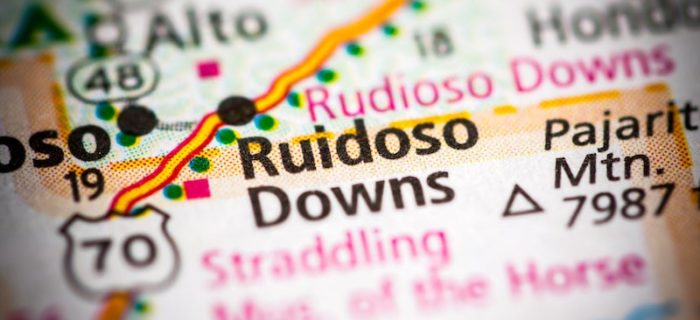 Ruidoso Downs Racecourse, often known as New Mexico's favourite track, is situated within the town of Ruidoso Downs itself. It was built to host both quarter horse and thoroughbred racing, the former being the more popular in the area.
Lincoln National Forest, Ruidoso Downs Racecourse
Set among the stunning backdrop of the Lincoln National Forest, Ruidoso Downs Racecourse calls mostly on local support. However, on major live race days, those from Albuquerque and El Paso also attend in great numbers.
The first race meeting on record at Ruidoso Downs was hosted way back in 1947. The history here is rich, in fact, that first race day has now made horse racing a firm fixture in New Mexico. Despite the fact that at the time the track was nothing more than a ploughed road.
Things are different now if course with Ruidoso Downs being a venue that is hugely popular with quarter horsemen, hosting their biggest race which is the All American Futurity which has been on the calendar since 1959.
As well as providing a strong live racing calendar, with dozens of events being worth $100,000 each some even being in the millions, Ruidoso Downs is able to supplement its income by offering simulcast betting. Visitors are welcomed in every day when no live racing is taking place in order to bet on and watch the action from all other US tracks.
Ruidoso also boasts a casino, the 20,000-square foot Billy the Kid Casino, which has been a fixture here since 1999 and was opened as soon as such venues were legalised in the state.
Along with Ruidoso Downs, New Mexico is served by Albuquerque Downs, Sunland Park, SunRay Park and Zia Park.
Admission Prices
Racing here is incredibly popular, especially where quarter horse racing is concerned, though despite this some areas are offered free of charge.
All open-air seating for every race day is free, covered grandstand seating is charged at $5 and a grandstand counter seat is $18. Those looking to book tables can do so in the grandstand at $60 for 4 seats and $70 for 6 while a grandstand box will cost $55 for 4 seats and $120 for 8.
Track Details
There is no turf racing accommodated at Ruidoso Downs, not something that is unusual in this part of the world in all honesty, while this venue is also the only track in North America boasting a separate racing lane used only for quarter horse racing.
The thoroughbred track is around seven furlongs around making it very tight. It is a dirt oval, going left-handed and always suiting speed more than stamina. Those draw wide will be significantly disadvantaged although field sizes tend not to be too large anyway.
Should find the golden ticket of a front-runner who doesn't use up too much energy in the early part of the race then your chances of backing a winner here are greatly increased, as those from the back will be unlikely to make up a lot of ground.
If the pace is a little too strong then pace-setters can struggle late on, though you'll still need to check out the readily available speed figures and attempt to find an animal that, when called up at whatever stage of the race, can put themselves into a challenging position.
Biggest Events
The packed Ruidoso Downs stakes schedule features a mix of quarter horse and thoroughbred races between May and September, with the $3million All American Futurity being the richest quarter horse race in the world. The seasonal highlights are:
Ruidoso Futurity – Grade I, June
Mountain Top Futurity – June
Rainbow Derby – Grade I, July
Ruidoso Derby – Grade I, June
Rainbow Oaks – July
Rainbow Futurity – Grade I, July
Zia Derby – July
Rio Grande Senorita Futurity – July
Rio Grande Senor Futurity – July
All American Gold Cup – Grade I, September
Mountain Top Futurity – June
All American Derby – Grade I, September
All American Oaks – September
Zia Futurity – July
All American Juvenile Stakes – September
All American Futurity – Grade I, September
Major festivals here include the Rainbow Trials and the Zia Festival in July with the stakes season running from May to September.
Wager at Roger.com Now
New Mexico's racing crowds are some of the most vociferous in the States, and now you can be a major part of the action too! Place your bets right now at Ruidoso Downs via any of Roger.com's recommended safe and secure online bookmakers.