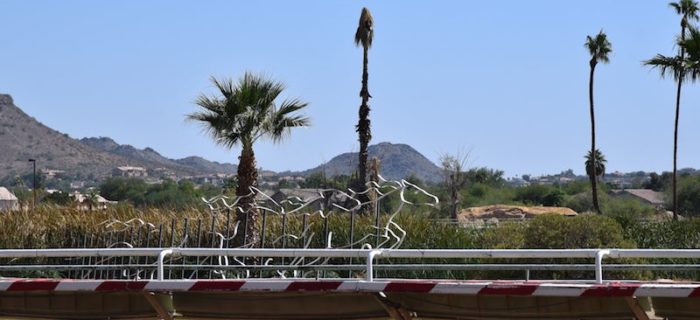 Turf Paradise Racecourse hosts both thoroughbred and quarter horse racing in Deer Valley, Phoenix, Arizona. There has been racing at the track since it opened in January 1956.
Ticket Prices at Turf Paradise Racecourse
On certain race days, there will be free entry to the Turf Paradise Racecourse. This is usually for Monday and Wednesday meetings. On the weekend race meetings, you will usually pay $3 for grandstand admission. If you want to get admission to the Clubhouse, it will cost $5 and to reserve a seat you will have to pay a further $5.
Course Details
There is both a dirt track and a turf track at the Turf Paradise Racecourse. The dirt oval is one mile in length while the infield turf is seven furlongs in length. There are also chutes at two different points. Horses can also make use of the four furlongs oval training course.
There is enough stable space for 2,000 horses. The grandstand has three floors and the Clubhouse can seat 1,000 people in the dining area. There is enough parking at the facility for 5,000 cars and there are 150 different pari-mutuel betting booths.
In total, there is enough seating capacity at the Turf Paradise Racecourse for 7,500 people. The largest single-day crowd at the Turf Paradise Racecourse was on December 31, 1983 when there were 14,633 people watching the racing.
Track History
It was in 1954 that a local businessman by the name of Walter Cluer decided to purchase a piece of barren desert with the plan to create a major racing rack in Phoenix. While there was a lot of scepticism initially among the local community, this did not stop Cluer from proceeding with his plan.
It was in January 1956 that Turf Paradise Racecourse opened for business, achieving great success in these opening years. Cluer remained as the head of the track for the next almost 25 years.
It was in 1980 that Herb Owens became the operator of the track and brought in a number of different renovations and other changes. A new turf course was laid in the in-field that was seven furlongs in length. There were also a couple of chutes installed on this track.
The Clubhouse was made bigger and a new outdoor patio and Director's Suite was added.
The track changed hands once more in 1989, with Robert Walker introducing the track to off-track betting.
This was a great success initially, allowing the track to get rid of all its debt and issue a dividend. Walker also was able to convince the legislature to legalize this style of betting, along with a number of other racing enthusiasts.
Hollywood Park Racetrack bought the Turf Paradise Racecourse in 1994. The track for many years was still successful and achieved great attendance and handles. Jerry Simms bought the track in 2000 for $53 million. He also put in place a $5 million investment plan straight away.
This saw major changes to both the Turf Club and the Clubhouse. A range of new betting terminals was also installed at the facility. There were renovations to the dirt and turf tracks and a new equine swimming pool was built.
Biggest Races
There are a few different notable races that are run at the Turf Paradise Racecourse each year. These include the Turf Paradise Derby, the Phoenix Gold Cup Handicap and the Cotton Fitzsimmons Mile Handicap.
The derby race takes place every February on the dirt course. It is open to three-year-olds. While this stakes race is not graded, it is an official prep race for the Kentucky Derby. The purse for this race is $100,000 and it has been run since 1986.
Place your bets with Roger.com
If you are interested in betting on some of the races that are taking place at the Turf Paradise Racecourse, you can do so through a few different online betting sites. Not all operators will offer these markets. However, Roger.com has done the research for you and identified those sites that do offer these betting markets.
All of these sites have been fully reviewed, allowing you to see which option will be the best fit for your needs. This means you can quickly get started placing bets as you please.