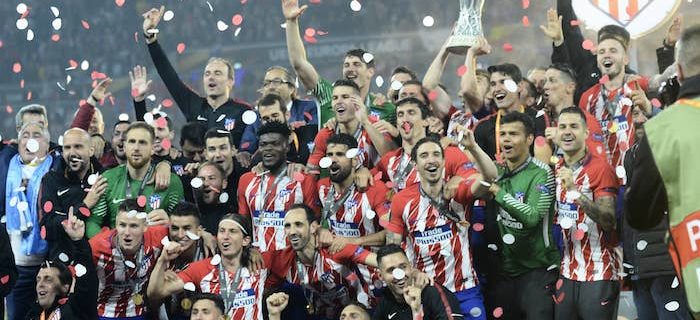 Under its previous name, the UEFA Cup, Europe's second-tier club competition was inaugurated back in 1971. It ranks second only to the Champions League in terms of major football tournaments on the continent.
Qualifying by virtue of their domestic league position or having won a trophy, up to 160 teams enter the Europa League. Via play-off matches in summer, teams are whittled down to 48 at the group stage.
As UEFA has settled on two major club competitions, after the abolishment of the Cup Winners' Cup back in 1999. That tournament merging into this one and now so many teams enter this competition early these days
UEFA Europa League betting
Qualification begins by organisers using the UEFA Coefficient, i.e. ranking the various leagues around Europe to ascertain how many teams from each league are allowed to enter.
In most cases, each country is permitted two teams. Some of them qualifying by virtue of finishing as high as possible up their league table (but behind the Champions League qualifiers). While some allow their domestic cup winners to take part too in the absence of a Cup Winners' Cup.
The lowest-ranked teams begin qualifying matches and play-off rounds in the summer until, along with those who qualify automatically, the group stage can be organised with the remaining 48 teams.
Group stage
The 48 teams in the group stage are divided into twelve groups of 4. They play each other once at home and once away for a six-game campaign in total. The top two from each group then qualify for the last 32, joined by the eight third-placed teams from the group stages of the Champions League.
Games at all stages bar the final are played on Thursday evenings to ensure they don't clash with the Champions League, much to the chagrin of clubs who then face quick turnarounds or the need to delay domestic games until Sunday afternoons.
Knockout stages
The last 32 teams left are drawn to play each other in 16 ties over two legs, each playing one game at home and one away. From there, the format is familiar with two-leg quarter-finals and two-leg semi-finals taking place before the finalists are known. The final is moved every year to a different stadium and is played near the end of the European season each May as a one-off event.

Major UEFA Europa League teams
While no team would make any secret of the fact that they'd prefer to be in the Champions League, there is still plenty of prestige in taking part in this tournament.
Some major teams tend to struggle domestically from time to time while others by virtue of a couple of bad results may drop into this competition having finished third in their UCL group, meaning some major competitors in recent years.
Some teams, especially those from Spain, just have a knack of doing well in the UEFA Cup/Europa League and in fact, Sevilla is the most successful side in this competition, winning it five times while Liverpool, Juventus, Inter and Atletico Madrid have each taken three titles.

Europa League betting markets
Games in Europe these days tend to be largely open in nature, so the goals do flow at least in the early stages. The trick is to bet differently in the group stages compared to in the knockouts as the nature of the competition changes and with it, so do player and manager attitudes.
With that in mind, here are the most likely ways to get the most out of your UEFA Europa League bets:
Match Betting – home win/draw/away win. This is one of the best club competitions in the world and thus the teams are reliable. In the group stage, a strong home favourite will very often get the job done, so these are relatively safe for accumulators.
Both Teams to Score – again handy in the group stage, teams attack freely more often than not in Europe these days and leave gaps at the back, so backing BTTS 'yes' often pays off early in games.
Total Goals 'Under' – once we reach the knockout stage, betting on a low amount of goals in the first leg of a tie often pays off, as teams are cagey and plenty of home sides settle for 1-0 wins.

Take a Europa League punt
If the diverse nature of placing bets on Europa league games sounds like it's your bag, you can place any number of bets in various markets on the tournament with any of our recommended online bookmakers.