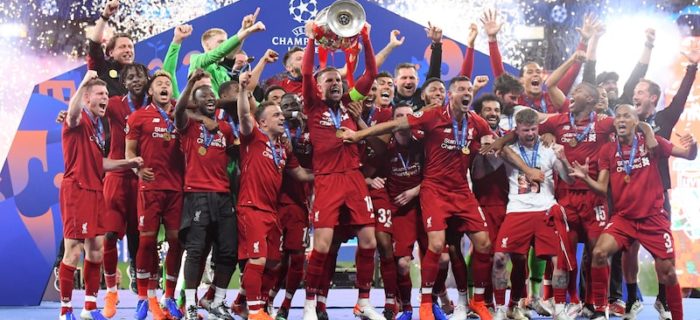 Liverpool FC is one of the most successful football teams in English football and it was first started in 1892. The club has won the premier division of English football on 19 occasions, including one Premier League title. They also have 15 Community Shields, six European Cups, three UEFA Cups, seven FA Cups and a record eight League Cups.
The Reds play their home games at Anfield and they have a very passionate fan base. The biggest rival of the club is with local team Everton FC.
History of Liverpool FC
Liverpool was founded in 1892 following a dispute between the owner of the land at Anfield and Everton FC. Everton moved to Goodison Park and Houlding founded Liverpool. Liverpool managed to win the First Division for the first time in 1901 and followed this feat up again in 1906.
Its first FA Cup final came in 1914, but it lost to Burnley. After winning the league in 1922 and 1923, Liverpool would not win another trophy until 1946/1947.
The club even got relegated in 1953/1954 and would not make it back to the First Division until 1962. The club then saw a lot of success under the guidance of Bill Shankly, including winning the first European trophy for the club. It was in a space of seven years less than ten years that the club won four European Cups, including back to back at the end of the 1970s.
Sad incidents
A terrible incident involving club supporters happened in 1985 at the European Cup final against Juventus. The Liverpool fans charged the Juventus fans and a wall collapse led to 39 fans dying. This saw English clubs getting banned from all European competitions for five years, with Liverpool getting a ten-year ban that was reduced to six years.
Club legend Kenny Daglish took over and won three leagues, a couple of FA Cups and League Cups with the club. There was another disaster in 1989 with the Hillsborough Disaster. This was during a semi-final of the FA Cup against Nottingham Forest. Hundreds of Liverpool fans got crushed against a perimeter fence and 96 people died. The resulting investigation led to a rule that all top-flight teams had to have all-seater stadiums.
Quest for a Premier League title
Liverpool struggled after joining the Premier League, not winning the title until 2019/2020. However, the club did have a couple of European Cup victories during the 21st century. This included the legendary win against AC Milan in 2005. The club were 3-0 down at half-time before staging a comeback to draw the game 3-3 before going on to win on penalties.
The arrival of Jurgen Klopp to the club in 2015 started a successful few years for the club, leading to its first Premier League title. He also took the team to a UEFA Champions League title in 2018/2019.
Liverpool supporter base
Liverpool supporters are very passionate about the club and there are fans all over the world. The team has been playing at Anfield for its entire existence. It has undergone numerous renovations and redevelopments over the years and it now holds more than 54,000 people. The big rivalry is with local team Everton FC.
Liverpool was founded following a dispute with Everton, with this game always attracting a lot of intensity both on and off the pitch. The Merseyside Derby is the Premier League fixture that has seen more red cards than any other. Other notable rivals of Liverpool include Manchester United.
Notable Liverpool players
There are countless legendary players that have lined out for Liverpool over the years. Some of the big players from the 1970s and 1980s include the likes of:
Kevin Keegan, Phil Thompson, Phil Neal, Sammy Lee, Alan Hansen, Kenny Daglish, Graeme Souness, Ronnie Whelan and Ian Rush.
In more recent years, club legends include the likes of:
Steven Gerrard, Jamie Carragher, Michael Owen, Robbie Fowler, Jamie Redknapp, Xabi Alonso, Pepe Reina, Luis Suarez, Fernando Torres, Mohamed Salah and Virgil van Dijk.
Betting on Liverpool games
Liverpool games get massive attention across the world. There is never going to be a small crowd at these games and they are always exciting affairs. Liverpool is a team full of flair, which makes them a particularly exciting team for bettors.
All of the top football betting sites are going to support more than a hundred different markets for Liverpool games. You can see the best sites by checking out the Roger.com reviews and then choosing an operator to sign up for.