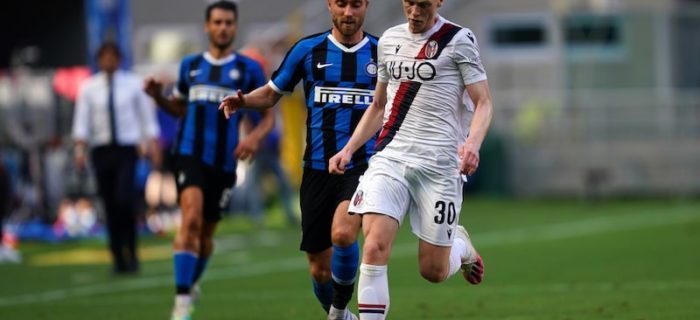 Bologna is a football club that is located in Bologna, Emilia-Romagna, Italy. The team currently play in Serie A and have won seven top tier league titles, as well as a couple of Coppa Italia titles and a single UEFA Intertoto Cup. The club was first established in 1909 and was a founding member of Serie A.
Most of its league titles were won during the 1930s, with the Coppa Italia wins coming in the 1970s. Towards the end of the 20th century, the team's fortunes dipped and, for much of the time, they battled relegation. As a result of financial mismanagement, there have been numerous changes in management at the club over the past couple of decades. To date, Bologna has played 73 seasons in Serie A.
Since 1927, the team have played their home games at the Stadio Renato Dall'Ara, which can hold over 38,000 fans. This makes it the tenth biggest Serie A stadium in terms of capacity.
History of Bologna FC
1909
Bologna FC was established in 1909 and quickly found success. Following the First World War, Bologna won several regional titles.
1925
They became national champions for the first time in their history in 1925, going on to repeat this feat several times in the next 15 years. However, this level of success did not continue in the years following the Second World War.
1964
While they still finished strongly in the league, they did not win it again until 1964, which has turned out to be the last league title the team have won.
1980s
In the 1980s, the club began to decline and got relegated from the top tier for the first time in 1982, before being further relegated down to Serie C1.
1996
They then went up and down the leagues for several years and eventually clawed their way back to Serie A in 1996, managing to win the UEFA Intertoto Cup soon after.
There were numerous issues within the club involving different owners during the first decade of the 21st century and in one ten year period they went through 14 different managers. The team has stabilized since the BFC 1909 Lux Spv consortium took over in 2014.
Bologna stadium
Bologna has been playing their home games at the Stadio Renato Dall'Ara since 1927. The stadium gets its name from a former club chairman who died a few days before a Serie A final. A number of different areas of the stadium are named after notable members of the club.
Club honours
As well as its seven Serie A titles, Bologna has also finished runners-up on seven occasions, last doing so in 1966. The team achieved two Coppa Italia wins in the 1970s and has won some of the smaller Italian cup competitions, as well as the Intertoto Cup.
Betting on Bologna games
Bologna is a club that has gone through a lot of adversity in recent years. However, it has managed to persevere and come out stronger on the other side. With stable ownership in place, as well as a good team management system, the club's fortunes have been improving. They are looking to push forward into the upper half of Serie A in the coming years.
If you are looking to place bets on games involving Bologna, you are able to choose from a wide variety of great betting sites. At Roger.com, the leading options have been reviewed by a team of experts.
They look at all important aspects of these offerings. Once you find a platform that fits your needs, you can complete the registration process in just a few minutes. You will then be able to get your hands on a welcome free bet offer and start placing bets on Bologna games.