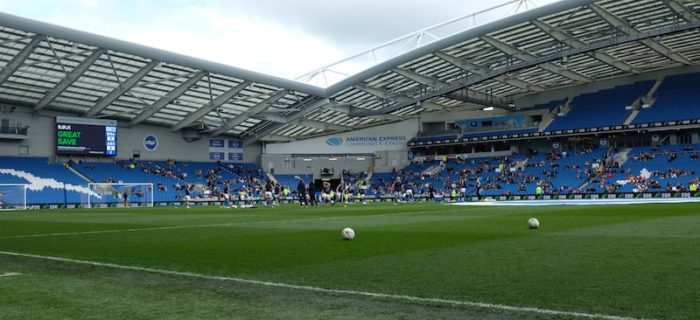 Brighton & Hove Albion FC, known nationally simply as Brighton and colloquially as Albion or The Seagulls, have risen from the doldrums in recent times to become a fixture in the English Premier League.
Once a struggling club, Brighton now play in a plush new stadium at the highest level and with a few shrewd signings could well challenge for European places before too long.

Brighton & Hove Albion FC Club History
Brighton & Hove Albion FC was founded in 1901 and even managed to win a Charity Shield in under ten years, yet it took until 1920 before they were elected to the Football League and in the Third Division at that.
For simply decades Brighton rather stood still, never really achieving levels above those at which they entered the league.
That was until the 70's when Mike Bamber became chairman, bringing Brian Clough to Brighton and later employing former England start Alan Mullery. Under Mullery, the club was promoted to Division One in 1979.
Relegations were to follow, however, and in 1987 the club found themselves in Division Three. Yo-yoing around, Brighton went back to the second tier, were very nearly promoted to the top level, and were relegated back down to the third tier all by 1996. Brighton had to sell their old stadium, the Goldstone Ground in 1997 with the club then essentially becoming homeless.
Their new stadium, officially the Falmer Stadium (see below), opened in 2011 with the club now in the Championship. Under Chris Hughton, they finished third in 2016 and runners-up in 2017 behind Rafa Benitez's Newcastle United. This led to promotion to the Premier League, a real highlight in the life of Brighton and Hove Albion.
Brighton's Home
Known to all and sundry as the AmEx, or the American Express Community Stadium for sponsorship reasons. The Falmer Stadium as it is otherwise known is now the home of Brighton and Hove Albion and has been since 2011.
Plans for formulated for the new stadium after Brighton sold off the Goldstone Ground. This meant the club played their "home" matches at the Priestfield Stadium in Gillingham, as well as the Withdean Stadium, a primarily athletics-focused venue.
The AmEx has a capacity of 30,750 with many sell-outs having been known. In fact, the all-time low for a Brighton match is 18,412. Season averages now hit over 30,000.
Famous Albion Players
As a team that has not been playing European football or challenging for the league title in England, it's unfair to expect Brighton fans' favourite players to be akin to the likes of George Best and Lionel Messi.
Instead, what gives former Albion players legendary status in Brighton is their longevity. Those with the most appearances for the club include popular figures:
Tug Wilson,
Normal Gall,
Peter O'Sullivan,
Glen Wilson,
Des Tennant,
Bobby Farrell,
Gary Hart and
Kerry Mayo.
Brighton's all-time top scorers are Tommy Cook, Glenn Murray, Kit Napier and Bert Stephens. Naturally providing them with a high status though only the first two named have achieved triple figures.
In recent times, during the club's promotion chases and Premier League campaigns, the ones to have made the biggest difference are the likes of:
Tomer Hemed, Bobby Zamora, Dale Stephens, Anthony Knockaert, Lewis Dunk, Shane Duffy, Pascal Gross, Matt Ryan, Neal Maupay and the aforementioned Glenn Murray.
Club Honours
Brighton's biggest success came over a century ago now. However, for many modern-day supporters just being in the Premier League is a source of major pride for them and revenue for the owners.
In 1910, Albion won the Southern Football League which gained them entry to the following season's Charity Shield, another trophy they went on to win at a time when they had a pretty enviable side.
Since those heady days however the club have had to call lower-level title wins success.
As the Second Division in 1979 and the Championship in 2017, Brighton has been runners-up in the second tier and gained promotion therefore to the top level.
They have been champions of the third and fourth-tier three times and twice respectively, however, the former in 1958, 2002 and 2011 and the latter in 1965 and 2001.
Back 
Brighton & Hove Albion FC with Roger.com Now!
With your knowledge of The Seagulls now sufficiently enhanced, you can back the south coast club with greater confidence. Get on now via one of Roger.com's recommended online bookmakers to get the best value.