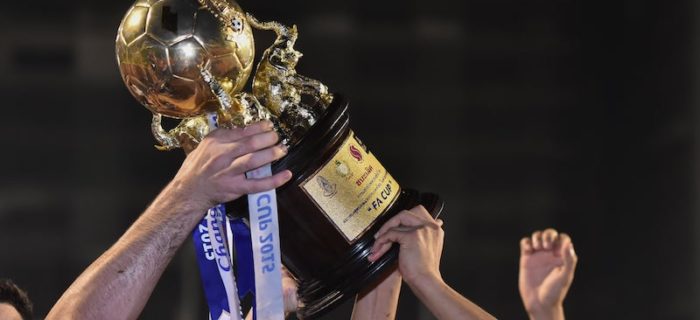 Known as the FA Trophy but officially titled The Football Association Challenge Trophy, is essentially the FA Cup for non-league teams in England. Read on for your guide to FA Trophy Betting.
First introduced in 1969, the FA Trophy was inaugurated to allow non-league clubs a chance to compete in a national trophy when they paid their players, a move that made them ineligible for the FA Amateur Cup.
Many changes have been made over the years, with most non-league clubs at the upper end of the semi-professional spectrum paying their players and/or operating full-time, with now all teams in the National League, Southern League, Northern Premier League and the Isthmian League now able to enter.
Given how deep English football is, when compared to many professional leagues from around the world the teams at this level are of relatively high quality and thus from a betting point of view there are some reliable stats and bettors can play with confidence.
FA Trophy Competition & Betting Format
With so many teams able to enter, there are four preliminary and qualifying rounds before we get to the first round proper.
At this point, 64 teams are entered and are drawn at random to play at home or away in a one-off match. Replays are used to decide winners if the first game is drawn.
The 32 winning teams then go through to the second round stage, with eight matches being played in Round 3 in the same format to create a 1/8 final. Round 4, or the quarter-final, continues in the same vein with the semi-finalists playing each other over two legs home and away.
In line with other major tournaments in England, the final is played in May as a one-off match at Wembley Stadium.
Biggest Teams
Scarborough, Woking and Telford United are the most successful historical clubs in the FA Trophy having each landed it three times, but year on year the biggest teams will be those challenging for promotion to league football via the National League.
In recent seasons this has included Macclesfield Town, Tranmere Rovers, Sutton United, Salford City, Solihull Moors, Leyton Orient, Barrow, Harrogate Town and Notts County while teams such as Yeovil have also had a rich history in the FA Cup itself.
Key Betting Markets
While the preliminary and qualifying rounds will offer too many unknowns, rounds 1-3 of the FA Trophy are worth looking at and these tend to produce an average of around 3.2 goals per game which is high. 51% of all these games are won by the home side, a great stat for us and higher than many other cup competitions while away wins are relatively rare.
Things change when we get to the later stages, with just two goals per game being scored in recent times in the nine games played between the quarter-final and final stage. Even more alarming is the lack of success for home teams from this point when matches get tense, only one in eight winning in 2018-19 for example while four away teams (50%) won in the same period.
With those stats in mind, here's where to concentrate your efforts:
Total Goals (Rounds 1-3) – clearly teams are less inhibited in the early rounds with games producing plenty of goals. Don't worry about Both Teams to Score or about who will win, but betting on over 2.5 goals will in many cases at this stage mean some good returns.
Home Wins (Rounds 1-3) – unusually for a cup competition, home teams do very well in the early part of the FA Trophy. This makes putting accumulators together very easy with many slight odds-on favourites getting the job done on their own patch.
Total Goals (QF – Final) – in the later stages, it's clear the games are tense and, in that sense, we can bet low on the total goals markets. Betting on under 1.5 in many cases will pay off so look out for games seen as being very close to call and then make this play.
Away Wins (QF – Semi-Final) – over the eight quarter-final and semi-final games, away teams have a great record as home teams tend to feel the nerves and can get caught on the break. Look out for bookmakers not realising this and offering prices of 2/1 and bigger and travelling teams.
Place Your FA Trophy Bets Now with Roger.com!
With your knowledge of the FA Trophy hopefully sufficiently enhanced, you can place bets on the tournament with confidence. To get the best possible value for money and to bet safely and securely, place your wagers via any of Roger.com's highly recommended online bookmakers.