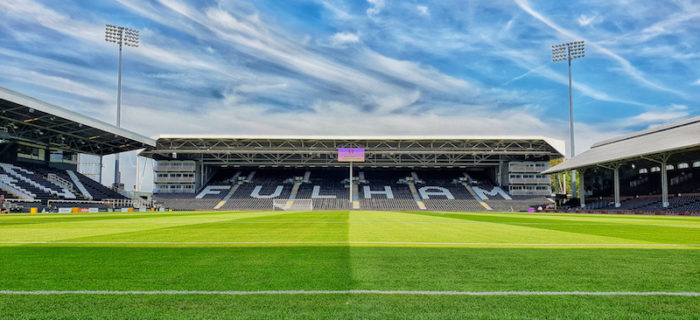 Right around the corner from rivals Brentford, QPR and of course Chelsea is London's oldest Football League club, Fulham F.C.
Known informally as The Cottagers or The Whites, Fulham has spent time in the English Premier League and are a household name in the country having played some marvellous football under the likes of Jean Tigana and Kevin Keegan over the years.
Brief History of Fulham F.C.
Fulham was inaugurated as a club in 1879, though then snappily known as Fulham St Andrew's Church Sunday School FC. They joined The Football League after winning the Southern League in 1907, playing in the Second Division initially.
When Fulham finally reached the top level of English football it was not easy for them to cope. They finished 17th and 18th in their first two seasons with bottom-placed finish finally coming the year after in 1952. They did reach the top flight again but from this era, right up to the mid-'90s Fulham put up with rather mixed fortunes in terms of what level they played at, although one FA Cup Final was reached in 1975.
As 1996 turned into 1997 Fulham were just about at their lowest. This changed when Mohamed Al-Fayed bought the club for what seems like a minimal fee now of £6.25million.
After new players were signed, Fulham's fortunes changed. They achieved promotion to the Premier League for the first time in 2001. And when on to consolidate their position.
When Roy Hodgson took over the side in 2007, things got even better and Fulham F.C. even reached a major European Final though ultimately, they were relegated twice more and have struggled somewhat to get out of the Championship in recent times.
Craven Cottage
A totally unique and smaller than average stadium for a first or second-tier club in England, Craven Cottage is situated right on the banks of the River Thames in west London. Completed in 1896 as a stadium, the ground has been home to Fulham ever since.
The capacity at Craven Cottage is a relatively modest 25,000, though that is of course due to the all-seater era. In days gone by, the club pulled in many more punters than this and in fact, the all-time record attendance at the stadium is over 49,000 for a match against Millwall way back in 1938.
The original Craven Cottage, built in the 1700s and initially situated where the centre circle now sits on the pitch, was at one point part of Anne Boleyn's hunting grounds giving this area the sort of history that cannot be rivalled by any other Premier League or Championship club.
As of now, Craven Cottage is made up essentially of the Hammersmith End, the Putney End, the Riverside Stand and the Johnny Haynes stand although plans are still being discussed to somehow extend the stadium to at least a 30,000 capacity.
Fulham's Most Famous Players
Some of Fulham's all-time legendary figures include the likes of Bobby Robson, George Best, Jimmy Hill and Johnny Haynes which is some roll of honour.
In more recent years, some of Fulham F.C.'s best and most recognised players include Stefan Johansen, Tom Cairney, Ivan Cavaleiro, Ryan Sessegnon, Aleksandar Mitrovic and Sone Aluko.
After reaching the Premier League in 2001, Fulham boasted such squad members as:
Edwin van der Sar,
Louis Saha,
Brian McBride,
Andy Cole,
Aaron Hughes,
Clint Dempsey,
Bobby Zamora,
Andy Johnson,
Dimitar Berbatov and
Lee Clark.
Honours
While the Cottagers have never been champions of England in their history, they have won league titles at lower levels.
In the second tier, these days the Championship, Fulham were successful in 1949 and again in 2001 when playing fantastic football under manager Jean Tigana. They also won the Championship play-offs at Wembley in 2018 when Slavisa Jokanovic's side managed a 1-0 win over Aston Villa at Wembley.
Fulham has also been promoted as champions from English football's third tier twice, in 1932 and in 1999.
While the club has never won a major domestic trophy, they did reach the FA Cup final back in 1975 and were also runners-up in the 2010 Europa League after a terrific run under manager Roy Hodgson.
Having beaten the likes of Juventus along the way, Hodgson's side were ultimately beaten 2-1 after extra time by Atletico Madrid in the final.
Place Bets on Fulham's Matches Now with Roger.com
With your knowledge of the Craven Cottage club sufficiently enhanced, you can place bets on Fulham with great confidence. Get on now via any of our recommended online bookmakers.