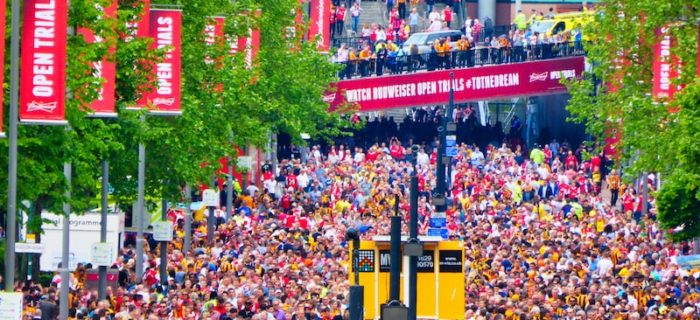 Known as The Tigers, Hull City Football Club have been regulars in England's top two football tiers for some time. The team retains ambitions to become one of the country's biggest sides.
That may take some time to achieve, however, Hull's fans have already had a taste of the top-level. In fact, the team continues to attract some of the best young players around.
Hull City's History
The club was founded in 1904 amid the dominance in the city of the sport of rugby league. Both Hull KR and Hull FC already accommodated within that field.
While only allowed to play friendlies at first, it became clear early on there was a passion for football in Hull. The club's kickabouts could attract 6,000 fans at their first home ground, the Boulevard.
A move to Boothferry Park was on the cards just after the War and the club began to grow. Promotion from Division Four to the third tier of English football eventually came in 1983. Thereafter the Tigers played regularly in Division Two, now the Championship.
When a change of ownership occurred just after the turn of the millennium, new funds were added. In the 2002-03 season, former England under-21 manager Peter Taylor was put in charge. Plus, the club also moved to their new ground, the then-named KC Stadium.
Hull reached the Premier League and took some major scalps, while also reaching the FA Cup Final in 2014. However, in 2017 they were relegated back to the second tier and were forced to sell their best players. They are still trying to recover from this position.
Hull's Home Venue
A popular venue on the English footballing circuit is Hull City's versatile KCOM Stadium. It is a 25,000-capacity bowl that also hosts rugby league outfit Hull FC. The Tigers moved here in 2002 having previously played at Boothferry Park for well over 50 years.
Rather typically for a modern newly-built stadium, the KCOM has been known by several names as rights to its title are sold, though in this case, it isn't the club who gains the extra revenue. The stadium was formerly called the KC Stadium. Under UEFA's regulations would also be known as the Hull City Stadium.
Given the declining state of affairs at Boothferry Park, a new stadium concept was first mooted in the '90s for Hull City. The KCOM eventually completed in 2002. Owned and operated by the local council with Hull FC and Hull City as paying tenants, this arena can be extended. In fact, the council are looking to increase capacity eventually to 32,000.
As well as being the accepted home of Hull City, the KCOM is the largest rugby league stadium in the country. It also gains income from hosting various events including major music concerts.
Boothferry Park, which some older fans still consider to be the club's spiritual home, hosted Hull City from 1946 to 2002. When supermarket chains began taking residence, parts of the ground still remained intact and visible until final demolition in 2011.
Famous Hull City Players
Hull City's better-known names on the pitch have all been around in the Premier League era. Some of them going on to play regular international football.
Recipients of the club's coveted Player of the Year title have proven to be very smart indeed. Michael Turner was voted POTY in both 2008 and 2009 before leaving on a big-money deal. While another dual winner was Jarrod Bowen who found Premier League football with West Ham United.
Others to have been awarded the title include:
Sam Clucas,
Abel Hernandez,
former Tottenham star and
England international Michael Dawson.
As well as popular performers Curtis Davies and Stephen Hunt.
Hull City's Biggest Achievements
While never winners of a major top-flight trophy in England, Hull City have reached the final of the Watney Cup (1973), Football League Trophy (1984) and the FA Cup (2014).
Hull's real success, however, given that they have rarely been top tier regulars, has come via promotions from various leagues.
As well as being successful in the play-offs or by virtue of finishing second and third in what is now the Championship and League One, Hull has also won what was the Third Division in England in 1966 as well as the Football League Third Division North in both 1933 and 1949.
Place Your Hull City Wagers with Roger.com
With your Hull City appetite whetted, you can now place bets on the Tigers' matches with confidence via any of our recommended online bookmakers.