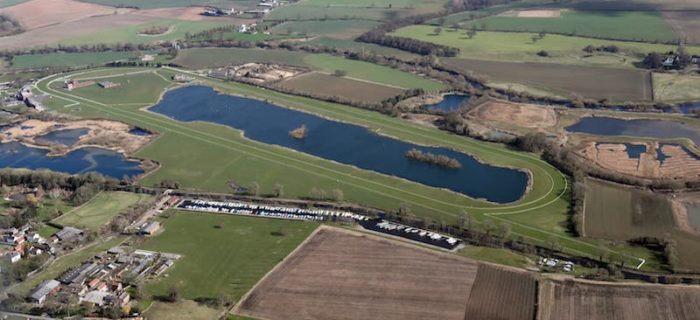 Yorkshire' loves thoroughbred athletes. Therefore, it's no surprise that Ripon has had lots of racing since at least 1664. In fact, Ripon Racecourse has hosted events since 1900.
Ripon is known as the Garden Racecourse. That's because of its beautiful location. The course sits just north of Harrogate and York and is only 30 miles from Leeds and 68 from Newcastle. For this reason, organised coach parties are common and the track is only too happy to accommodate groups.
Ripon Racecourse Special Race Days
Ripon hosts flat racing only during the warmer months. All in all, it stages around 17 fixtures from April onwards. These fixtures have various themes, including Bank Holidays, Ladies Day, Gentlemen's Evening, and the Go Racing in Yorkshire Festival.
The Go Racing in Yorkshire Festival is part of the Go Racing In Yorkshire initiative. Actually, all nine tracks in the initiative support each other, regardless of any differences in ownership. Beverley, Catterick, Doncaster, Pontefract, Redcar, Thirsk, Wetherby, and York are all members too.
On important days, representatives from Lambourn and Newmarket yards visit Ripon Racecourse. However, the rest of the year, Yorkshire's top trainers support the racecourse. These trainers include David O'Meara, Richard Fahey, and Mark Johnston.
Ticket Prices at Ripon
There are three different ticket prices at the Garden Racecourse. These prices reflect whether entry is for a Standard Day, Feature Day, or Evening:
Club Enclosure: £23, £26, and £14
Paddock: £15, £17, and £9
Course Enclosure: £6, £7, and £5
These prices are all very reasonable. You can also get a restaurant and hospitality package. Furthermore, if you make a group booking, you can get a discount.
Ripon Track Details
Ripon is a sharp course with many tight bends. However, it is a fairly long track at one mile and five furlongs in length.
It's right-handed and flat most of the way around. But it does have some pretty tasty undulations in the long, five-furlong home straight. That means that despite going straight forward, horses have to be fairly well balanced to cope with the lumps and bumps as races get going in earnest.
Performance on the Track
On good days, jockeys describe Ripon as a fair front-runner's track. This is mostly because, as well as the long straight, those undulations can help if you know how to ride them. The ridge around a furlong-and-a-half from the line is an ideal place to come off and kick on from the front. This allows those in the vanguard to kick away from the chasing pack.
Given that Ripon's major races are straight sprints (five-furlong and six-furlong races are accommodated without a bend), it's important to keep the draw in mind. The stands side rail is usually ideal, so look out for horses quick out of the gate that draws in the high numbers when there is a full field.
Around the bends and on the disparate ground, Ripon is basically a fair track without too many demons. That's why those with the strongest form or with weight in hand on the handicap will do well regardless. But given the variables mentioned, it may pay to markdown confirmed hold-up horses as those on the front end may simply not come back to the pack up the run-in on decent going.
Sprint races are still the most popular. However, the track has heats up to two and a half miles. Draw bias doesn't usually affect longer races, and high numbers are best in the sprints. Nevertheless, Ripon's tight turns mean races run over seven furlongs to a mile and a quarter usually handsome sort of advantage to those who draw low on the inside.
Ripon's Biggest Events
Ripon hosts a number of high-profile meetings throughout the flat season from April onwards.
Saturday and Bank Holiday meetings, as well as the Ladies Day and Gentlemen's Evenings, are particularly popular. People come from around Yorkshire and beyond.
The following two races are the standout individual events during the year:
Place Your Bets with Roger.com
So, now you know a little more about Ripon Racecourse and its foibles. But we have something else for you a curated guide to our recommended online bookmakers. That way, you can place your bets with a little extra confidence! Check out Roger.com for more information.