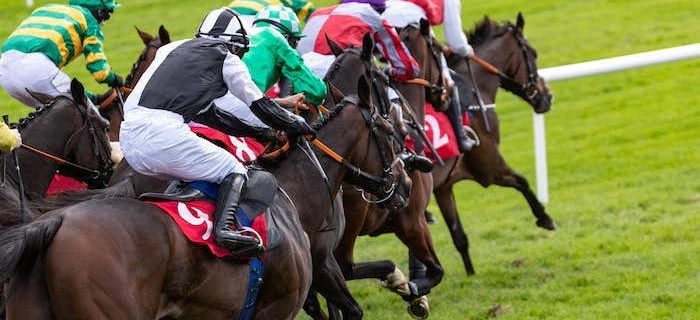 Bangor-on-Dee Racecourse is a specialist jumps course set just south-east of Wrexham. There has been racing here in various forms since 1859 and it shows – in a good way! Bangor is such a firm fixture in British horse racing and ever so popular with jumps fans right around the country, partly because of its most wonderful views.
This is essentially the sister track to Chester Racecourse. The two are under the same ownership and have the same Clerk of the Course. Together, they manage to combine a whole cross-border racing community.
Chester provides flat racing only, while Bangor is all National Hun. Therefore, given that the two are only half an hour and 20 miles apart, either side of the border with Bangor in Wales and Chester in England, everybody is taken care of no matter what sort of racing they prefer.
The administrators at Bangor-on-Dee must also be commended for one of their initiatives. A simple one, yet something so few racecourses are doing — providing a Gentlemen's Day.
In the days of louder and louder calls for equality, it's absolutely correct that the track promotes this day alongside its well-established Ladies Day. They may well be leading to way for the likes of York, Epsom, Ascot, Cheltenham and Aintree to follow.
Ticket prices at Bangor
The pricing at Bangor is what really helps to draw people in. The fantastic ticketing structure means you can attend for as little as £7 on the Open Course or for £17 in the Paddock Enclosure. Restaurant packages are available too.
Bangor-on-Dee Racecourse details
Racing has been taking place here for a long old time and so the track is very well established, as well as being popular with trainers and jockeys alike.
The racecourse itself is left-handed, pretty flat with only very minor undulations and with fairly sharp turns, particularly the one after the winning post which is a very tight left-hander.
The circuit is a mile-and-a-half round featuring standard hurdles and fences with no major difficulties reported or more falls than expected having been recorded, despite the usual horse racing fairy tales often labelling the obstacles here as stiff.
Given the shape and style of Bangor's track, runners are almost always turning which lends itself to races being very well run. The pace therefore of races here means horses do need to be good, quick, accurate jumpers. They'll be firing into the fences at some rate which is in fact probably where some of the stories of the jumps here being stiff actually come from.
Hurdle races at Bangor are run from 2 miles, 1 furlong up to 3 miles, while steeplechase events take place over the same range of distances.
Race riding tactics
While it remains true that this is a course on the quick side featuring races generally run at a good clip, tactics can, in fact, change dramatically according to the ground.
True, on good ground or faster you would not want to be off the pace or struggling in behind around here as the leading pack simply won't be coming back to you, however, when the ground gets soft the temptation is to still hit it hard out of the traps and that's not such a great idea.
When the ground comes up testing, wise jockeys at Bangor often let the front two or three cut each other's throats somewhat. Waiting in behind but within touching distance, riders can then pounce when those in the vanguard invariably begin to struggle up what is a long enough run-in after the final flight.
Bangor's biggest races
Bangor-on-Dee Racecourse simply isn't about putting on rich individual races, it's more about bringing together its racing community with fantastic themed days. Among its 15 excellently put-together fixtures throughout the year, these are some of the best meetings to attend:
Place your bets with Roger.com
Bangor is one of the most picturesque places in the country and its racecourse lends itself to honest, competitive National Hunt horse racing several times a year.
If you want to get involved and have a flutter on races at Bangor-on-Dee, you can do so by using any of our recommended online bookmakers now.