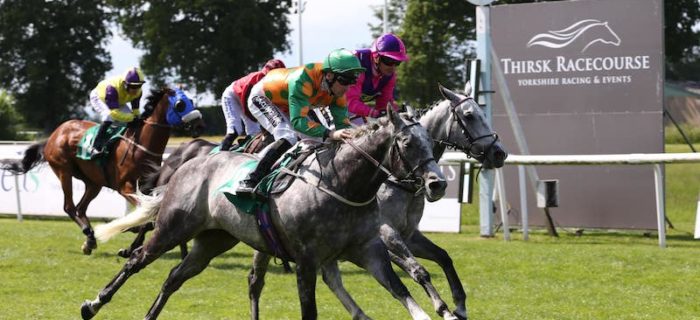 Thirsk Racecourse is a thoroughbred horse racing venue in the Thirsk region of North Yorkshire, England.
The racecourse has a very interesting history. For instance, racing at the venue dates back centuries and the racecourse underwent numerous closures during World War I and II. It is still a popular venue for horse racing today, with many long-running races attracting a loyal crowd every year.
History of Thirsk Racecourse
The history of racing at Thirsk is long and storied. In fact, the first official racecourse in England was at Thirsk in 1740. Then in 1885, racing really began to take off in that area after a new course was set up by Squire Fredrick Bell. These races were usually over fences and hurdles.
Thirsk Racecourse was a buzzing venue until the outbreak of World War I. However, it shut down in 1914 and did not reopen until 1924. After that, the construction process continued until the outbreak of World War II. During the second war, the racecourse was an army camp. It was in 1967 that a new stand and family stand were built at the course. Then, in 1999, the Pavilion Stand opened at Thirsk Racecourse.
Today, the Bell family still owns Thirsk Racecourse after nearly 300 years. The longest-running race at the track is the Hambleton Cup, which has run on 164 different occasions over the years.
The Racecourse
Thirsk Racecourse is a left-handed oval course. It is a mile and two furlongs long, with the finishing straight being three furlongs and the chute being six furlongs.
Thirsk Racecourse Ticket Prices
Ticket prices for Thirsk Racecourse events vary depending on the popularity of the meeting. You can save on tickets by purchasing in advance online rather than at the gate on race day. Also, you can get even bigger discounts by purchasing one of the group packages.
Tickets for the family enclosure start at £8 online and increase depending on the type of package. For example, paddock access will cost you £14, while the Hambleton dining package will set you back £69.50 for a regular meeting.
Betting at Thirsk
Generally, racing at Thirsk Racecourse takes place from April until September each year over the flats. In total, there are 15 days of racing usually pencilled in the calendar at the track.
Tactics to Consider
At Thirsk Racecourse, horses drawn with lower numbers can struggle somewhat. This is because the middle of the course is in overall better conditions, with the inside generally being slower at this track. Also, speedy horses can struggle with the undulations across the beginning and middle of the course.
Because Thirsk is a long way to travel for trainers from the south, you should take note when these trainers make the journey, particularly if there is a good jockey on board.
Biggest Races at Thirsk Racecourse
There are a few different notable races that take place at Thirsk Racecourse each year. The two biggest are:
The Hambleton Cup is the standout of these races. In fact, it is one of the oldest races in Britain. This race usually takes place on Ladies Day and is a mile-and-a-half handicap contest. The first Hambleton Cup took place in 1714 at a nearby course.
The Personal Touches Handicap Stakes is confined to three-year-olds and takes place over a mile. The prize purse is usually set at £15,000. Similarly, it is a key race that makes up the seven-race schedule on Ladies Day in September.
Place your Bets with Roger.com
If you are looking to place bets on one of the many race days at Thirsk Racecourse, you will be inundated with online betting options. In fact, there are so many platforms that it can be a bit overwhelming. But fortunately, Roger.com has done all the hard work for you.
You can use this resource to quickly see the best and worst attributes of a given betting operator. Also, all reviews are unbiased, so you can get started and place your bets for races at Thirsk Racecourse quickly and easily.