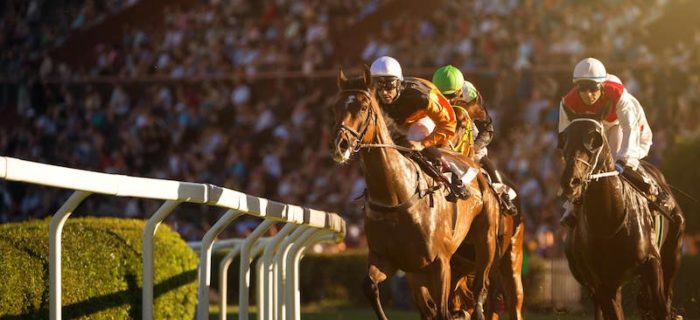 Colonial Downs Racetrack is found in New Kent County, Virginia, United States. It is beside Interstate 64 and it is about halfway between Williamsburg and Richmond.
There is both thoroughbred flat horse racing and standardbred harness racing that takes place at the track. This began in 1997 and continued until 2014. After a few years of intermission, racing returned to Colonial Downs Racetrack in 2019. The track is under the ownership of the Colonial Downs Group.
Since 2018, there have been historical racing machines located at the facility, devices that are very similar to slot machines. This allows the track to make enough revenue to keep open its doors for racing. The grandstand at the track can hold more than 10,000 people at the Colonial Downs Racetrack.
Colonial Downs Racetrack Ticket Prices
If you want to attend racing at the Colonial Downs Racetrack, the ticket prices will usually vary depending on if you are going to a flats race meeting or a harness race meeting. You will usually get discounts also if you book your tickets online in advance, instead of waiting to buy them on the day.
For some race meetings, it will even be free to get a general admission ticket. You will then pay for certain positions at the facility. For example, to get a reserved seat in the grandstand, a ticket usually costs $100.
Course Details
A few different tracks that make up the Colonial Downs Racetrack.
There is a dirt oval track that is one and a quarter miles in length.
There is also an inner turf oval track that is seven and one-half furlongs in length.
Finally, the outer turf oval track is one and a one-eighth mile in length. All of the harness racing will have a starting point from a chute that is located on the dirt oval's back-stretch. This makes it the only one-turn mile race in all of harness racing.
Tactics to Consider
If you are betting on racing at the Colonial Downs Racetrack, you want to go for speed over stamina. The various tracks are relatively short and the footing is usually good, with the minimal turning required meaning that speed of foot is essential.
Track History
It was in September 1997 that the Colonial Downs Racetrack opened for the first time. On opening day, there was a crowd of more than 13,000 people in attendance. The track was under the management of the Maryland Jockey Club until 2005.
The track held a lot of races annually at one point in time, with 45 thoroughbred racing dates requested by the track in 2008. However, this dropped as the years went on, with no thoroughbred racing taking place from 2013 until 2019. This was mainly because of a disagreement between the horsemen's groups and the management of the track. It was in 2014 that harness racing also came to an end and legal proceedings began.
Colonial Downs Racetrack tried to get races scheduled in for 2016 but the Virginia Racing Commission denied its request. This decision was made because of the track's display of "callous disregard for the industry" after it surrendered in 2014 its unlimited racing license. After new owners took over the track in 2018, the track once again got its racing license and the first race back took place in August 2019.
Biggest Races
There are a number of notable thoroughbred and harness race meetings that take place at the Colonial Downs Racetrack. Many of the graded races that once took place at the Colonial Downs Racetrack before its closure have since gone to other tracks. These include the likes of the Colonial Turf Cup, the All Along Stakes and the Virginia Oaks.
In 2019, the Grade II stake race, the Virginia Derby returned to the Colonial Downs Racetrack. In 2020, there were six different racing festivals lined up to take place at the Colonial Downs Racetrack. The Mid-Atlantic Thoroughbred Championship Series Finals take place in August, which wraps up a series of races that carry a total prize money purse of $3.75 million.
Place your bets with Roger.com
If you are looking to bet on racing that takes place at the Colonial Downs Racetrack, then you are in luck! There are options to place bets on both thoroughbred and harness races that take place at the track through a variety of betting sites.
At Roger.com, you can quickly see which betting sites support Colonial Downs Racetrack betting and which ones will be a good fit for you and your needs.