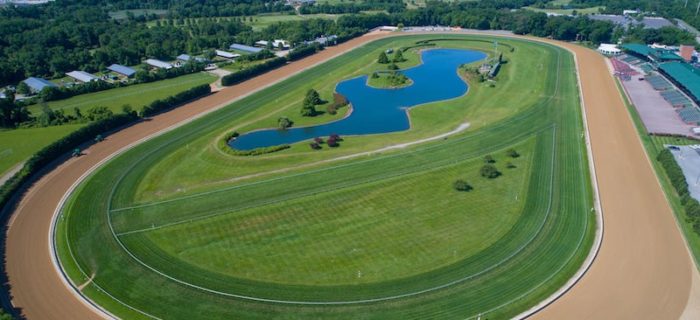 Delaware Park Racecourse is a hugely popular racing, gambling and sports facility. As well as the thoroughbred race tracks, the facility also houses a fully-fledged casino and a golf course.
The track sits near the town of Wilmington, around 30 miles from Philadelphia. It is its proximity to such a major city that means its live meets are always very well supported, despite good competition from many other tracks on the eastern seaboard.
Racing at Delaware Park generally takes place from May to October. It features a strong stakes schedule with millions of dollars offered up in prize money every year.
Delaware Park Racecourse has become famous for future superstars making their debuts and/or gaining their first wins here before going on to Grade I glory. Kentucky Derby winner Barbaro and Afleet Alex who very nearly landed the Triple Crown both won their first starts at this track.
At the latest meet, the top jockeys around Delaware Park in terms of overall prize money earned, winning rides or percentage of placed rides were:
Carol Cedeno,
Alex Cintron,
Trevor McCarthy,
Angel Suarez,
Daniel Centeno and
Jeremy Rose.
Keep an eye out for horses ridden by any of these, although superstar jockey Jose Ortiz has an impeccable record when visiting here too.
The top trainers recently have included Jamie Ness, Arnaud Delacour, Anthony Pecoraro, Hugh McMahon and Jorge Navarro. As always though, be on the lookout for any world-class trainer visiting, Bill Mott, for example, having won two from two in spring of 2019 when sending rare runners here.
Admission Prices at Delaware Park
In terms of general admission, and something that is very much to their credit, parking and entry to Delaware Park is completely free for all. There is even a complimentary shuttle service provided from the parking areas to the clubhouse and the casino area. Valet parking is offered for $4 if you want to feel special, otherwise, it's completely free to attend!
Track Details
There are two race tracks at Delaware Park with the venue able to host both dirt and turf races to a high standard. Each track is similar in layout but can ride very differently when the rain comes.
Dirt Track
The main track is a standard left-handed, one-mile dirt oval which is flat in nature with tight bends. The sharp turns mean the emphasis is on speed and not stamina here, especially in wet weather as when the going gets sloppy the surface actually compacts and makes the track a little quicker.
Having a low post position draw is crucial around these turns as being trapped out wide means losing valuable race position and distance, although this is mitigated somewhat in longer races and/or when the leaders go off too quickly from the inside.
Look out for horses with well-advertised speed figures, information that is readily accessible at race time, as setting good but sensible fractions or possessing a quick turn of foot can be enough to seal the deal.
Turf Course
The inner turf course here is used for several of Delaware Park's valuable stakes races and is generally well-received by horsemen. The track is fair but quick in nature being only seven furlongs around with sharp left-handed turns.
Unlike the dirt track, when the rain comes here the turf course can ride very testing and so while usually speed is important on good ground or faster, a little stamina is needed in races of a mile and over on softish going.
Once again, a wide draw is a disadvantage especially in races of around eight runners or more, so keep in mind not just your chosen horse's style of running but also their gate position.
Biggest Races
As part of a packed programme, Delaware Park Racecourse runs 21 stakes races between June and September with purses ranging from $50,000 right up to the $750,000 attached to the Delaware Handicap. Here's the very best of the action:
Obeah Stakes – Listed Race, 1m1f, Fillies & Mares, June
Delaware Oaks – Grade III, 1m½f, 3yo Fillies, July
Kent Stakes – Grade III, 1m1f (turf), 3yo only, July
Robert G. Dick Memorial Stakes – Grade III, 1m1½f, Fillies & Mares, July
The Delaware Handicap – Grade II, 1m2f, Fillies & Mares, July
Distaff – 6f, Fillies & Mares, September
Place Your Bets with Roger.com Now!
With your knowledge of Delaware Park Racecourse now enhanced, you can place online bets safely, securely and with even more confidence via any one of our highly recommended bookmakers.