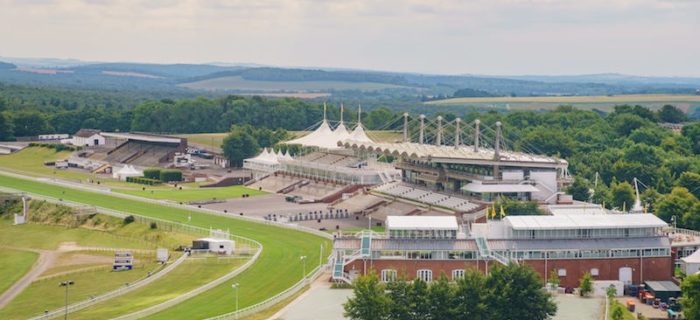 Goodwood Racecourse is, quite simply, one of the top four flat venues in Britain alongside Newmarket, Ascot, and York.
Although run now under a sponsorship name, the premier meeting here in late July and early August is the Glorious Goodwood fixture and along with Royal Ascot, it is one of the top two festivals to take place on the flat in Britain.
This is truly a premier racecourse. It hosts three of Britain's 36 Group One races, all of which are held during Glorious Goodwood; the Goodwood Cup, the Nassau Stakes, and the Sussex Stakes. The latter is particularly important as it brings together the best milers from the three-year-old bracket and the older generations for the first time during the season, often leading to a "Duel on the Downs" between the best of each.
Goodwood Racecourse Location
Goodwood Racecourse is placed right on the South Downs above Chichester. Therefore, aside from its undoubted quality, it's noted for being probably the most picturesque racecourse in the country. It also brings together casual racegoers with the elite and many of them turn up in what is now a Goodwood staple – the Panama hat!
The track here is complex, the views are wonderful, and the racing is top-notch. Hence, these are things that, for proper racing fans, make Goodwood the number one racing venue even ahead of Ascot itself.
Ticket Prices at Goodwood Racecourse
The flagship event is, of course, the Glorious meeting in late July and early August, with admission to the Lennox Enclosure costing £20, the Gordon Enclosure £42, and a reserved spot in the Park & Picnic being £130. For a more typical meeting, admission is £21 or £29 but this is a venue with lots of different packages and pricing available.
Goodwood Racecourse Track Details
Goodwood is complex in its design; right-handed, although featuring a loop that runners will have to turn left-handed into in longer races. It is mostly very sharp and has a downhill run on the sprint course making for very fast times in the summer. In fact, it greatly favours those who show terrific early speed.
Goodwood is notoriously awkward and problematic for jockeys meaning that those held up often run into traffic in the straight, especially when staying on the rail. The two extremes come into play then of needing either a strong front-running type who will be in racing position early or one with a notoriously fast turn of pace to be able to get into a new gear quickly and makeup ground in the final couple of furlongs.
The bottom turn at Goodwood Racecourse is what causes so many problems because the camber runs away from the horses, while the final bend is very sharp which puts some out of balance and leaves them just a few furlongs to recover, get back into gear and make up the ground.
On that fast five-furlong sprint course things can be much simpler. For instance, get out of the gates early, get straight up to top speed, and run right down the middle of the track. So, if you're on the best horse, it won't be caught.
For punters then; while Goodwood looks, and is, very tricky for jockeys it doesn't have to be that way for us. The best horses still so often win here, in the pattern races at least if not in the handicaps, so keep things simple and just look for the right type of horse to tackle this terrain.
Goodwood's Biggest Races
There are almost too many major races at Goodwood to mention with so many of them coming during the Glorious meeting. Here are the very best of them:
Glorious Goodwood
Others
Celebration Mile – Group 2, 1m, August
Prestige Stakes – Group 3, 2yo Fillies, 7f, August
Supreme Stakes – Group 3, 7f, August
Place Your Goodwood Bets at Roger.com
Betting at Goodwood can be utterly thrilling. If you are going to place a bet there on one of Britain's biggest races, do so safely and securely with one of our recommended online bookmakers only. Check out Roger.com for more info.