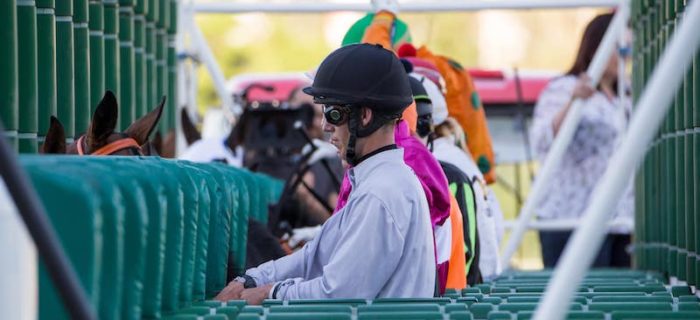 Kempton Park Racecourse is a racetrack that also has a conference and entertainment centre at the venue. It is located in Surrey, only 16 miles from Charing Cross in London. There is both an inner and an outer course at the venue that caters to fenced and flat racing. It holds a number of notable races every year, such as the King George VI Chase on Boxing Day every year.
History of Kempton Park Racecourse
The history of Kempton Park Racecourse dates back to the 19th century. The course opened in 1878 and it has been open to racing almost ever since. There was a stake between 2005 and 2006 that Kempton Park Racecourse had to close for a while in order to create a new all-weather track, as well as floodlighting.
This meant races could take place at Kempton Park Racecourse no matter what the weather may be. All of the flat racing at Kempton Park Racecourse since 2006 has been on the all-weather Polytrack. This led to the abandonment of the traditional Jubilee Course. It has not hosted races since.
The Jockey Club Racecourses owner announced a massive investment programme for Kempton Park Racecourse in 2017. Therefore, the track will close while renovations take place worth £500 million. This work will take about a decade to fully complete.
While this work is ongoing, many of the notable races that take place at Kempton Park Racecourse will have to move elsewhere. For example, the Christmas meeting that is highly popular will likely go instead to the Sandown Park Racecourse.
The remainder of Kempton Park Racecourse jumps racing for the seasons will go to different tracks owned by the Jockey Club across the nation. All of the races set to take place on Kempton Park Racecourse all-weather track will go to Newmarket's newly built all-weather facility.
The Racecourse
There are two different courses at Kempton Park Racecourse:
an all-weather track, and
a National Hunt Track
The all-weather track has been open since 2006. It has floodlights and has a synthetic Polytrack surface. It is a right-handed track in an oval shape, usually being 8 or 10 furlongs in length. This alters depending on if the outer or the inner bend is being used.
The National Hunt track is a circuit that is shaped in a triangle and it is a mile and five furlongs in length. The run-in is 220 yards in total. As a result of these two tracks, Kempton Park Racecourse is considered to be one of the leading dual-purpose venues in the region.
Ticket Prices
There are many race days taking place at Kempton Park Racecourse each year thanks to the two tracks. Therefore, you have a lot of different chances to attend racing at the venue. The ticket prices will be a bit higher for the more popular race days, such as that on Boxing Day each year. It will be cheaper to book your tickets in advance by ordering them online, with a standard ticket for a normal day of racing starting from around £12.
Notable Races
There are three main races that dominate the Kempton Park Racecourse calendar each year. The biggest race is the King George VI Chase that takes place on the day after Christmas. It is a Grade I race and is on the same day as the Kauto Star Novice's Chase, which is also a Grade I race. The Betway Handicap Chase takes place towards the end of February and the Sirenia Stakes is another major day of racing at the beginning of September.
Tactics to Consider
The flat course is an ideal fit for handy, fast types of horses due to the sharp turns. The jumps course is a very fair test and the fences are pretty handy for the most part. When the ground gets a bit softer, it does pose a stamina challenge for race participants.
Place your bets with Roger.com
You must be ready to place a bet on one of the many races that take place at Kempton Park Racecourse each year. But you have a lot of different options to look at. This can be overwhelming if you do not know how to differentiate between the different betting operators.
Thankfully, at Roger.com, we've done all of this hard research for you. Check out the unbiased reviews of the top betting sites out there today. Just one step to determine which one is the ideal fit for you.