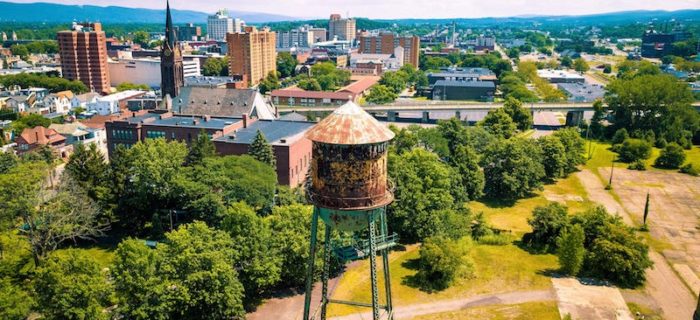 Popularly known as Pocono Downs but now officially Mohegan Sun Pocono Racecourse, this venue is a harness racing track and casino development situated near Wilkes-Barre, Pennsylvania, just a 20-minute drive from downtown Scranton which is where the majority of support for the track comes from.
As well as the 5/8-mile harness racing track, Mohegan Sun also offers visitors a choice of well over 2,000 slot games and table games in its casino as well as sports betting facilities and live simulcast racing.
The name comes from the fact that the track is owned by a division of the Mohegan Tribal Gaming Authority, part of the Mohegan Tribe which is a recognised sovereign tribal nation of the Mohegan people. The tribe's reservation is located some 250 miles from Wilkes-Barre on the Thames River in Uncasville, Connecticut.
Mohegan Sun bought what was Pocono Downs racetrack back in 2005 for $280million, renaming the venue and beginning huge expansion on the site.
Since that time, Mohegan Sun Pocono Racecourse has thrived as a casino and a harness racing venue with stakes races worth millions of dollars being run most of the year for both trotters and pacers.
Admission Prices at Mohegan Sun Pocono Racecourse
As a very busy racino, entry to Mohegan Sun Pocono Racecourse is free for all. Everyday visitors enjoy live simulcast racing, slot games and more with the racing being just one of the many forms of entertainment on offer, albeit a crucial one. Upgrades are available, however, with food and drink packages as well as box seat available to purchase race day by race day.
Track Details
The Pocono Downs track is a 5/8-mile dirt racing surface which is typically flat in nature, going left-handed all the way around the oval and featuring a home stretch of just 490 feet.
The track is made up of a stone aggregate base consisting of stone dust with red rock screenings on top, making for a nice quick surface that keeps things fair for all.
Almost all harness racing tracks in the States have a layout just like this one, with the majority of races taking place over a mile and that is the case here at Mohegan Sun Pocono Racecourse too.
Pocono suits track specialists as, while the course here is fairly standard in layout, some harness tracks can be as short as half-a-mile and some can be up to a mile which suits certain types, though the pacers and trotters winning here tend to have always done well over the 5/8-mile track.
At Mohegan Sun Pocono Racecourse, speed is crucial as horses need to be in a winning position before rounding the final turn and heading up that short stretch, so be on the lookout for poor favourites who have achieved wins from the back on wider, longer tracks as they may struggle around here.
Biggest Events
The live racing schedule here takes place February through November with the 55th season beginning in 2020. Post times on Saturdays and Sundays in February are from 5 PM with 14 races on the card, while in March the schedule is Sunday (7 PM), Monday and Saturday (both 4 PM).
Things are ramped up April – September with 4 PM post times on Monday and Tuesday alongside 7 PM starts Saturday and Sunday, and the pattern is similar right through October and November when a hectic live season eventually ends.
Along the way over 80 stakes races are planned worth at least $30,000 each, these events being the most important on the calendar with purses ranging right up to an incredible $500,000:
Pass – Pace, 3yo Colts & Geldings, May

Pass – Trot, 3yo Fillies, May

Pass – Trot, 3yo Colts & Geldings, June

Earl Beal Jr. Memorial – Open Trot, 3yo, June

Max Hempt Memorial – Pace, 3yo Colts & Geldings, June

James Lynch Memorial – Pace, 3yo Fillies, June

Ben Franklin Final – Pace, Free for All, June

Pass – Pace, 2yo Fillies, August

Pass – Pace, 3yo Fillies, August

Pass – Pace, 2yo Colts & Geldings, August

Pass – Trot, 2yo Fillies, August

Pass – Trot, 2yo Colts & Geldings, August

Great Northeast Series Final – Pace, Open, September

Great Northeast Series Final – Pace, Fillies & Mares Open, September

Great Northeast Series Final – Trot, Open, September
Place Your Bets with Roger.com Now!
Harness racing at Mohegan Sun Pocono Racecourse can be absolutely thrilling, and now you know a little more about the venue you can wager there with extra confidence. Get your bets on now via any one of Roger.com's highly recommended online bookmakers.