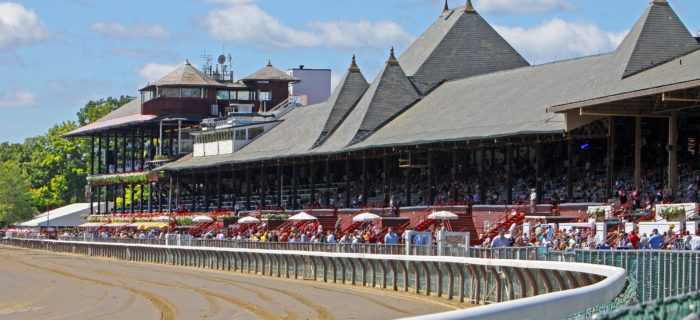 Saratoga Racecourse is one of the most important race tracks in the States. The course is housed in Saratoga Springs, New York, and is part of NYRA – the New York Racing Association which also handles Belmont Park and Aqueduct.
While situated in New York state 35 miles north of Albany, the track is as close to Boston as it is to New York City although its support is drawn from places away from the major cities anyway. Saratoga opened in 1863 which makes it according to some the oldest major sports venue in the States.
The original Saratoga meet only lasted four days and it is still very seasonal even now, with 40 live days scheduled beginning in July and lasting until Labor Day in early September.
Many top races are run here with the Travers Stakes being the highlight. As a 1¼-mile race for three-year-olds only, it brings in Triple Crown form but also serves as a major trial for horses of that generation hoping to go on and contest the Breeders' Cup Classic in early November.
Admission Prices at Saratoga Racecourse
As a truly top-class venue, we don't expect free entry here, but things are kept more than reasonable anyway with Grandstand admission set at £$7 and Clubhouse tickets being $10 with these fees only moving up to $10 and $15 respectively on Travers Stakes day.
Track Details
This venue plays host to so many top races that only a first-class facility will do, with three separate tracks utilised here.
Dirt Track
The main track is a standard left-handed oval, slightly longer than most American tracks at nine furlongs in total. While this is a place known to be mostly fair for all at varying distances, there some things to keep track of.
At sprint distances on the dirt track (up to seven furlongs), those possessing early speed and able to get to the lead often stay very close to it, so a mix of strong speed figures and a front-running style is what to look out for.
When going over a mile or more, those who can get up to stay close to the lead throughout again hold a slight advantage, but it is a fine balance. Those going off too quickly can burn out here, though that fast pace strangely makes it difficult for those at the back caught many lengths off the early pace to come from behind and score.
There is no marked post position draw advantage, so don't worry too much about what gate your horse is drawn in.
Turf Courses
Fairly standard for New York, there are actually two turf tracks here; one at a mile around and an inner track at seven furlongs.
These are obviously sharper, with sprint races on the turf handing an advantage to those staying near the lead once again with the outside of the track is a little better, so again high numbers in the draw are not such a big deal.
Over longer distances, there are no real biases which should be music to the ears of European backers. In this case, check on the form and the ratings versus weight and ignore speed as basically the best horse should win around here on the turf.
Biggest Events
As part of NYRA's heavy stakes schedule, Saratoga Racecourse hosts fully 40 graded races with their own stakes events totalling around $21million in prize money. These are some of the biggest races not just in New York, but anywhere in the States yearly:
Diana Stakes – Grade I, 1m1f (turf), Fillies & Mares, July
American Oaks – Grade I, 1m1f, 3yo Fillies, July
Alfred G. Vanderbilt Handicap – Grade I, 6f, July
Longines Test – Grade I, 7f, 3yo Fillies, August
Whitney Handicap – Grade I, 1m1f, August
Fourstardave Handicap – Grade I, 1m (turf), August
Alabama Stakes – Grade I, 1m2f, 3yo Fillies, August
Forego Stakes – Grade I, 7f, August
H. Allen Jerkens Memorial Stakes – Grade I, 7f, 3yo only, August
Ballerina Stakes – Grade I, 7f, Fillies & Mares, August
Personal Ensign Stakes – Grade I, 1m1f, Fillies & Mares, August
Travers Stakes – Grade I, 1m2f, 3yo only, August
Sword Dancer Stakes – Grade I, 1m4f (turf), 4yo+, August
Woodward Stakes – Grade I, 1m1f, August
Hopeful Stakes – Grade I, 7f, 2yo only, September
Place Your Bets at Roger.com Now!
Now you know a little more about one of America's most important tracks, you can place bets there with renewed confidence. Wager at Saratoga Racecourse now safely and securely via any of Roger.com's recommended bookmakers.