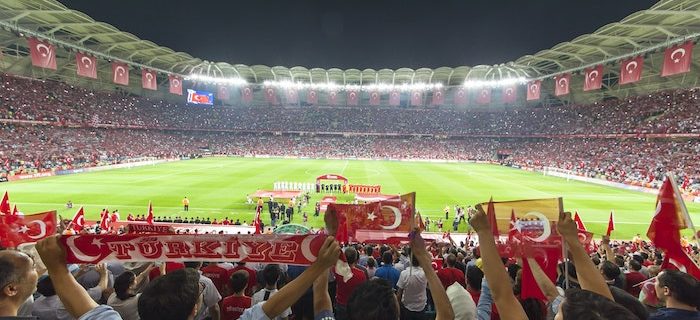 The Turkish Cup, known locally as the Türkiye Kupasi, is Turkey's premier domestic football cup competition, like the FA Cup in England. It's been around since 1962 and is run, as is the league system, by the Turkish Football Federation.
Turkey's domestic cup runs every year with up to 158 teams taking part from the outset. This makes it one of the deepest and most highly contested domestic competitions anywhere in European football.
Given that Turkey is placed 11th by UEFA's coefficient rankings, bettors can be certain that in the latter stages at least, this tournament comprises only high-quality teams and players. So, it's reliable from a punting point of view.
Turkish Cup – How it Works
42 lower-level teams enter the Türkiye Kupasi in round one. The teams are drawn together at random and settling their ties on the day. Games are decided via extra-time and penalties if required – no replays are allowed.
More teams enter in round two under the same rules, joining the 21 successful first round sides to create a 74-team round. The even higher-ranked sides join in round 3, meaning the competition goes up to 96 teams at this point.
Another eight are added to those winners in round 4 making it a 56-team round. Finally, the winners of these ties are joined by the remainder of the big boys to make round 5 the last-32. At this point, the competition changes to become a two-leg affair, rivals playing home and away to decide on who reaches the last 16.
The tournament continues this way up to and including the semi-finals. The final is played in May as a one-off game at a neutral venue.
European Qualification
The Turkish Cup winners can qualify for the UEFA Europa League via their success. However, should the winning team have qualified for Europe already via the league then the Europa position goes to the next qualifying team in that division rather than the cup runners-up.
The Biggest Teams in the Turkish Cup
There are many recognisable names to have come out of Turkey. İstanbul Başakşehir being the latest team to make their mark around Europe. Although they've only managed two runners-up spots in this competition, their time will come.
Bursaspor have won this once. While multiple winners and household names include Fenerbahçe (6), Trabzonspor (8), and Beşiktaş (9). However, despite their wins, they pale into insignificance compared to Turkey's most successful cup side, Galatasaray. The Istanbul giants having won this competition 18 times including in 2019.
Türkiye Kupasi Betting Markets
With the first five rounds containing too many unknowns, it's best to concentrate your efforts on the last-16 onwards. At this point, it comes to betting on the outcome of Turkish Cup matches. This stage begins in January making it a good chance to change-up your betting mid-season.
Stats-wise this is a tricky tournament. 50% of all games won from the last-16 onwards go to the home side which seems OK. But not all of those wins would be obvious to you or me with a few high-profile favourites having succumbed. Certainly knocking this out for accumulator purposes.
Both teams to score would only land around 45% of the time while at 2.5 per game we can't glean much from the total goals market either.
Here's where you may be able to scrape out some profit from the Türkiye Kupasi if you do enough research on the participants:
Handicap Betting – home sides winning to nil doesn't happen enough, nor does second-leg favourites being successful and so it seems backing the away side with a one-goal head start when they are underdogs is a way to get some much-needed value from this competition with a draw being good enough to collect.
Both Teams to Score – at just 46% 'yes' and at odds-on, this isn't a market we should concentrate on in the traditional sense. However, backing 'no' in this market in first leg ties pays off around two-thirds of the time and at occasional odds-against, you could pick up some profit along the way.
Take a Punt on the Turkish Cup
The Turkish Cup really is a thinking man's tournament from a betting point of view as not all of the seemingly obvious home favourites will get the job done. If you like to put a little bit of research into your betting, however, then doing so on the Türkiye Kupasi can be managed via our trusted and recommended online bookmakers.