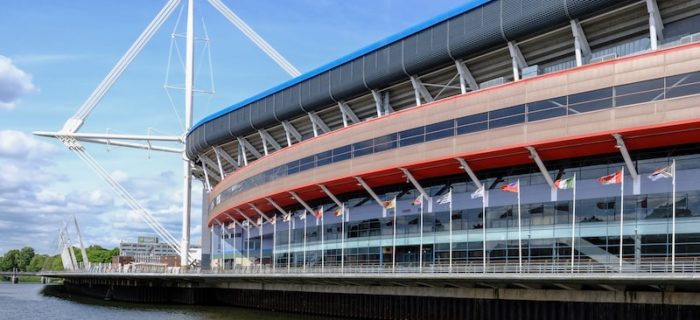 Playing host to both Cardiff City Football Club and the Welsh national team is the Cardiff City Stadium.
The stadium was built to replace Cardiff's old home at Ninian Park, being completed in 2009 and having been extended in 2014.
The Cardiff City Stadium was built along with the Cardiff International Sports Stadium and other ventures as a part of the Leckwith development, the area being just 1½ miles from the centre of Cardiff.
This venue is now the second-largest stadium in Wales, with another Cardiff arena The Millennium Stadium being the only one listed as being bigger.
History of the Cardiff City Stadium
2002
With Cardiff City's old home at Ninian Park becoming ever older and not fit for purpose, it became clear the club needed a new stadium and so the idea was put forward by then-chairman Sam Hammam in early 2002. In November of that year, the local council eventually granted planning permission.
2003
In March 2003, it was mooted that the owners of the Millennium Stadium wished the football club to be based there as it was thought that there would be no need for two major stadiums within the same city.
2004
Regardless, in August that year, unanimous approval was given for the new stadium and by April 2004 the prolonged procedure reached a phase in which Cardiff Council allowed the building of a 30,000-seat arena with a running track.
2006
Contracts were agreed with builders in October 2006, and it was not until March 2007 that plans were altered so that construction could actually begin with the new capacity being just 25,000.
2008
Ultimately in March 2008 with work underway, Cardiff City then had final plans on a stadium that would seat 26,830 people with extensions possible further down the line.
2009
Though the club initially told fans that their new stadium would be ready to host games by Christmas of 2008, the stadium was only finally complete after a much-protracted process in May 2009. The various delays were said to be down to disagreements, legal action and even bad weather which disrupted building work.
The Cardiff City Stadium did finally open in the summer of 2009 however and quickly became home to both the football team and its fans, quickly becoming a viable option for a Welsh national football team too who were not attracting massive crowds to the cavernous Millennium Stadium.
2012
In June 2012 Vincent Tan, who was co-owner of the club, had outlined new plans for more investment which included upgrading the stadium. More seats were then added which brought the stadium's capacity up to its current 33,000 figure and there is even room for more should it ever be needed either by Cardiff or by Wales.
Cardiff City Stadium Key Statistics
While Cardiff City has played Premier League football at the Cardiff City Stadium, they haven't quite managed to fill every seat. That said, average attendance is strong here and reached over 31,000 in 2018/19.
Capacity: 33,280
Record Attendance: 33,082 for a Premier League match featuring Cardiff City and Liverpool in 2019, overall 33,280 for Wales versus Belgium in 2015.
Pitch: 100m x 68m, made up of a DessoGrassmaster surface
Stands: Ninian Stand, Family Stand, Canton Stand and the Grandstand. Despite its name, the Grandstand isn't the biggest here, the Ninian Stand holding that accolade
Interesting Facts About the Cardiff City Stadium
We haven't had too long to enjoy the Cardiff City Stadium which let's face it is still in its infancy. Regardless, it's good to know a few interesting (some would say useless!) facts such as these:
Jay Bothroyd scored the first official goal here against Chasetown in July 2009.
The first league game here was Cardiff City v Scunthorpe United in the Championship in August 2009.
The Cardiff City Stadium's first international match was Wales v Scotland in November 2009.
In August 2014, the UEFA Super Cup was held here between Real Madrid and Sevilla
In just two years, Cardiff City went from averaging 16,564 in the Championship to 31,413 in the Premier League (2016/17 – 2018/19).
The stadium took almost two years to build at a cost of £48million. In 2019 money (£64.8million), this means the Cardiff City Stadium was built at less than 7% of the cost of the Tottenham Hotspur Stadium.
Bet on Games at the Cardiff City Stadium with Roger.com
You can place bets on matches at the Cardiff City Stadium via one of Roger.com's recommended online bookmakers. Bet with confidence and wager quickly, safely and securely now.