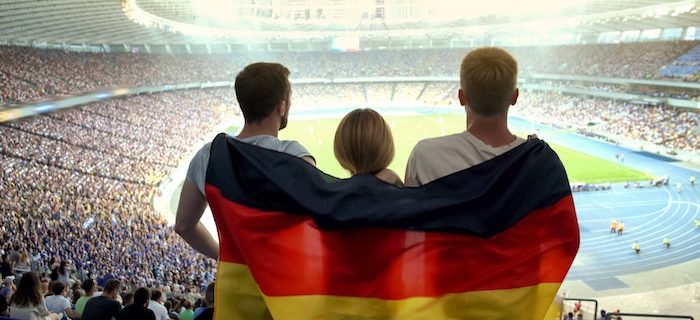 Known locally as the German Junior Bundesliga or the A-Junioren Bundesliga, this league is Germany's premier under-19 competition. It features dozens of future top-class stars from around the country and beyond.
Inaugurated in 2003 and replaced what was the precursor to a proper under-19 Bundesliga, then-named the A-Jugend-Regionalliga.
The new A-Junioren was intended to make youth football in Germany more competitive and it certainly worked. Strong outfits now consistently do well in the youth Champions League. Plus they feed the first teams in the Bundesliga with quality young talent.
How Things Work in the German Junior Bundesliga
When the A-Junioren replaced the A-Jugend-Regionalliga, it was separated into three different divisions:
Süd/Südwest
West
Nord/Nordwest
Each geographical division features 14 teams who play a regular season. They face each other once at home and once away for a total of 26 games.
From there, the champions of each of the leagues along with the runner-up from the Süd/Südwest division take part in a four-team playoff. At the end of the campaign to ultimately decide the Germany under-19 champions for the season.
Players at their respective clubs can climb the youth football ladder, as Germany has seven levels with all major clubs taking part in each:
A-Junioren (U19)
B-Junioren (U17)
C-Junioren (U15)
D-Junioren (U13)
E-Junioren (U11)
F-Junioren (U9)
G-Junioren (U7)
Qualifying for the UEFA Youth League
Currently, the under-19 equivalent of the Champions League is contested by the youth sides of the main clubs taking part e.g.:
However, the higher-ranked nations may also send their under-19 champions. That is a great incentive for A-Junioren teams to win the competition via the play-offs and represent their clubs in Europe the following season. This gives them terrific experience and has led to some superb individuals making their mark as older players in the future.
Germany's Best under-19 Teams
Germany, it should go without saying, is a very strong footballing nation. Its under-19 teams are the equivalent of juvenile horses who win at Royal Ascot. They tend to go on and be brilliant older horses in the future.
Players taking part in the A-Junioren often move up into first-team squads around Europe. They will end up being watched by millions, so their quality is not in doubt.
Since the changeover in 2003, VfL Wolfsburg has undoubtedly been the most successful youth club in the Nord/Nordwest division. They've won the title seven times in total including four times in a row between 2011 and 2014.
The best of the Süd/Südwest division in recent times has been Hoffenheim who have won four of the last 6. While over in the West league, Schalke 04 have mirrored Wolfsburg's successes with seven wins between 2012 and 2015.
Strangely enough, despite having not won their divisional league very often, Borussia Dortmund has emerged as the strongest under-19 side overall in the Bundesliga era, taking three of the last 4 play-off finals.
No German under-19 side has yet won the UEFA Youth League, though in its first season back in 2014 Schalke did manage to reach the final in Nyon, ultimately losing to Real Madrid on that occasion.
A-Junioren Betting Markets
Not a lot will be offered by too many online bookmakers on this division, though given their quality the players should be watched anyway. Should you be able to get a bet on, then stick with these markets:
Match Betting – an obvious one, and it may well be your only choice. A little tip when thinking of backing an A-Junioren side on the standard 1X2 market is to watch for one of the teams shrinking markedly in price. This can happen because one or two very strong young players can make all the difference, perhaps some from the first team squad have been allowed to go back and play at this level and when the bookmakers find this out, they will rapidly reduce the price so get on as quickly as you can.
Total Goals – if you can get on this, do so, especially in A-Junioren play-off finals. 29 goals have been scored in the last 6 finals despite one of them being a 0-0, so backing over 3.5 goals could pay off.
Keep an eye on Germany's under-19's
Having a bet is one thing and if you can get on, do so only with one of our recommended online betting partners, but you should watch this division whenever you get the chance to give yourself the heads-up on who will be entertaining us around Europe in the next few seasons to come. Bet now at Roger.com.