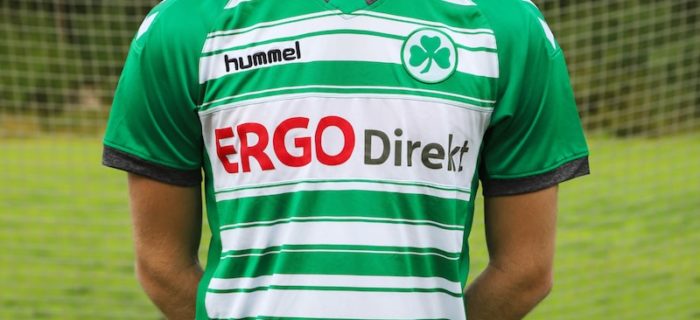 Known officially as SpVgg Greuther Furth, this is a popular German football team from within Bavaria.
Down the years the club has had a strong rivalry with FC Nurnberg, though their neighbours have of course been a lot more successful down the years in terms of league and cup success.
Greuther Furth hasn't always been a lower division side, of course, in fact, they were German champions on three occasions in the days before the Bundesliga was formed.
With the Bundesliga almost 50 years old, Greuther Furth was finally promoted to it in 2013 but was quickly relegated back to the second tier – a level many people associate with this club most accurately.
While not boasting a huge stadium and raucous crowds often synonymous with German football, Greuther Furth remains very popular with fans around the country.
Greuther Furth Timeline
1903 – Spielvereinigung Greuther Furth e. V. is formed as a football club
1913 – Club moves from the Ostkreisliga, which they won, to the Suddeutsche play-offs to attempt top-level promotion

1914 – Greuther Furth wins the German Championship for the first time, achieving the feat twice more before the War

1991 – after many years of hurt, Greuther Furth wins the third tier championships
2012 – Greuther Furth are promoted to the Bundesliga after winning the second division
Sportpark Ronhof
Now officially named the Sportpark Ronhof | Thomas Sommer, this is Greuther Furth's home stadium. It is situated within Ronhof, only around 4½ miles north-west of Nuremberg. The crowds here remain relatively small.
The Sportpark Ronhof was first built way back in 1910, opening in September of that year. Since then, it has undergone various reconstructions in 1951, 1997, 1999, 2007, 2008 and 2012. While it was expanded to meet demand in 1911, 1919, 2012, and 2016.
Across those years the name of this venue has changed at times too. From the Sportpark Ronhof (1910 – 1997) to the Playmobil-Stadion from 1997 to 2010 due to a sponsorship agreement.
Other naming rights were handed out. The ground was known as the Trolli-Arena (2010 – 2014) and the Stadion am Laubenweg from 2014 to 2016.
While largely recognised as the Sportpark Ronhof from the beginning, this stadium was in fact officially called the Sportplatz Ronhofer Weg Gegenuber dem Zentral-Friedhof when it was first officially opened.
Although a record attendance of 32,000 was achieved back in February of 1952, the capacity these days at the stadium is only 15,606. This meant that when Greuther Furth was promoted to the Bundesliga, despite a 2016 extension the ground was still noted as the smallest in the top flight in Germany.
Famous Greuther Furth Players
Despite their relatively low-key past, Greuther Furth has had some notable names on their books. German international players Heiko Westermann, Roberto Hilbert, Gerald Asamoah and Nicolai Muller have all represented the club at various times.
As well as those four, Herbert Erhardt played for the club and represented Germany in three World Cup's, Karl Mai played here and also went to the World Cup while Julius Hirsch famously played at the Olympics but was killed in the Holocaust.
One person to have escaped these horrors and fled was former Greither Furth player and subsequent US Secretary of State Henry Kissinger. Kissinger also returned to watch his favourite team many years after having left Germany as a young man.
Club Honours
In the early part of their existence, Greuther Furth had great success at the regional level and even as champions of Germany.
More recently, the club has spent time away from the top flight but have remained fairly competitive, these honours being among their best:
German Championship (now Bundesliga) Winners x 3 – 1914, 1926, 1929
2. Bundesliga (second tier) Winners x 1 – 2012
Landesliga Bayern-Mitte (replaced by 3. Liga) Winners – 1991
The club has done very well at a regional level down the years, with these titles:
Southern German Championship Winners x 3 – 1914, 1923, 1931
Ostkreis-Liga Winners x 4 – 1912, 1913, 1914, 1917
Kreisliga Nordbayern Winners x 2 – 1922, 1923
Bezerksliga Nordbayern Winners x 3 – 1928, 1930, 1931
Gauliga Bayern Winners x 1 – 1935
Oberliga Sud Winners x 1 – 1950
As well as regional league success, Greuther Furth has also won the Southern German Cup five times (1918, 1923, 1925, 1926, 1927) and the Mittelfranken Cup four times (1990, 1991, 1996 and 1997).
Bet on All Greuther Furth Matches with Roger.com
You can wager on all of Greuther Furth's games via Roger.com. Get on now to bet quickly, safely and securely via one of our recommended online bookmakers.