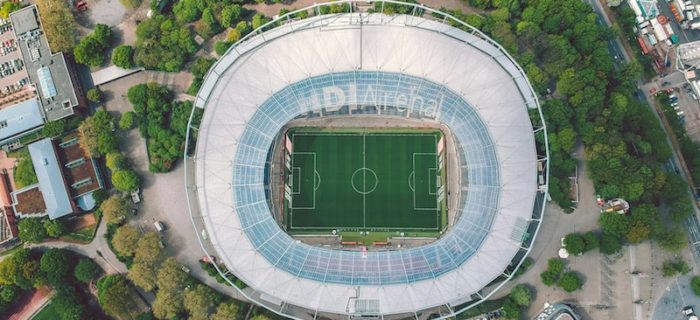 Known as the home of famous German football outfit Hannover 96, the HDI-Arena is an imposing stadium situated right in the heart of the city, barely two miles from the very centre of Hannover.
Initially called the Niedersachsenstadion, it was renamed the AWD Arena in 2002 due to a sponsorship deal, changing again to its current title in 2013 but always maintaining its identity.
Built in 1954, the Niedersachsenstadion hosted its first game when West Germany entertained France. Initially, it could house a huge 86,000 people.
Originally, the Niedersachsenstadion was constructed to host various different sports. However, from 1958 onwards Hannover 96 began using the stadium to play its most important home games in. Since 1959, it has been their exclusive home.
The stadium was awarded games during the 1974 and 2006 FIFA World Cups as well as the 1988 European Championships. It has taken on various modernisations down the years.
Other Events at the HDI-Arena
This will always be seen by the football community as a major stadium within the German and international ranks. However, it has now established itself as the country's leading open-air gig venue too.
The list of acts to have played here is impressive. The Rolling Stones, Queen, Madonna, Michael Jackson, Bon Jovi, Status Quo and Bruce Springsteen have all visited down the years.
Major athletics championships and American football have also been hosted at what many see as one of the leading stadiums in Europe right now.
Facts and Figures
An imposing place, the HDI-Arena is made up of the following stats and facts.
Built: 1954
Renovated: 2002-2006 in time for the FIFA World Cup
Capacity: 49,200
Record Attendance: 85,000 for West Germany v Hungary in 1963
Pitch: the playing surface here is pure grass, with the dimensions being the modern standard 105 metres by 68 metres
Stands: this is a big, bowl-like arena with all areas meeting and featuring no gaps. Ostensibly though, it is made up in typical Germany fashion by the Nordtribüne, Südtribüne, Osttribüne and Westtribüne, i.e. the North, South, East and West Banks.
Classic Matches
This classic German football venue has seen more than its fair share of huge games down the years, these being among the most important.
Argentina 1-2 Brazil
This fascinating South American derby match was played out during the 1974 World Cup. In front of 38,000, the Brazilians just edged the combative contest via goals from Rivelino and the brilliant Jairzinho. Miguel Brindisi replied for Argentina.
Denmark 2-3 Spain
Hannover also helped host the 1988 European Championships, during which Denmark met Spain. More than 55,000 were there to witness a brilliant end-to-end contest just edged by the Spanish, with goals from Michel, Butragueño and Gordillo. Michael Laudrup and Flemming Fovlsen were on target for the Danes.
Spain 1-3 France
This stadium hosted five games after its refurb during the 2006 World Cup, with this crucial round of 16 clashes being the most important and the highest quality of them all.
Despite a penalty from David Villa putting Spain again, goals from Franck Ribéry, Patrick Vieira and the great Zinedine Zidane made sure the French made the quarter-finals and indeed they went all the way to the final in Berlin where they famously lost to Italy on penalties.
Having slipped to the second tier in Germany, Hannover 96 needed a huge season in the 2. Bundesliga in 2001-02. Eventually, they won the division by ten points and racked up 6-0, 6-1, 5-0, 4-0, 4-1 and 3-0 wins at this arena. But it was this extraordinary draw that was the entertainment highlight at the venue.
Despite having a man sent off, Hannover 96 were not perturbed. The team took a 2-0 first-half lead through Daniel Stendel and Danijel Stefulj. By the break, it was 2-2 courtesy of a strong reply and strikes for Arminia by Artur Wichniarek and Rüdiger Kauf.
Wichniarek scored again to put the away side in front, though Hannover thought they'd got a point when Dariusz Zuraw equalised, only for Márcio Borges to net for the away team with just six minutes to go.
All seemed lost for the ten men of Hannover, but right on full-time Jan Šimák scored to rescue a point in what was a fascinating affair.
Wager on Games at the HDI-Arena with Roger.com
You can bet on all matches at the HDI-Arena with Roger.com. To bet quickly, safely and securely, get on now via one of our highly recommended online bookmakers only.