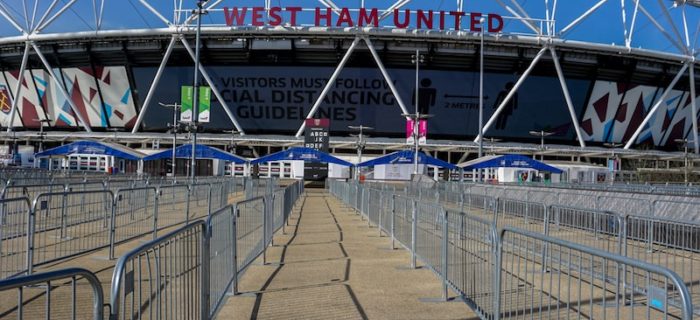 Home to West Ham United since the start of the 2016/17 season, the London Stadium sits within Stratford, east London and famously replaced Upton Park as the Hammers' home ground.
Known in the past also as the Stadium at Queen Elizabeth Olympic Park, the stadium was initially built for the London Olympics in 2012. It was later, controversially, appropriated as a football stadium.
Not all West Ham fans were happy with leaving Upton Park. Fewer still were happy to use the Olympic Stadium as their new ground. However, more people are getting used to the venue which is now a firm fixture on the Premier League circuit.
London Stadium History
In one sense, the history of the London Stadium can be traced all the way back to July 2003 when the deadline for interested cities to submit bids for the 2012 Summer Olympics had to reach the IOC.
With London's bid successful, the stadium design was launched in November 2007 with construction beginning in May 2008. Construction of the stadium was complete in March 2011 and the athletics track was laid in October the same year.
After the Olympics, it was revealed in November 2012 that the stadium would reopen but not until 2015 after a refit. It did so in August 2015 with a 50,000 capacity for athletics, while West Ham United had signed a 99-year lease to host their home games there too.
West Ham played their first game there in 2016 and the stadium has been their home ever since, though the crowd being so far from the pitch has long been a bone of contention for fans as well as some players.
Stats
The London Stadium is a spectacular venue to look at, and is put together in the following ways:
Capacity: 60,000
Record Attendance: 59,988 for West Ham United v Everton in March 2019
Pitch: 105m x 68m, made up of a Desso GrassMaster surface
Stands: As is the case with most modern stadia, the London Stadium is built as a bowl and so all the major structures join up. However, they are separated to a degree into the East Stand, West Stand, Bobby Moore Stand and the Sir Trevor Brooking Stand.
Memorable Games at the London Stadium
The London Stadium has had little time to create any real classics, however, these games are already proving memorable to modern-day West Ham United fans.
West Ham United 1-0 AFC Bournemouth
While friendlies were played, West Ham v Bournemouth in August 2016 was this stadium's first Premier League game. Home side West Ham managed to mark it with a 1-0 win too, courtesy of a Michail Antonio goal just five minutes from time.
West Ham United 3-1 Manchester United
In September 2018, a Manchester United side managed by Jose Mourinho was suffering their worst start to a league season for 29 years and West Ham wasn't about to let them off the hook. Felipe Anderson, an own-goal from Victor Lindelof and a strike from Marko Arnautovic were enough to do the damage on a famous day.
A hugely entertaining and topsy-turvy game in March 2019 looked like going the way of the Terries who were 3-2 up with a little over five minutes to go. But just as he had done at Man United in a previous life, Javi Hernandez stepped up with two late goals including one in injury time to wrap up the points for the Hammers.
West Ham United 2-0 Manchester United
Because one win against old rivals Man United just isn't enough at the London Stadium, West ham in September 2019 knocked in another. This time it was Andriy Yarmolenko and Aaron Cresswell who netted, as the Red Devils were sent packing again.
West Ham United 3-2 Chelsea
With West Ham fighting relegation in July 2020, Chelsea came across town chasing Champions League football. To add more spice, they were coached by former Hammers favourite Frank Lampard and boasted a very strong team.
Despite the fact that Chelsea took the lead, West Ham in truth was always on top. 2-1 up at one stage, the home side were dragged back to 2-2 with 20 minutes left only for Andriy Yarmolenko to knock in a last-minute winner and steal the points in a fantastic London derby.
Bet on Matches at the London Stadium with Roger.com
You can wager on all games at the London Stadium via Roger.com. Bet with one of our recommended online bookmakers quickly, safely and securely now.