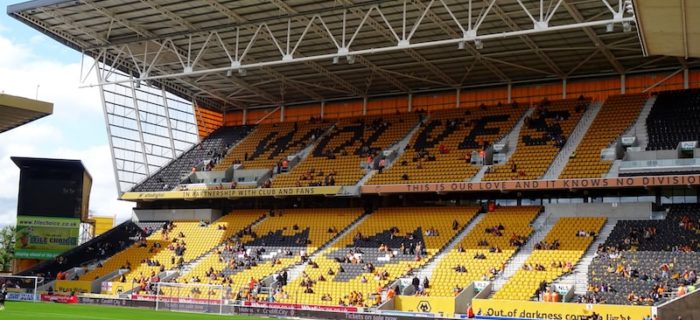 Molineux Stadium is the well-regarded home venue for Wolverhampton Wanderers Football Club.
Sitting just a matter of a few hundred yards from the very centre of Wolverhampton, the stadium is very well situated. It has long since been regarded as one for generating a great atmosphere.
Molineux has been Wolves' home since 1889. It was the first stadium to be built specifically to be used by an English Football League club.
History of Molineux Stadium
Local merchant Benjamin Molineux built Molineux House in 1744, later a hotel, on the land where the stadium now sits which is where it gets its name.
When the area was sold to a brewery in 1889, they rented it out to be used for sport. It was used by Wolverhampton Wanderers who until that point played nearby at Dudley Road. At Molineux, Wolves immediately attracted crowds of 4,000+.
When the club managed to buy the freehold for the stadium in 1923, they began building a large grandstand. The development of the rest of the venue following shortly after.
Over the years, Molineux increased and in 1953 it was the first venue in Britain to install floodlights. During this era, Wolves was crowned champions of England on several occasions.
The capacity had reached 40,000 by 1984 but was gradually decreased due to the Taylor Report, this meaning it had to be all-seater. Renovation followed, however, the "new" stadium opening in 1993.
Since 2010, a four-stage redevelopment plan led to Molineux Stadium to reach a capacity of around 50,000.
Stats
Molineux is a grand old stadium, though it has changed immeasurably over the years. These days it looks like this:
Capacity: 32,050
Record Attendance: 61,315 for Wolverhampton Wanderers v Liverpool in 1939
Pitch: 105m x 68m, made up of a modern GrassMaster surface
Stands: Relatively intimidating despite not being the biggest stadium in the Premier League, Molineux contains the Billy Wright Stand and the Steve Bull Stand either side of the pitch, while behind the goals are the Jack Harris Stand and the Stan Cullis Stand.
Biggest Games at Molineux Over the Years
Molineux Stadium has been around forever and as such there are almost too many classic games to choose from, though these five have held great importance for various reasons.
Wolverhampton Wanderers 3-0 Leicester City
Wolves' first golden era was in the '50s, and the end of the 1958/59 season marked their third First Division title. Being crowned champions of England was a huge event, and so the celebratory atmosphere at Molineux for the last game of the season was something else, while they conveniently beat rivals Leicester 3-0 to boot.
Wolverhampton Wanderers 1-5 West Bromwich Albion
Sorry Wolves fans! Not a great result for the home side, but a classic Black Country Derby nonetheless. February 2012 won't be remembered fondly by Molineux regulars, but a rampant West Brom side managed a stunning 5-1 win to record their biggest away victory in this fixture in the modern era.
Wolverhampton Wanderers 4-3 Leicester City
While those games were in the past, the latest Wolves incarnation is an impressive one. Highlighted nicely by their January 2019 success against Leicester. It's rare to see these two sides both being of such high quality. To see them play out a seven-goal thriller marks this out as a classic.
Wolverhampton Wanderers 2-1 Manchester United
Already having a good season in the league, Nuno Espirito Santo's Wolves team also took on Man United in a crucial FA Cup quarter-final match in March 2019. A tight game was still 0-0 with 20 minutes remaining. Two strikes in six minutes from Raul Jiminez and Diogo Jota lifted the roof off this stadium. A late Marcus Rashford goal made things nervous, but Wolves held on in this televised encounter to claim a place at Wembley in the semi-finals.
Wolverhampton Wanderers 3-2 Manchester City
In December 2019, a game at Molineux simply typified the season Pep Guardiola's Man City were having. Always playing good football and scoring a hatful of goals, they kept finding a way to get beat while Liverpool blazed a trail at the top of the Premier League.
2-0 up here and cruising, Man City conceded three goals in half an hour including two in the final ten minutes to snatch defeat from the jaws of victory.
Wager on Matches at Molineux Stadium with Roger.com
You can bet on all Wolves home games via Roger.com. Wager with one of our recommended online bookmakers quickly, safely and securely now.