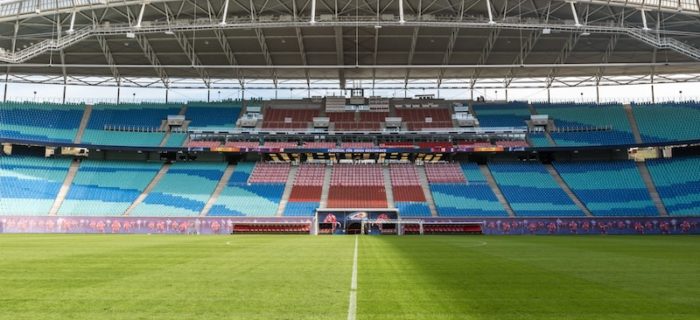 The Red Bull Arena, named due to a major sponsorship deal, is situated in Leipzig just a mile-and-a-half from the city centre.
It is the home ground of Germany's football social climbers, RB Leipzig and has the distinction of being the biggest football venue in the territory once known as East Germany.
Only open since 2004, the ground has already hosted some classic matches and various concerts. It is known to all and sundry as the Red Bull Arena, however, it has to be known only as the RB Arena when hosting international or European matches. Unlike most major German football venues, there is no standing at the Red Bull Arena.
The Red Bull Arena's Timeline
1956 – the original Zentralstadion opened and was one of the biggest stadiums in the world with a capacity of around 100,000
1997 – with the old stadium unfit, Leipzig city decided to build a new football-only stadium
2000 – construction begins on the all-new stadium
2004 – the new stadium opens in November
2015 – after the success of new club RB Leipzig, expansion is discussed with an extension to 57,000 seats mooted
2016 – plans for the extension are halted for now
2018 – it is decided an expansion will go ahead, with 53,840 seats planned for 2021 or 2022
Stats
Not to be confused with the Red Bull Arena in New Jersey, the Leipzig stadium is made up like this.
Capacity: 42,959 for football matches, though the Arena also hosts gigs with a 50,000 capacity
Record Attendance: 43,348
Pitch: A pure grass surface, the pitch here is the standard 105 metres by 68 metres in size
Stands: A full bowl, the stands here blend together beautifully but are officially sectioned off into the Sektor B Fanblock and Sektor D Fanblock behind each goal, the larger Sektor A, Sektor C opposite which also incorporates the Gastesektor.
Classic Matches
Already in its short time in existence, there have been some memorable games played at the Red Bull Arena. These four probably exemplify the highlights best of all:
Argentina 2-1 Mexico
Leipzig was awarded five games during the 2006 World Cup in Germany, one of which was this last-16 knockout stage match between rivals from the Americas.
In front of 43,000 fans, Argentina and Mexico played out a very tight might, early goals from Hernan Crespo and Rafa Marquez not being added to during the 90 minutes.
Eight minutes into extra-time however, Maxi Rodriguez struck the winner to send Argentina into the quarter-finals sending fans into raptures at what had to be known as the Zentralstadion.
RB Leipzig's first season in the Bundesliga was an extraordinary one. Ultimately finishing second in the table, the Red Bull Arena side was phenomenal and entertained the fans here no end. Their last home game of the season was something else!
A topsy-turvy first half went 1-0, 1-1, 2-1 and two minutes after the break, Leipzig were 3-1 up and seemingly heading for a famous win. Two goals in five minutes made it 4-2, but nobody could have known what was to come. Bayern struck on 84, 90+1 and 90+5 to win the match amid amazing scenes.
This game took place during another good season for RB Leipzig in which they finished third in the Bundesliga. 40,000 were in attendance to watch a modern classic against Werder Bremen.
Having gone 2-0 up in the first half thanks to goals from Lukas Klostermann and superstar Timo Werner. The home side appeared to be cruising. However, with only a quarter of the game left to play, Max Kruse scored for Bremen and ten minutes later they were level through Joshua Sargent.
With only three minutes left on the clock however and European qualification at stake, Armindo Bruma stepped up to nab the winner and send the home crowd into roaring excitement.
After their meteoric rise through the ranks in Germany, Leipzig also began making a splash in Europe. Having reached the round of 16 in the 2020 Champions League they came up against previous finalists, Jose Mourinho's Spurs.
Having already taken the first leg 1-0 in London, Leipzig dominated the return game to win 3-0 in a fantastically rounded performance. Marcel Sabitzer (2) and Emil Forsberg were on the scoresheet at the Red Bull Arena.
Wager on Games with Roger.com
You can bet on all matches at the Red Bull Arena via Roger.com now. Get on via one of our recommended online bookmakers to bet quickly, safely and securely.