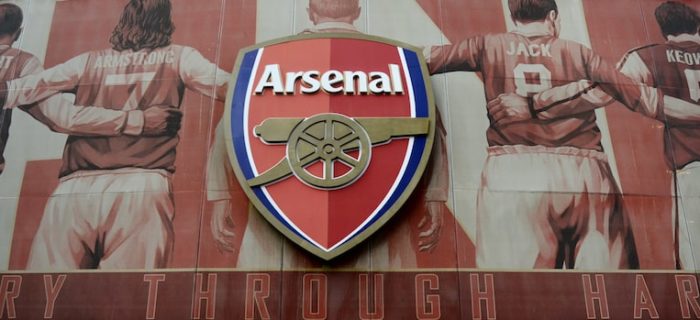 Holding various records and being one of the strongest teams to ever come out of England is Arsenal FC.
Based in London and forming a vicious rivalry with neighbours Tottenham Hotspur, Arsenal have enjoyed great success. The team forms the foundation of many a betting person's football accumulators at the weekends.
The Gunners' History
From Royal Arsenal to the Woolwich Arsenal, this is a club that had many names after being formed initially in 1886. However, once they achieved Football League status they settled simply on Arsenal, or The Gunners as we affectionately know them. They then became the club we all know and (some), love!
Early on the north London outfit dominated English football. The team won many early domestic trophies. While they had various peaks and troughs throughout the '80s and '90s, their real modern era domination came during the Arsene Wenger era.
The popular Frenchman took over at Highbury in 1996. He stayed there for fully 22 years winning many titles and cups along the way.
Most famously, Wenger oversaw The Invincibles, the Arsenal side that went undefeated throughout the entire 2003-2004 season en route to the most impressive Premier League title we've seen yet. In fact, they went a 49 league games undefeated until losing at Old Trafford against Manchester United the following season.
Post-Wenger things haven't been quite as smooth, both Unai Emery and former playing star Mikel Arteta so far proved unable to bring back Arsenal's glory days, though surely for a club of this stature the good times won't be too far away.
Arsenals Famous Homes
Although they didn't start out life playing there the home venue many fans remember fondly is Highbury which played host to the Gunners for some 93 years, between 1913 when it was built and 2006 when it was finally demolished.
Arsenal FC had some of their greatest times in this stadium, including when they were The Invincibles under Arsene Wenger, but sadly it was seen as being no longer fit for purpose in the new Premier League era with its small capacity meaning the famous North Bank and the rest of it had to go.
Built between 2004 and 2006 to replace Highbury at nearby Ashburton Grove was the Emirates Stadium, a state-of-the-art new venue with a 60,000 capacity which has been the club's home ever since.
One of the better new stadiums around, The Emirates doesn't lack for the atmosphere at all while its capacity has done the job intended which was to ensure the club could continue to compete in terms of revenue and crowd size in both England and Europe.
Greatest Arsenal Players
Arsenal's club legends could fit in anywhere, from Barcelona to Bayern Munich. The Gunners have had some great times in their history and even dominated on occasion, with their very best players being among the world elite.
A long list of famous names simply roll off the tongue. It goes without saying that fans of the club would do almost anything to have players such as these back on the books:
Thierry Henry,
Dennis Bergkamp,
Tony Adams,
Ian Wright,
Patrick Vieira,
Robert Pires,
David Seaman,
Liam Brady,
Charlie George,
Pat Jennings,
Freddie Ljungberg,
Marc Overmars,
Kanu,
David Rocastle,
Pat Rice,
Emmanuel Petit and
Frank McLintock.
Club Honours
The honours board at Arsenal FC is enviable. Domestically, The Gunners have taken the various major trophies on offer in England no less than 43 times!
Arsenal has been league champions, either in the First Division or the Premier League, 13 times namely in 1931, 1933, 1934, 1935, 1938, 1948, 1953, 1971, 1989, 1991, 1998, 2002 and 2004.
The club has taken the FA Cup a record number of times, again 13 in total in 1930, 1936, 1950, 1971, 1979, 1993, 1998, 2002, 2003, 2005, 2014, 2015 and 2017. They also backed this up with two League Cup wins in 1987 and 1993.
As well as holding the record for the most FA Cup wins in history, Arsenal have not been topped for Charity/Community Shield successes either. The Gunners have won this 15 times in total spread between 1930 and 2017.
Domestic success has been complimented by winning in Europe a couple of times as well, the Gunners taking the Inter-City Fairs Cup in 1970 and the UEFA Cup Winners' Cup in 1994, although Champions League success has just about avoided them.
Back Arsenal with Roger.com
You can back the Gunners with any of Roger.com's recommended online bookmakers to take advantage of the best prices and the best service. Get on now!