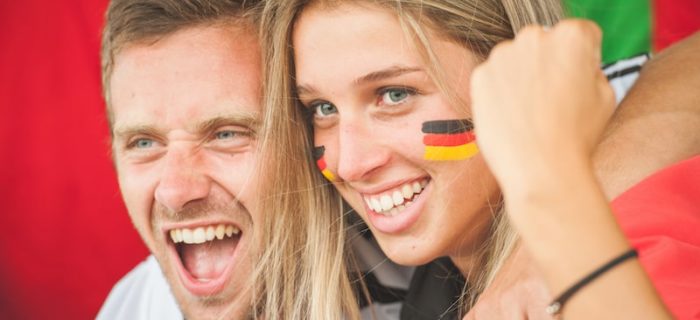 As if knowing them as Eintracht Braunschweig wasn't enough of a mouthful for non-German speakers, the full title of this old football club is actually Braunschweiger Turn- und Sportverein von 1895 e.V!
The club is based in Braunschweig in Lower Saxony, having been formed in 1895 and been founding members of Germany's current top competition, the Bundesliga.
Although not always competing in the same divisions given Eintracht's penchant for settling in tiers two and three of the German football system in recent time, the club does have a relatively spikey rivalry with Hannover 96.
As well as this, Eintracht Braunschweig is also close enough to Wolfsburg to be described as their local rivals as well, any games between Eintracht and VfL being described as a derby.
While the football club in question is the main element to the sports club here and attracts the biggest crowds for home games, there are other departments within it including their field hockey team which has been very successful down the years.
Major Decline
This side was actually crowned as champions of Germany back in the 1960s, but since 1986 they have played all of their football in the second and third tiers.
In 1987 in fact, Eintracht Braunschweig set a very strange record in being the only team ever to have been relegated in Germany with a positive goal difference, and they haven't been back to the big-time since!
Eintracht Braunschweig's Home Stadium
The home ground for Eintracht Braunschweig is the aptly named Eintracht-Stadion.
The Eintracht-Stadion was also known snappily as the Stadtisches Stadion an der Hamberger Strasse between 1982 and 2008. It is used by both this football club and the New Yorker Lions, an American Football outfit.
The stadium was built over the course of a year between 1922 and 1923. It was officially opened on June 17th of 1923. Since then, it has been modernised several times. There have been major renovations in 1963/64, 1995, 2009/10 and finally between 2011 and 2013.
Currently, the capacity at this encapsulating little ground is 24,406 for some sporting activities. However, it is reduced to 23,325 for Eintracht Braunschweig's domestic football games.
Previously, Eintracht Braunschweig had been playing their games at the Sportplatz an der Helmstedter Strasse. A tiny venue which could only accommodate 3,000 fans.
Given the obvious need for a bigger stadium, construction of the Eintracht-Stadion began at the current site in 1922. It's located in the northern part of the town, just 38 miles east of Hanover.
This is an older-style stadium in its make-up. However, that lends itself further to a great atmosphere on Eintracht Braunschweig's home matches.
Famous Players & Stars
This club, despite not having the gleaming reputation of some of Germany's top clubs, has naturally had their heroes down the years.
Their longest-standing players include Franz Merkhoffer, Bernd Franke, Reiner Hollman, Peter Kaack and Walter Schmidt. While their highest all-time goal scorers include Werner Thamm (116), Jurgen Moll (105), Ronald Worm (105) and Bernd Gersdorff (101).
Some of Eintracht's better overseas players include:
Hasse Borg,
Daniel Davari,
Sergei Fokin,
Reinhold Hintermaier,
Milos Kolakovic and
Damir Vrancic.
While not all household names, these players have helped Eintracht to reach their best possible level down the seasons and have a place in fans' hearts.
Club Honours
Eintracht Braunschweig has spent the majority of their recent seasons as a second-tier or even third-tier club, though they have proven to be successful at that level winning minor league titles.
There did reach a peak in the '60s however that saw them become German champions, their national record looking like this:
Bundesliga Champions x 1 – 1967
3. Liga Champions x 1 – 2011. Eintracht Braunschweig also achieved promotion from 2. Bundesliga by virtue of being runners-up in 1981 and 2013.
Regionalliga Nord II Champions x 1 – 1974
As well as their Regionalliga Nord title, the club also won the Amateuroberliga Niedersachsen-Ost, Regionalliga Nord III and Amateur-Oberliga Nord III titles in 1953, 2005 and 1988 respectively.
Every club, of course, has to start somewhere, and Eintracht Braunschweig had to make their name in the regional leagues before stepping up to the big time. Their regional successes include these:
Northern German Championship Winners x 2 – 1908, 1912
Gauliga Sudhannover-Braunschweig Winners x 2 – 1943, 1944
Sudkreisliga / Bezerksliga Sudhannover-Braunschweig / Oberliga Sudhannover-Braunschweig Winners x 2 – 1924, 1925
Duchy / Free State of Brunswick Champions x 13 – 1905, 1906, 1907, 1908, 1909, 1910, 1911, 1912, 1913, 1916, 1917, 1918, 1920
Lower Saxony Cup Winners x 2 – 2004, 2011 – also runners-up in 1999, 2009.
Wager on Games with Roger.com
You can bet on all of Braunschweig's games via Roger.com now. Get on to bet quickly, safely and securely via one of our recommended online bookmakers.