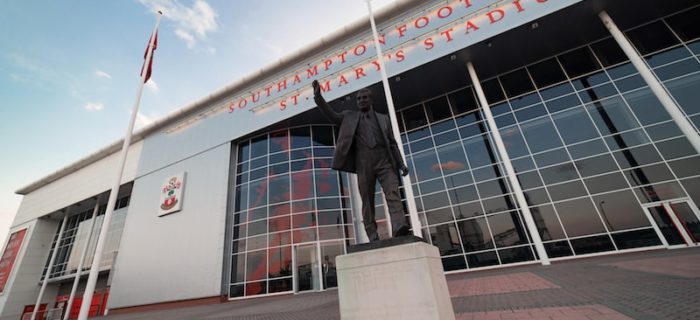 Replacing much-vaunted venue The Dell, St Mary's Stadium has been home to Southampton Football Club since 2001 and has quickly established itself.
The ground sits right on the River Itchen, just a mile or so from the centre of Southampton. It can boast being the largest football ground in the south of England, excluding those in London.
History of St Mary's Stadium
After the Taylor Report demanded that all top-flight stadia be all-seater, Southampton was forced to move from The Dell with construction on this site beginning in December 1999.
Work was complete on St Mary's by July 2001 at a cost of £32million, a bargain at around £53million today, a fraction of the cost of stadia such as the new Wembley or the Tottenham Hotspur Stadium for example.
While the move was forced on Southampton to a degree, building St Mary's has meant they can attract crowds more than double the size they did before and over 20 years this ground has fully established itself as a popular Premier League venue.
Vital Stats
St Mary's is a relatively new stadium however it is already a firm fixture within English football. Here is some of its vital information:
Capacity: 32,384
Record Attendance: 32,363 for Southampton v Coventry City in April 2012
Pitch: 105m x 68m, made up of a Desso GrassMaster surface
Stands: Basically split into the North, South, East and West stands, all areas join up around St Mary's with the Family Stand situated in the south-west corner.
Memorable Matches at St Mary's
While St Mary's hasn't been around for too long, it has already had time to play host to some great games featuring Southampton. Here are five of the best over the years:
Southampton 3-0 Portsmouth
In December 2003, the first Premier League derby took place between these south coast clubs. Southampton secured a big victory. Goals from Jason Dodd, Marian Pahars and crowd favourite James Beattie were enough to send Pompey packing to the relegation zone. While the Saints climbed the table.
Southampton 4-0 Coventry City
In April 2012 the Saints achieved their record attendance at St Mary's when Coventry City came to town. The home side secured a return to the top flight following goals from Billy Sharp, Jose Fonte, Jos Hooiveld and Adam Lallana.
Staged on the final afternoon of the Championship season, this game was played out in a carnival atmosphere. The Saints ran riot to gain promotion in some style. By the time Lallana tapped in Southampton's fourth and final goal, the home faithful were in full-on party mode and quite rightly so.
Southampton 8-0 Sunderland
In October 2014, Southampton recorded their biggest ever Premier League success with an 8-0 demolition of a pathetic Sunderland side.
Saints went 1-0 up thanks to the strangest of own goals from Santiago Vergini. Before Italian striker, Graziano Pelle and midfielder Jack Cork knocked home simple efforts to make the game safe early on.
Another own goal from Liam Bridcutt made it four before Pelle claimed his second with a good finish. Before more kamikaze stuff this time from the Sunderland goalkeeper gifted Dusan Tadic a sixth.
Victor Wanyama made it seven before the now Liverpool Premier League and Champions League winner Sadio Mane forced an 8th and a third own goal. The most incredible scoreline was recorded for the home side.
Southampton 2-1 Inter Milan
Having gained a place in Europe, Southampton were coping quite well. In November 2016, they welcomed Italian giants Internazionale to St Mary's with a chance of reaching the Europa League knockout phase.
The high-profile visitors took the lead when Mauro Icardo hammered home to dampen the home crowd's fire. However, a stirring comeback was on the cards despite Dusan Tadic's missed penalty at the end of the first half.
As the Saints' confidence grew, forward they went with defender Virgil van Dijk levelling the game before an own goal from Yuto Nagatomo gifted Southampton all three points on a famous night.
Dropping into the Premier League relegation zone is bad enough, but doing it by being beaten 9-0 at home is something else.
In October 2019, the Foxes simply tore Southampton apart here but in fairness, the Saints did recover incredibly well to finish on a high, Danny Ings performing particularly well as the side ultimately finished 11th.
Wager on games at St Mary's Stadium with Roger.com
You can bet on all matches at St Mary's via Roger.com now. Get on to wager quickly, safely and securely with one of our recommended online bookmakers.