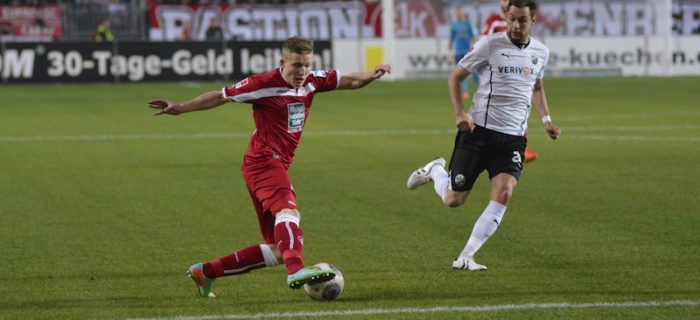 Given where they stand in the German football system currently, you will see the name of SV Sandhausen appearing on many a betting list.
Officially called Sportverein Sandhausen 1916 e. V., the club is the main sporting focus within the town of Sandhausen and attracts fans from around Baden-Württemberg, a state in the south-west of Germany.
While traditionally a lower-league team, SV Sandhausen has played at 2. Bundesliga level since 2012 and are fully established now.
Playing in their well-known all-white kit, Sandhausen shares some strong rivalries in their state with the likes of Karlsruher SC, VfB Stuttgart, SC Freiburg, 1 FC Heidenheim and VfR Aalen, although given the various levels they are all at they don't meet too often.
SV Sandhausen's Timeline
1916 – the club is officially formed
1931 – SV is promoted after a solid start to the Bezirksliga Rhein-Staar, at the time the highest league in the state of Saarland
1943 – a merger is agreed with TSV Walldorf and VfB Wiesloch, becoming KSG Walldorf-Wiesloch

1945 – after the War, the squad disbands, Sandhausen gains independence and its old name
1956 – the club is promoted to the 1. Amateurliga Nordbaden

1977 – runners-up in the German amateur championship

1995 – SV wins the Oberliga championship for the first time
2012 – the club wins the 3. Liga, heading to the 2. Bundesliga for the first time
The BWT-Stadion am Hardtwald
SV Sandhausen's home since 1951 has been the BTW-Stadion am Hardtwald, an older style, neat and compact stadium.
The ground is placed within Sandhausen, right on the edge of the forest, around 15 miles south-east of Mannheim and 60 miles south of Frankfurt for reference. It is wholly owned by the club.
The ground was opened in 1951, housing SV ever since, and was expanded for the first time in 1987. Renovations and updates were organised in 2002 and 2008, while further expansions happened in 2012, 2014 and 2016.
Those expansions now mean the stadium has a capacity for SV Sandhausen home games of 15,414. Of this number, just over 5,600 are seated with the remainder taking part in Germany's famous safe standing.
Upon opening the stadium actually had a clay pitch, the turf not being laid here until 1961. The modernisations achieved in 2008 were for the club to simply get to the required standards of a 3. Liga team, a league they went on to win.
After winning promotion to the second tier, more improvements were needed with under-soil heating now being part of the infrastructure here.
Given the ambitions of SV Sandhausen, yet more modernisations at the BWT-Stadion are not out of the question at all given that even higher standards are expected in the Bundesliga, a level not out of this club's reach having well and truly established itself in the second tier.
SV Sandhausen's Best Players
The club has now spent the best part of a decade in the 2. Bundesliga having gained promotion via a 3. Liga title win in 2012. During this time, some of their better performers have included:
Dennis Diekmeier, Kevin Behrens, Philipp Forster, Leart Paqarada, Andrew Wooten, Denis Linsmayer, Lucas Holer, Tim Knipping, Thomas Pledl, Florian Hubner, Manuel Riemann and Julian Schauerte.
While these players may not be household names, they have performed admirably in getting Sandhausen to and keeping them at, the level they feel they belong at.
SV Sandhausen Club Honours
Sandhausen have achieved second-tier status in Germany, a level akin to the Championship in England, however all of their success has come at a lower level.
Almost everything they've won has come from the 1970s and after, with these successes being the best in the club's history:
German Amateur Championships Winners x 2 – 1978, 1993. The club were also runners-up at this level in 1977.
3. Liga Winners x 1 – 2012. This is easily the club's biggest achievement, gaining promotion via winning a title equivalent to League One in England.
Oberliga Baden-Württemberg Winners x 6 – 1981, 1985, 1987, 1995, 2000, 2007. This is a championship for those at level three or four of the German system.
Amateurliga Nordbaden Winners x 1 – 1961
North Baden Cup Winners x 12 – 1977, 1978, 1981, 1982, 1983, 1985, 1986, 1995, 2006, 2007, 2010, 2011. Their 2010 win and one of their three losing final performances were achieved by the club's reserve side.
Bet on All SV Sandhausen Matches with Roger.com
You can wager on all SV Sandhausen games via Roger.com. Get on now to bet quickly, safely and securely via one of our highly recommended online bookmakers.