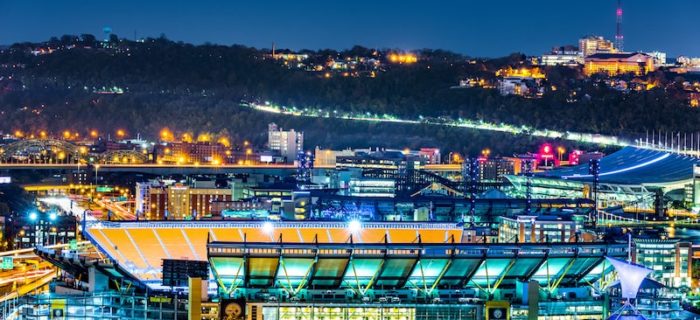 Heinz Field is the famous home of one of the NFL's most recognisable teams, the Pittsburgh Steelers. Local college team the Pittsburgh Panthers also play their home games here with both drawing big crowds.
As you probably guessed, the stadium is named after the HJ Heinz Company, 57 varieties and all that, who purchased naming rights way back in 2001 and are based in the same area. Even after they were taken over by Kraft, themselves linked with the NFL, the name still stands.
One of the more old-school stadiums in the National Football League, the riverside Heinz Field is a wide, open-air venue with the resplendent yellow seating exposed to the elements and sits just across the Allegheny River from downtown Pittsburgh on the north side.
History of Heinz Field
From 1970 onwards, the Steelers and the Pittsburgh Pirates both shared the now-demolished Three Rivers Stadium. Although it was obvious by the late 90s that a new venue was needed, an initial proposal was put forward to turn the original stadium into a renovated, football-only venue but this ultimately fell on deaf ears.
The Three Rivers Stadium, itself built as a replacement for Forbes Field which opened back in 1909 and was multi-purpose, was becoming more and more unsuitable for the Steelers and was eventually closed in 2000 before being demolished the year after.
The Steelers' owners had gone on record to state that not building a brand-new stadium for the team would lead to them missing out on some top talent in the drafts, especially since other teams in their conference had already constructed purpose-built football venues and were becoming a big draw.
After a deal was finally struck for a new home field for the Steelers, building work began in 1999 north of the river and there was much anticipation among the fans.
In a strange quirk of fate, boy band 'N Sync have a particular connection to the Steelers. Not only were they the last band to play at the Three Rivers Stadium but they also performed a gig which was the first public event to be held at Heinz Field in summer 2001 with more than 56,000 people in attendance.
The Steelers have now enjoyed two decades of success here, with fan feedback about the stadium being mainly positive although further improvements are planned to take place.
Important Facts and Stats
Heinz Field is extremely important to Pittsburgh and its surrounding areas. Here are the important stats:
Opened: August 18, 2001. Construction began June 1999.
Initial Cost: $281 million. This equates to some $410 million in today's money.
Renovated: 2007. It was also expanded in 2015.
Capacity: 68,400 for NFL games. This has changed somewhat down the years as improvements have been made. Greater numbers can be accommodated for concerts – in fact, 75,000 were in attendance for a Garth Brooks gig in 2019.
Playing Surface: Kentucky Bluegrass. This means Heinz Field has a pure turf surface, rather than a synthetic one, as so many NFL stadiums do.
Major Events
In addition to its major football games, with both the Steelers and the Panthers drawing big crowds, Heinz Field has been used for a host of other notable events.
AC Milan and Manchester City played here in the 2014 International Champions Cup, Man City winning 5-1, while the USA women's soccer team drew a crowd of 44,000 for their game against Costa Rica in 2015. The hosts won that game 8-0.
The NHL Winter Classic was played here in 2011, the Pittsburgh Penguins ultimately being defeated 1-3 by the Washington Capitals.
As is the case with most NFL stadiums, however, the major source of income aside from football comes from music gigs.
Some major tours have stopped off at Heinz Field, featuring gigs from NSYNC, Kenny Chesney (nine times), Bon Jovi, Taylor Swift (four times), U2 (twice), The Rolling Stones, One Direction, Beyonce, Guns 'N Roses and Garth Brooks. Tours stopping here tend to gross $3-6 million.
Bet on All Games at Heinz Field with Roger.com
You can wager on all games played at Heinz Field via Roger.com. Bet with one of our recommended online bookmakers only to get the best possible odds and service.