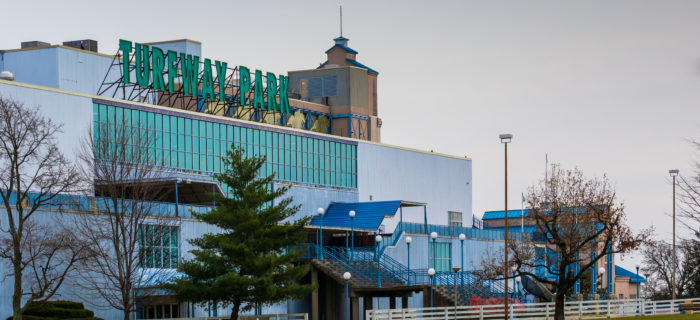 Highly thought of among American bettors and horsemen, Turfway Park Racecourse is a thoroughbred race track situated near Florence, Kentucky.
The track is close to the Ohio River, the natural border between Kentucky and Ohio. The closest major city is Cincinnati, only ten miles away across state lines.
Turfway Park is one of five live horse racing tracks in Kentucky. It's somewhat of a heartland for racing in the USA, alongside Ellis Park and Kentucky Downs. Also situated within the state is the ultra-important racing venues, Keeneland and Churchill Downs, the home of the Kentucky Derby.
The venue's live race meets run twice a year. Once as a Holiday Meet in December and the other as a Winter/Spring Meet from January to late March or early April.
Due to the track's unique surface, which we have details of below, many track specialists exist. The top jockeys by earnings in recent times have been Albin Jiminez, Gerardo Corrales, Joseph Ramos, John McKee and Sonny Leon who are all worth keeping onside.
As for the top trainers around Turfway, keep a good eye on high earners Genaro Garcia, Ben Colebrook and Cipriano Contreras as well as top-name Michael Maker and one who is very familiar to British racing fans, sprint king Wesley Ward.
Admission Prices at Turfway Park Racecourse
Turfway Park isn't about the admission prices as such, it's about the extras. A daily program featuring info for Turfway and other tracks for serious bettors is just $2, while a multi-track simulcast program is just $5. Great feedback has been offered by visitors here regarding not just this, but also the range of concession stands and restaurants with value for money being a major theme here.
Track Details
Well, this can be confusing at a glance! Despite the name, Turfway Park Racecourse does not have a turf track at all. In fact, somewhat uniquely for a North American venue, it doesn't have a dirt track either given that in 2005 Turfway became the first venue in the continent to install a Polytrack surface.
For those familiar with the Polytrack synthetic surface, this is the same material used at Lingfield, Kempton Park, Chelmsford, Dundalk, Chantilly and Pau among others and is made up of a mixture of silica sand, recycled fibres such as carpet and spandex, rubber, PVC and is finished with a wax coating, making it springy and riding fairly quick.
The track here is a left-handed, flat, one-mile oval with tight turns meaning speed is usually to the fore, rather than stamina regardless of the race distance.
Those used to dirt, and certainly anyone new to wagering specifically at Turfway Park Racecourse, should be aware of the perceived bias at this track. Its uniqueness among American tracks is that has often favoured those in outside gates, despite the tight nature of the turns.
Nobody appears to know truly why this is, perhaps a camber effect or perhaps it's the surface not taking too well to a multitude of runners ploughing through it on the inside, but either way at the very least you should not be afraid as a punter here to keep those drawn wide very much in your thoughts when assessing a race.
With this in mind, keep within your thoughts the fact that those proven to have been successful here will know the correct racing line, so as well as including speed figures and form into your calculations, hand an advantage too to those horses ridden and trained by the above-mentioned people.
Biggest Events
Racing here takes place in the winter and in the spring, with a strong stakes schedule formed as part of the live racing meet. The biggest and most popular events at Turfway Park, most of which take place in mid-March and are worth up to $250,000, are:
Forego Stakes – 6½f, 4yo+, January
John Battaglia Memorial Stakes – 1m½f, 3yo only, February
Cincinnati Trophy Stakes – 6½f, 3yo Fillies, February
Animal Kingdom Stakes – 6½f, 3yo only, March
Bourbonette Oaks – 1m, 3yo Fillies, March
Jeff Ruby Stakes – Grade III, 1m1f, 3yo only, March
Rushaway Stakes – 1m½f, 3yo only, March
Kentucky Cup Classic – 1m1f, 4yo+, March
Latonia Stakes – 1m, 4yo+ Fillies & Mares, March
Place Your Bets with Roger.com Now!
With your knowledge of this Kentucky venue now enhanced somewhat, you can place bets at Turfway Park with more confidence. Get on now via any of our highly recommended online bookmakers quickly, safely and securely.