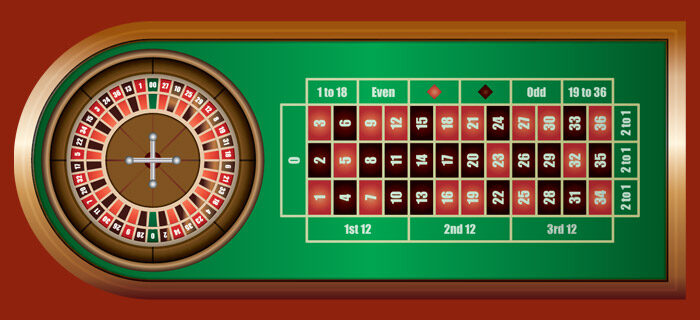 The popular casino game 'roulette' is named after the French for 'little wheel' and its origins date back to eighteenth-century France. It's a hybrid version of the Italian game Biribi and a gaming wheel and people first started to play roulette in 1720. It's a glamorous game, associated with James Bond and the like.
Put simply, you place bets on either a single number of various number groupings, the colours red or black, whether a number is even or odd, or whether the numbers are low (1-18) or high (19-36).
Essentially, the roulette wheel is spun one way, a roulette ball spins in the other direction, around a circular track around the wheel's outer edge. When the ball finally loses momentum, it tumbles into a coloured, numbered pocket.
This classic table game has always been popular. But, until the start of the 2000s, the only option if you wanted to play roulette was to enter a land-based casino.
Now, of course, you can play roulette online and fans are spoilt for choice in terms of roulette game – and you can enjoy an online roulette game wherever you are, at a time to suit you.
These days, live roulette games and online casinos mean you can play roulette and other table games without leaving home, with high-definition graphics, top-notch sound giving a faithful recreation of the real casino experience.
The Roulette wheel
When you play roulette, the wheel is everything, a battlefield in which a seemingly minor shift of one number to the left or right can make all the difference between winning and losing.
In American roulette, the roulette wheel typically comprises 37 slots, numbered from 0 to 36. Plus there's also an extra green 00 slot, meaning a total of 38 slots.
In this it differs from the game of European Roulette, which has just a single zero, thus reducing what's known as the house edge significantly. (However, if you're playing in the States, the US variant could be the only option available.) When you play online roulette, the European roulette wheel is, generally, the one on offer.
In the US roulette wheel, 18 pockets are red, and 18 are black, while both 0 and 00 slots are green. (These go on opposite sides of the roulette wheel.)
In both versions, the highest pocket number on the wheel is 36.
Roulette wheel layout
Double-zero wheel:
0-28-9-26-30-11-7-20-32-17-5-22-34-15-3-24-36-13-1-00-27-10-25-29-12-8-19-31-18-6-21-33-16-4-23-35-14-2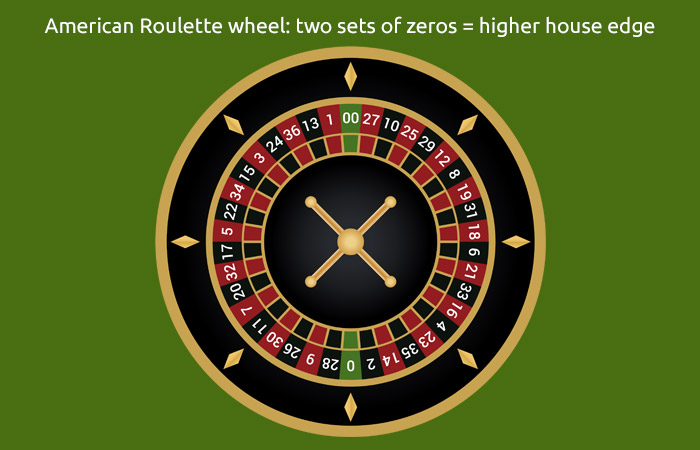 The American Roulette wheel has two sets of zeros, meaning a higher house edge.
Single-zero wheel:
0-32-15-19-4-21-2-25-17-34-6-27-13-36-11-30-8-23-10-5-24-16-33-1-20-14-31-9-22-18-29-7-28-12-35-3-26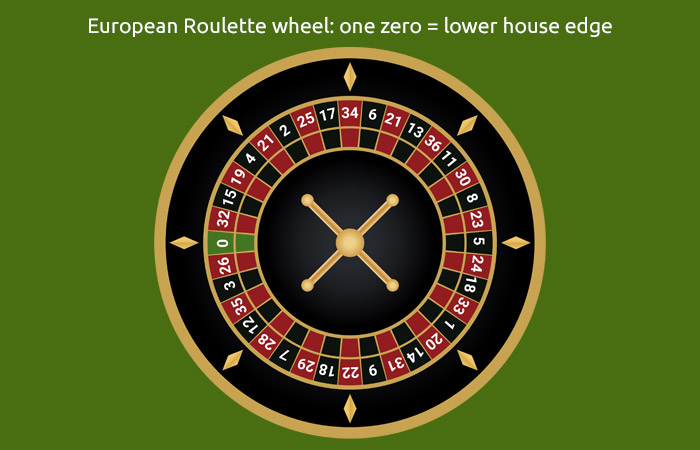 The European Roulette wheel has one zero, meaning a lower house edge.
In truth, there's not a huge amount you can do to affect the outcome of the roulette wheel, despite what some would have you believe. Even if some 'hot' numbers have come up just before you play, for example, it's not statistically likely that they'll show up again on the next spin.
So we wouldn't necessarily suggest you follow a particular roulette strategy. Instead, the best roulette strategy is to play with a clear head and spread the risk across a range of bet type, balanced between low and high risk.
American Roulette
Everything in the US-style take on roulette is set up to make the game as clear and easy to understand as possible. So you should pick the game up really quickly. And, in fact, there are only a few key differences setting it apart from its European counterpart.
You can bet on a range of outcomes, from number spreads to pocket colour and whether the ball will land on an odd or even number. (These are the more basic bets.)
The wheel has 38 divisions including the numbers 1 to 36, plus 0 and 00.
Numbers are evenly distributed, meaning there's an equal probability of the ball settling in any particular slot.
American Roulette house edge
American wheels have a typical house edge of 5.26%, compared with 2.7% in the European version of the game.
The more complex wagers include 'inside and outside' bets, and you need to understand the differences between them. Essentially, outside bets have a lower payout, but the chances of winning them are better.  And they're based on a broader category of numbers.
For their part, inside bets are all the possible wagers found on the table's inner section – for example, staking your chip on just one number is deemed an inside bet. They offer a higher payout but a lower chance of winning, so they're better suited to  high rollers.
While European roulette is the more popular version of the game, it may be that in some casinos the US variant is the only one on offer.
European Roulette
European roulette is one of the most popular versions of the game you can play. (After all, it's in France where the whole thing started.) The roulette wheel in this version has 36 numbers along with a single green zero. (In fact it used to have two, but one zero became phased out over time.)
European Roulette house edge
With a 2.7% house edge, or nearly half that of its US counterpart, the single zero means you have a greater chance of winning every time it spins, compared with other versions of online roulette. (This can actually make a significant difference to your long-term win rate.
In European Roulette, the numbers on the wheel are found in a slightly different order. (As shown above in the 'Roulette Wheel' section.) But you will soon get used to this.
Another quirk of the game is something called 'En Prison' ('in prison'). If you had backed a 1:1 bet before the roulette wheel turned, such as red or black, odds or evens, you get an extra chance if the ball ends up on the green zero. You can leave your bet where it is for the next spin – or get half your stake back.
Again, there are inside and outside, bets, ranging from the broad (the ball landing on an even number) to betting on specific numbers.
If your sole aim is to try and boost your chances of making as much money as possible, European Roulette could be the way to go. However, with more betting options, some who play roulette online find the American take on the game more fun.
French Roulette
The French game uses the same roulette wheel as (and with just one zero slot) and similar betting options to European roulette. And it's not hard to see why it remains a popular choice among those who like to play roulette.
In French Roulette, the table is laid out slightly differently to the European version. But all of the same outside bets apply; they're simply located in slightly different places.
In many versions, you'll find the 'En Prison' rule also applies here, as well as the La Partage perk.
The La Partage rule is similar except, in this instance, there is no option to let your bet stay on the table. La Partage is French for 'sharing', and half of your losing stake is returned automatically.
French Roulette house edge
The house edge varies, from 2.70% for any non-even money shot to as low as 1.35% for even money bets. And, again, you'll find a decent range of inside and outside bets, plus there are many different winning combinations.
By the way, it's also worth getting to know some of the French words used – such as 'Passe' for Even and 'Impair' for Odd.
Additionally, you'll find a decent spread of inside and outside bets – there's a standard line-up around your roulette wheel. Live-dealer French roulette is also widely available, so that you can play in the same way you would if you were in a bricks-and-mortar casino.
French roulette is definitely one to try if you find yourself looking for a fresh challenge. As ever, bet responsibly – and stay within your limits.
Play Roulette online
Roulette is one of the all-time favourite casino games, combining simplicity and excitement for a genuinely thrilling gaming experience. And, for many gamblers, it's the first game they learn to play. Now, of course, you don't have to leave home to enjoy it – you can do so from the comfort of your own home via your PC or mobile device of choice.
The first web-based operator went live with online casino gaming in 1996, but it took roulette a few years to catch up. Once it did, however, this hugely popular table game was never quite the same again!
Today, most web-based casinos all you to play online roulette games in their American, French and European forms, often involving real dealers based in real-life casinos.
What's more, play online roulette and you'll always get a seat a virtual table, since online casinos can create as many as they need to meet demand. Additionally, you can play at the pace which suits you, while remaining in control at all times.
And because online casinos don't have the same overheads as geographical casinos, you can play for seriously decent rewards and bonuses from the first spin of the roulette wheel. There's usually a sign-up bonus to get you started, even before you've played your first online roulette game.
That's not to say you should go chasing every promo you come across. Make sure you play roulette online with a reputable operator. Just because a website looks trustworthy, unfortunately that doesn't necessarily mean that it is.
Play roulette through operators we recommend at Roger – and enjoy complete peace of mind.
Real money Roulette
It's no wonder that many of our visitors ask us about real money roulette. After all, while there are plenty of sites where you can play online roulette game for free, with no sign-up needed, thus exploring what the games offer with no commitment or risk, you'll eventually want to play roulette for real money.
(By the way, by real money, we mean exactly that, proper money as opposed to a virtual or tokenised version of cash.)
And the good news is that it's not hard to find a real-money operator you can trust to provide you with a secure and enjoyable online roulette experience, and offering a great selection of roulette games, playable from your PC or mobile device of choice.
What's more, there are a number of benefits when you play online roulette for real money. For example, you will have a better chance of winning a decent cash prize, which clearly has to be the ultimate aim of playing any online roulette game.
And not only does it make for a much more exciting experience, but you can also take advantage of the bonuses your casino will offer, and test out the different withdrawal and deposit payment options.
So playing real money roulette online way is definitely the closest you can come to the fast-paced, exciting action of a real-life casino.
At Roger, we review the various real money operators for quality, security and fairness – so you don't have to! Use us to find the best sites and bonuses, and expert tips for playing roulette online – and winning.
High-stakes online Roulette
High-stakes roulette is an offering which follows the game's regular rules, with the main characteristic being that the amount of money you can stake on risky bets is extremely high.
(However, the precise sum will vary according to the particular high-limit casino, and, equally, on the type of bet placed. Limits can even vary from one table and bet type to another.)
Unsurprisingly, VIPs and high rollers love this version of the popular casino game. It's the variant that allows you to play with the highest bet limits, which, in certain cases, can be as high as half a million pounds.
Remember you'll also need to be prepared to put up a correspondingly high deposit, and use an appropriate deposit method. You may find Neteller and Skrill offer the best (i.e. highest deposit limits).
Additionally, if you like using a progressive betting strategy, such as Martingale's, these often work better with a higher betting range. It's true that you'll have to keep your eye out for this roulette type, and choose your table with care if it's what you're after, since most games have relatively low maximum wagers.
But operators to check out for high stakes roulette include 888 Casino, BetVictor, Ladbrokes and LeoVegas. Talk to customer support if you want to try and negotiate higher maximum limits.
You can play high stakes roulette in Random Number Generator (RNG) or live games, with the latter often featuring higher maximum bets than the former.
But, in general terms, roulette can lend itself very well to higher stakes. Enjoy the thrill of the ride!
No limit online Roulette
We're often asked whether there is such a thing as no-limit roulette, since those who play through us may want to bet big on the game with no table limits when they play online roulette. Everyone loves the thrill of a big win, after all, and you may be chasing higher bets if you are following a particular roulette strategy.
But, in truth, each casino always sets its own maximum and minimum limits, sometimes on particular bet types. The limits are there to stop players beating the house via progressive strategies.
Having no limits would expose a casino to quite a lot of uncertainty, and each operator needs to manage its own potential risks properly. Equally, the house edge with roulette is already very small.
So the reality is that you would be hard-pushed to find no-limit roulette anywhere. Frankly, even if you did, it would probably be an indicator of poor risk management and could cause you problems somewhere down the line.
That's not to say that you can't play online roulette with some very high limits indeed. With some VIP roulette tables, in particular, you can play with some huge maximum bets, equal to hundreds or thousands or even up to half a million Euros, pounds or dollars. For most players, the latter would surely effectively be as good as a no-limit roulette game.
Evolution Gaming, which you can play through us at Roger, is just one example of an operator offering high maximum bets. Others include 888 Live and William Hill Live. (You will often find live roulette games have higher upper limits.)
Browse our site and find an operator which suits your needs.
20p Roulette
Elegant in its simplicity, 20p roulette, a version of European roulette, is a game that allows you to guess where the ball is going to land. And the great thing about it is, even if you are new to casino games, you can start playing it immediately, since there's not much in the way of complicated rules or features.
It also allows you to dip your toe in web-based gaming from very modest stakes of, as the name suggests, just 20p for a single bet. So it's low stakes and with minimal risk, as you find your footing in the world of online roulette. (Be aware that there is often a £1 minimum bet)
Choose from bets covering a single number, or several at once. This variant functions pretty much as other roulette types do, with payouts and odds in line with other versions. Just like a typical roulette game, bet types cover everything from Split flutters to odds and evens. RTP here is typically 97.3%.
Place your chip on the bet you think will come up, hit the 'Bet' button and watch the roulette wheel spin around!
You should also be aware that the low stakes mean the payouts aren't always that high. So 20p Roulette is more about having fun and feeling your way as you learn the ropes, rather than massive prizes. You may want to focus on the outside bets to increase your chances of winning.
Simple and old-school, 20p roulette is a great way of diversifying your playing experience, and offers a fun escape from the hustle and bustle of the games lobby.
Live dealer online Roulette
While online roulette brought dealers numerous advantages, in the earliest days one factor was still missing – a real, live casino atmosphere. To address this issue, from the start of the new millennium, certain online operators began offering casino games including roulette, streamed live from actual casinos. This allows players to enjoy their favourites in real time with a real dealer, in a highly realistic setting, and follow dealer actions and the game easily.
Dealers at reputable live casinos are properly trained, and everything is above-board. What's more, of course, you can play any time and wherever you happen to be.
Understandably, early attempts at this coverage, using web cams, had plenty of room for improvement, since connections at the time were too slow for quality streaming. And, initially, roulette players couldn't communicate with the dealers, as you now can, for example through live chat features.
Purpose-built live casino studios emerged from around 2006 onwards, offering interaction with dealers for the first time, and more and better camera angles and elements such as close-up shots improving the quality of the broadcasts significantly. Most live variants are based on European or French roulette.
One recent innovation is immersive roulette, in which players get complete HD quality, close-ups, varied camera angles and slo-mo replays. So you feel incredibly close to all the action as it happens – no wonder it's proved such a hit.
Many live casinos now use the latest technology to relay games in incredible detail, and to protect players' personal data.
Finally, with live roulette games, you can start playing immediately, either at a lower-level or VIP table, and live-dealer games are fair and secure, with many special deals and bonuses only open to live casino users.
Best online Roulette live dealer sites
With live dealer sites, you get to enjoy the atmosphere of a real casino without leaving home. Instead, you're watching via a live video feed, with gameplay live streamed in real time. And you can communicate with the other players and the dealers, while also playing against your fellow online roulette fans or the dealer.
Major providers of live-dealer casino software include NetEnt, Microgaming, Evolution Gaming, Playtech and Pragmatic Play, among others. And so it makes sense to choose a casino supporting at least one of these major software platforms.
Clearly, the live-dealer casino you chose will also need to be properly licensed, and offer players a secure gaming environment – while, clearly, offering you the games you want to play. If on-the-go gaming is your thing, check out the operator's mobile provision before you commit any of your hard-earned cash. Alternatively, if bonuses and promos are your thing, check these out before you look at anything else.
A number of live-dealer sites consistently top the bill when it comes to rave industry online reviews and offering online roulette fans an authentic casino experience.
Here are some of the most popular ones – and remember, you can read reviews yourself and play at these sites through us at Roger:
Kassu Casino
LeoVegas
Try a few live-dealer operators for yourself next time you play online roulette, in free demo mode in the first instance, and then remember to let us know how you got on.
Lightning Roulette (by Evolution Gaming)
Lightning Roulette from online casino software providers Evolution Gaming offers a unique take on online roulette. It has scooped a number of industry awards, including  EGR's Game of the Year 2018. Its huge scalability means an almost unlimited number of players can be at the roulette table at the same time. Indeed, it makes for a truly electrifying player experience! You'll love the brilliant sound effects and lighting of this roulette version, played in HD video – and the whole thing has a TV game show vibe, making it one of the most thrilling casino games around.
Visually stunning and with a sumptuous gold and black Art Deco backdrop, Lightning Roulette offers all the betting options you'd expect to see. Plus, this operator's version of European Roulette has all the excitement of live dealer roulette and a live dealer environment.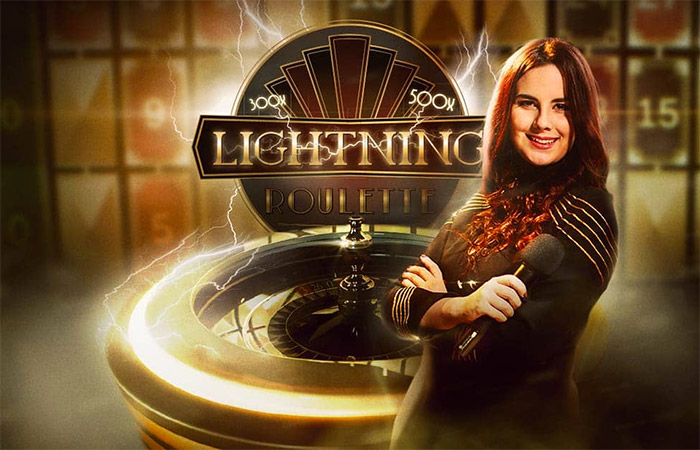 In every game round, up to five Lucky Numbers are 'struck by lightning' and receive enhanced payouts of between 50x and 500x. (We did say electrifying!)
You get extra chances to win through randomly generated Lucky Numbers and Lucky Payouts, involving multipliers of up to 500x. This random generation takes place once your bets have been accepted.
If the roulette ball lands on a Lucky Number on which you have made a straight-up bet, it pays out a Lucky Payout of between 50 and 500:1. All your other bets pay in the same way as standard roulette. RTP is 97.3%, so the house edge is generous, and you can play from just 0.20 a spin.
So, play responsibly – but give it a go!