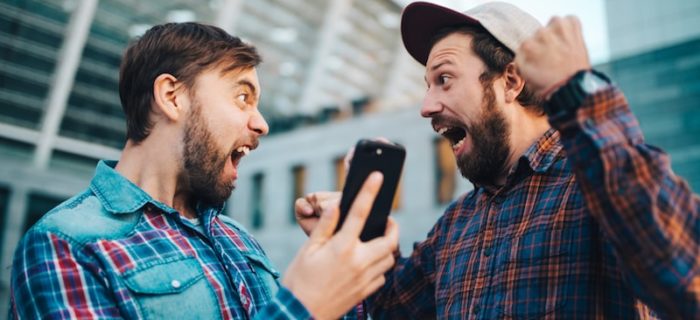 First thing's first; we should all keep in mind that we play bingo purely for pleasure and entertainment. Bingo is a game of luck, not a game of skill, and as such there can be no way of knowing when our numbers will come up.
Of course, we can heighten our chances of a full house by buying more tickets, and our chances of winning big by upping the stakes, but that also comes with obvious financial risks.
Overcoming a losing streak in online bingo
Here we look at what to do, and what not to do when we hit a losing streak in online bingo.
Change things up – by not playing!
Bingo can be, undoubtedly, a barrel of laughs, but when the wins are few and far between, the fun can quickly evaporate. As the saying goes, the definition of madness is doing the same thing over and over again and expecting different results.
If you find yourself in a bingo rut, it's high time for a change of tack.
Taking a break from the game serves multiple purposes. Firstly, if you're not playing, you're not losing, simple as that. This hiatus also prevents you from throwing good money after bad and going over your set budget.
Enduring a losing streak can genuinely dampen your spirits. Instead of letting it get you down, consider stepping away from the game. Alternatively, you can still engage in the community by having a natter in the chat rooms.
When you're ready to jump back into the fray, you'll find your mind refreshed and your budget replenished, setting the stage for a potential winning streak.
Don't chase your losses
Whether your jam is poker or roulette, football or horse racing, the standard piece of advice for regular responsible gamblers including those who play online bingo is to never chase your losses.
While your natural human instinct will always be to recover losses, there should be a longer-term plan involved. With online bingo games having around 80% RTP you should land some wins at some point, and those wins should be what you plan to bring into the coffers.
When you go on a long losing streak, do not be tempted to bet bigger and/or more often in order to try to recover. If your streak carries on, you will simply be losing more and your problem is exacerbated. Simply do not do this.
Always make a daily, weekly or monthly budget and be strict with yourself – when the budget is done, quit.
Play quick games
While what games you play generally depends on your bingo preference when you're on a losing streak you really should think about time and not just money. Let's face it, one becomes the other and not always in a good way.
Bricks and mortar casino owners know that generally speaking across all patrons, the longer they can keep people on their casino floor the more they will ultimately lose. Online bingo can be similar.
When your budget appears to be disappearing and you're not having a great time, play quick games. Staying online for four hours is like a shift at work, especially when there is no enjoyment! If something is frustrating, why would you choose to keep doing it?
So, play quicker games, avoid the long, drawn-out 90-ball variants. If you win, bank the money and if you lose, stop and simply do something else.
Don't up the stakes
Sometimes people simply play for too long or play an extra game to chase losses, points we've made above. There is another obvious way people lose even more on a bad streak however and that is upping the amount they bet.
Even experienced players, those who understand the RTP percentages, believe wrongly that when a bad run has occurred a big win must be around the corner. They then increase their stakes believing they can win everything back. Clearly, this rarely works!
There is no rhyme or reason as to when you will hit a win. The RTP on a game is based on a whole month of play for all players involved, so you personally could win several times in a row or may never win a bean on a given game.
So, instead of buying more tickets or paying $/£10 a card instead of $/£1, do the opposite until you're back on track. Buy less, for less, and give it time.
Conclusion
Online bingo should be fun, and is! Winning money however is never guaranteed for any single player and so that is not by any means what is designed to make it fun.
If you're losing but can't step away from games altogether, play for free, enjoy the colours, themes and music, and enter the chat rooms to keep the social element going.