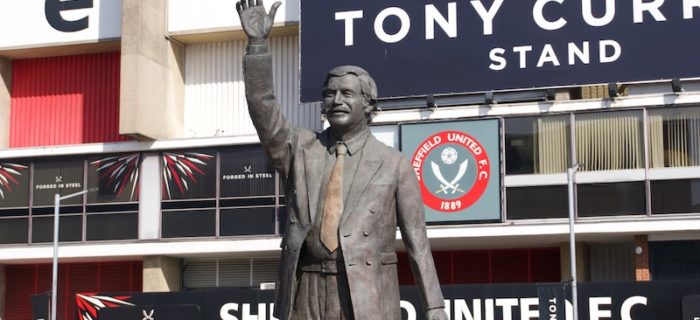 The well-renowned home of Sheffield United Football Club, Bramall Lane Stadium is a stadium that sits just 1½ miles from the middle of Sheffield and 3½ miles from Hillsborough, home to their rivals Sheffield Wednesday.
Potentially heading for 200 years as a sports venue (cricket and football), Bramall Lane is one of the oldest venues of its type anywhere in the world.
Bramall Lane Stadium History
Beginning life as a cricket venue in 1855, Bramall Lane is an institution in Sheffield and began hosting football in 1862, when Sheffield FC played Hallam FC.
The ground was home to The Wednesday from 1880 to 1887, but in 1889 it was decided a new team should be formed to play here and so Sheffield United, named after the incumbent cricket side, was formed.
Bramall Lane has been home to the Blades ever since, with major updates occurring in 1966, 1975, 1991, 1994, 1996 and 2006. The ground was extended in 2001 and 2006 to make it what it is today, a 32,000-seater capable of hosting modern Premier League football.
Statistics
Bramall Lane is one of the oldest and best-loved football stadiums in England. While it has changed plenty over the years, here's the important information that makes it what it is today.
Capacity: 32,125
Record Attendance: 68,287 for Sheffield United v Leeds United in the FA Cup fifth round, 1936
Pitch: 101m x 67m, made up of a Desso GrassMaster surface
Stands: The four main structures at Bramall Lane are the Malta Family Stand, the GAC Stand, the Halliwells Stand and the Kop. Between the Family Stand and the Kop is the adjoining Fortina Spa Stand while the two-tier Westfield Health Stand links up between the GAC and Halliwells Stands.
Classic Games Played at Bramall Lane
Many a great match has taken place here, but given the Blades' rise from League One to the Premier League in recent years their best results in that period have become instant classics, particularly these five:
Sheffield United 3-2 Chesterfield
Under Chris Wilder, Sheffield United may have been in League one but was obviously on the rise and everyone could feel it. Having smashed the league title already, the Blades played their final game of the 2016/17 season at home in a real party atmosphere with the Championship beckoning. United finished the season the right way with a 3-2 win in front of a huge, raucous crowd.
Having consolidated their position in the second flight, United were looking for another promotion in 2018/19. When Aston Villa came to town in September, they were favourites not just for this game for the league title too however goals from Jack O'Connell, Mark Duffy, Oliver Norwood and Billy Sharp ensured a huge win for Chris Wilder's side as the Blades put down a real marker for the campaign.
Sheffield United 2-0 Ipswich Town
The same season, Sheffield United had reached April in the automatic promotion places and what better way to finish their home campaign than with a win that consigns local rivals Leeds United to the play-offs.
Scott Hogan and Jack O'Connell were the goal scorers as United got the promotion party started with the long-held dream of returning to the Premier League now a reality at Bramall Lane.
While they had done it all before, many young fans could not remember Sheffield United being in the Premier League and so when the glory days returned in August 2019 Bramall Lane was packed with people taking in the event.
What's more; United won their first home game back courtesy of a John Lundstram strike against Crystal Palace and it was a result that truly set the tone for what was to come as the team reached a peak of fifth place.
It was a real shame that the Blades' high watermark in terms of results had to be achieved behind closed doors, as fans were not allowed in during the famous 2020 lockdown in July.
The crowd weren't needed however as United took care of a very talented Chelsea team going for Champions League football 3-0 with David McGoldrick (2) and Oli McBurnie on target. The result moved Sheffield United back into the Premier League top six, at least temporarily.
Bet on Matches at Bramall Lane with Roger.com
You can wager on all games at Bramall Lane via Roger.com now. Get on to bet quickly, safely and securely with one of our recommended online bookmakers.