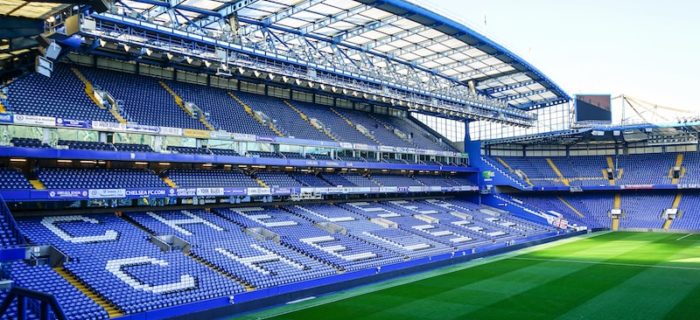 Stamford Bridge is the home stadium of Chelsea Football Club and it is based in Fulham, South West London. It is often called 'The Bridge' and it currently has a max capacity of almost 41,000.
This means that it is the ninth biggest stadium in the Premier League. There is a plan in place to extend the capacity of Stamford Bridge up to 63,000 in time for the 2023/2024 season.
The venue has been open since 1877 and has held many notable games over the years, including senior international games, FA Cup finals, as well as games for other sports like American football, baseball, greyhound racing, speedway, rugby union and cricket.
The record attendance for a game at Stamford Bridge was in 1935 for a league game against Arsenal where there were almost 83,000 people present.
History of Stamford Bridge Stadium
1877
The opening of Stamford Bridge came in 1877 when it was the home of the London Athletic Club, with this being its main purpose up to 1904. The Mears brothers bought Stamford Bridge with the goal of hosting professional football games. The brothers then founded Chelsea to play at Stamford Bridge, with the goal of being a rival to local Fulham FC.
The architect for Stamford Bridge was Archibald Leitch who also designed the likes of Celtic Park, Ibrox, Hampden Park and Craven Cottage. The official capacity for Stamford Bridge starting off was 100,000, making it the second biggest venue in the country behind Crystal Palace. Originally, there was a running track around the pitch.
1945
More than 100,000 people unofficially got into Stamford Bridge in 1945 when a historic match between the Soviet team FC Dynamo Moscow played Chelsea as part of a tour following the ending of the Second World War.
1970s
There were plans to renovate Stamford Bridge in the 1970s, but costs quickly spiralled and meant that only one stand was completed. Attendances began to fall and debts were continually rising.
They got relegated a couple of times during the 1970s. As part of financial restructuring, parts of Stamford Bridge were sold to property developers, but these were eventually reunited with the club.
1984
For a period during 1984/1985, there was an electric perimeter fence added in between the pitch and the stands after a number of pitch invasions. This was never turned on and was soon after taken down. After the release of the Taylor Report, Stamford Bridge was renovated, getting rid of the running track and turning it into an all-seater stadium.
Other major uses
The FA Cup final took place at Stamford Bridge between 1920 and 1922 before it moved to Wembley Stadium. It has held three international games involving England, as well as ten semi-finals of the FA Cup and ten Charity Shields. It has also held the likes of baseball games, rugby union, speedway and cricket, as well as American Football.
Chelsea Football Club
Chelsea Football Club is one of the most successful teams in English football over the past two decades. It has won six league titles over the years, as well as being victorious in six European competitions over the years.
It is one of the most valuable clubs in the globe and they are owned by Roman Abramovich. Some of the other honours the club has won include eight FA Cups and five League Cups. It's only Champions League title came in 2011/2012 when they beat Bayern Munich on penalties.
There have been many notable players who have pulled on the Chelsea jersey over the years, including Ray Wilkins, Ruud Gullit, Mark Hughes, John Terry, Frank Lampard, Michael Essien, Didier Drogba, Petr Cech and Eden Hazard.
Betting on games at Stamford Bridge
There are always great players playing at Stamford Bridge thanks to the quality that exists at Chelsea FC. This means that you are always going to be in for a ton of excitement, with tons of great betting opportunities existing for you.
All of the sportsbooks that you come across are going to have a wide range of different betting markets for Chelsea games. To see the best football betting sites out there today, you can head on over to Roger.com to check out the expert reviews. You can pick one of these sites and sign up in a matter of minutes.