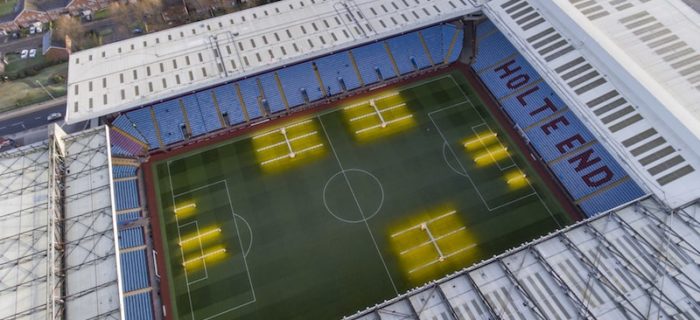 One of the most famous old football stadiums in England, Villa Park has been home to Aston Villa since it was completed back in 1897.
Situated in the north of the city, the stadium is only around two miles from the centre of Birmingham and only three from the home of their second-city rivals, Birmingham City.
While undergoing many changes over the years, Villa Park along with Old Trafford, Anfield and St James' Park sits as one of the most iconic English football stadiums. It was saved from demolition in an era when many clubs are choosing to build brand new arenas which often lack character and atmosphere.
The roar heard at Villa Park, especially in the Holte End, is perhaps not as vociferous as it once was but still it remains to this day.
Villa Park History
Previously Aston Villa played at Wellington Road in the 1800s, however, a poor pitch and spectator facilities, as well as other factors, meant the club needed somewhere new.
In 1894 then, Villa got together a committee who began looking for a new site with the Aston Lower Grounds being their favourite.
With the site agreed, a cycle track was placed around the pitch and the venue renamed Villa Park. The main stand was constructed to the east with the rest following in 1896. Although not opening on time, in 1897 Villa Park was finally ready to host Aston Villa games and it has been the club's home ever since.
Crowds began to swell and after Villa won the league title in 1899, they broke the 20,000 marks as an average crowd for the season.
Facilities were improved gradually and crowd sizes continued to increase, eventually leading to Villa cramming more than 76,000 into Villa Park for a cup game in 1946.
Villa Park's success as a football venue has been recognised by more than its own tenants, though its geographic location has helped, as it was chosen to host 1966 World Cup matches, Euro 96 games and also many FA Cup semi-finals over the years.
After the Taylor Report required all top-level stadiums to become all-seater venues, many clubs built new stadiums in the 90's however Villa continued to modernise this stadium and as such it remains one of the favourite old grounds in the country.
Stats
Villa Park has stood as one of the most famous stadiums in England for over 100 years, with the following facts making it what it is:
Capacity: 42,095
Record Attendance: 76,588 for Aston Villa v Derby County in the FA Cup in 1946
Pitch: 105m x 68m, made up of a Desso GrassMaster surface
Stands: The Doug Ellis Stand, Trinity Road Stand, North Stand and the Holte End make up the ground. Rather strangely, it is the Trinity Road Stand to the side of the pitch and the Holte End to the south behind the goal that is the largest structures.
Memorable Matches at Villa Park
Villa Park goes back a long, long way so there have been almost too many classic matches here to mention. From the 1980s onwards though, it's a little easier to whittle down some of the best!
Villa's 4-3 win against West Brom in 1983 was a belter, while the 6-2 hammering of Everton in 1989 with a team featuring the likes of Spink, McGrath, Cowans, Daley and Platt will not be forgotten too easily.
When Inter Milan came to down in October 1990 for UEFA Cup match Villa wasn't expected to win.
However, a thumping strike from Kent Nielsen and a lovely goal from David Platt ensured a famous 2-0 for the home side on the night.
In August 1991, Arsenal arrived at Villa Park as reigning league champions. Ron Atkinson was under a little pressure after losing to Man United as well and fielding an 18-year-old Ugo Egiogu in the side. A huge performance from Villa meant a 3-1 win against the Gunners in a match well remembered by diehards.
In January 2010, Villa reached the League Cup semi-final. Playing Blackburn Rovers, a tight and low-scoring contest was anticipated however an enthralling 6-4 success for the Villa sent them into their first major final for ten years.
In 2018, although by now a Championship club, the atmosphere was still good at Villa games and it reached a peak when they hammered near neighbours Wolverhampton Wanderers 4-1 at Villa Park.
Wager on Matches at Villa Park with Roger.com
You can bet on games at Villa Park now via one of our recommended online bookmakers. Get on quickly, safely and securely via Roger.com.