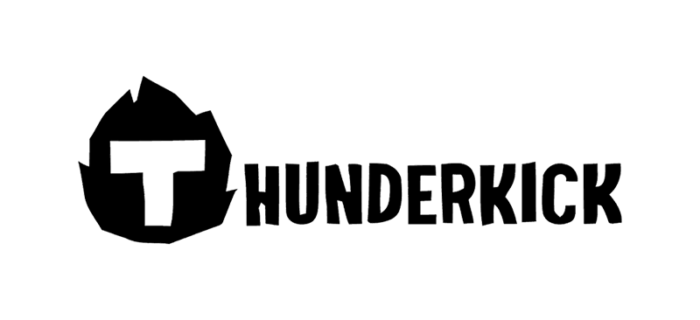 Based in the Swedish capital Stockholm, games studio Thunderkick was first founded in 2012. It's still relatively new on the gaming scene, although it has grown considerably since launch, and it's certainly a name to keep an eye out for. (We're convinced its growth is only set to continue in the years ahead.)
Indeed, if you're an avid gamer, it's pretty likely that you've already played at least one of this operator's titles.
Its simple mission is to enhance players' gaming experience and create high-end slots. Everything's developed in-house, giving the company the freedom to find its own solutions and the ability to ensure continued quality.
Thunderkick Competitors
In terms of size and capacity, its closest competitors are probably Yggdrasil Gaming or Quickspin. However, there are predictions that Thunderkick could outpace them before long.
The company says:
In an industry ruled by giants, we went in another direction and swore to always stay fun.
Having quickly earned a reputation for innovation, humour and a willingness to take risks, Thunderkick offers a wide variety of mainly low-to-medium variance games. The company attracts all kinds of players, from high rollers to those who prefer low stakes.
The provider may not quite have the range, game volume or fan base of NetEnt or Microgaming, and their offerings may not always be the easiest to find, but the company has gained something of a cult following.
Perhaps the adjective most readily associated with them is 'quirky', and players seem to love the lack of generic games – each one is produced with great thought put into the gameplay, presentation and theme.
What's more, there are impressive potential winnings to be had.
It's true that there aren't huge numbers of new releases each year. But, in a way, that makes each new title more special and eagerly anticipated, and there's far less likely to be any duplication of themes that way. In fact, a new Thunderkick release has become something of an event in the industry!
As one reviewer put it:
If Thunderkick was a type of coffee, a hipster would drink it, knowing it was the next thing to be cool.
As well as slots, Thunderkick has produced a Remote Gaming Server (RGS), on which all their games are hosted.
And, since 2015, Thunderkick, licensed in the UK and Malta, has focused on enhancing titles on mobile for better on-the-go play. (It's also good at revamping and re-releasing titles, as we've seen with Barber Shop Uncut and Esquelto Explosivo.)
Thunderkick's games
You can play slots from this operator at a broad line-up of household-name casinos, dozens in all, including the likes of Casumo, William Hill and 888, among various others.
So far there are a few dozen titles in the catalogue. Here is a small selection of some popular ones:
Some of the downsides…
Like any other operator, Thunderkick isn't perfect and inevitably there will be the odd niggle when you play its slots. Here are some you may find:
As mentioned above, the games may not always be that easy to track down and find in your casino of choice
Although the games have generally been warmly received across the industry, some would like to see even more titles on offer – then again, Thunderkick's not one to rush production at the potential risk to the quality
While the offerings work well on Android and iPhone devices, on iPads a game can stay at the top of the screen, with too much empty space below it
The graphics are typically cartoon-style with high-quality animations and sound – fun, sure, but not always to everyone's taste
So far none of the titles has a progressive jackpot
Summing up
Popular and highly original, Thunderkick is set to go from strength to strength in future with its unique, top-notch products. What they have already achieved in a relatively short time is pretty remarkable. However, despite having grown from a couple of people to dozens, it is likely to also want to retain some of the benefits of being a smaller organisation, in which everyone's voice is heard.
If you haven't already played any of their titles, try one and see how you get on. Feel free to share your thoughts with us afterwards.