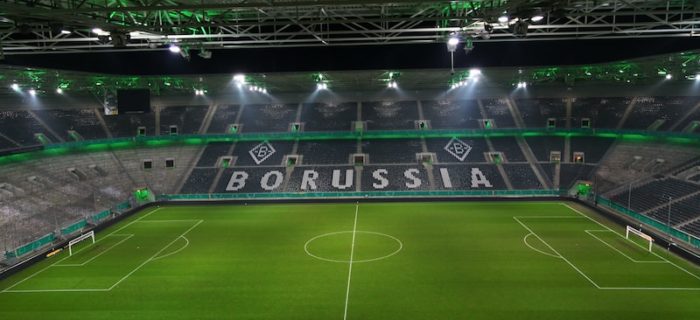 The Stadion im Borussia-Park, known simply as Borussia-Park or for marketing purposes as BORUSSIA-PARK, is the home stadium of top-level German football team Borussia Monchengladbach. The venue sits just four miles from the centre of Monchengladbach, in North Rhine-Westphalia.
The arena was built to replace the football club's old stadium, Bokelbergstadion. The old stadium was deemed to be unsuitable and in need of too many modernisations.
Brief History of Stadion im Borussia-Park
With a new stadium needed after the turn of the millennium, this area was agreed upon by club executives at Borussia Monchengladbach. Work finished on the venue by July 2004.
Seating is needed for international and European games, reducing capacity. Even so, Borussia-Park can accommodate 16,145 standing punters for domestic games. All in, more than 54,000 can cram in here.
Right from its initial design to its grand opening, this ground was made to suit everyone. Therefore, as well as safe standing, it features a club shop, sports bars and VIP lounges.
Shortly after opening, Borussia-Park lobbied to become part of Germany's World Cup Finals hosting of 2006. However, it missed out in the end despite being among the bigger stadia on offer.
Stats
Borussia-Park is a hugely well-attended venue, and is made up ostensibly of the following things:
Capacity: 54,057 for league matches, this reduces to 46,249 for international games
Record Attendance: 83,000
Pitch: The standard 105 metres x 68 metres, made up of a purely grass surface
Stands: The main stands making up Borussia-Park are the Nordkurve, the Sudtribune, the Osttribune and the Westtribune. The stadium is essentially a bowl, however, all corners linking up including the popular AOK-Familienblocke, i.e. the Family Stand.
Memorable Games
Borussia-Park has seen its share of classic matches over the years. These six are among the very best of them:
Borussia Monchengladbach 2-0 Dynamo Kiev
Back in April 1977, Monchengladbach reached the semi-finals of the European Cup. On a huge night, nerves were jangling with the hosts having lost 1-0 in the first leg in Ukraine.
Goals from Rainer Bonhof and Hans-Jurgen Wittkamp however made sure of a place in the final in front of a packed stadium. Unfortunately, the club went on to lose to a great Liverpool side in the final in Rome but that doesn't detract from this massive moment in the club's history.
Borussia Monchengladbach 1-0 FC Kaiserslautern
In April 1995, Monchengladbach reached the semi-final of DFB-Pokal in Germany, winning 1-0 after extra-time to land a place in the final amidst a hugely impressive atmosphere. The club even went on to win the final 3-0 this time around against Wolfsburg in Berlin's Olympiastadion.
Borussia Monchengladbach 4-2 Augsburg
Having dipped to the second tier in Germany, Borussia Monchengladbach were on the comeback and in a classic match during the 2007-08 season, they beat Augsburg in a six-goal thriller before going on to land the 2. Bundesliga title by six points from Hoffenheim.
Borussia Monchengladbach 2-1 Bayern Munich
Those were three great games in Monchengladbach's history, but in more modern times fans have had plenty to shout about too, and easily the highlight of the 2017-18 Bundesliga campaign was the club's 2-1 win over mighty Bayern.
In front of a crowd of 54,000, Thorgan Hazard notched a 39th-minute penalty to put the hosts ahead. They were 2-0 up before half-time through Matthias Ginter. Bayern responded and the crowd played their part in the defensive effort, Arturo Vidal's goal not being enough for them in the end.
Borussia Monchengladbach 4-1 Hannover 96
The following season, Borussia-Park's incumbents put in a great performance against Hannover, coming from 1-0 down in the first minute.
Thorgan Hazard equalised and put in a great shift, while goals from Michael Lang, Lars Stindl and Denis Zakaria finished the job. It led to a fine fifth-place finish in the Bundesliga eventually, but this match was as good as it got as the club didn't win any of their last eight home games in the league. Better was to come the following year.
Borussia Monchengladbach 2-1 Hertha Berlin
In the 2019-20 season, Monchengladbach finished a great fourth in Bundesliga, beating Leverkusen to the spot who'd beaten the team here. Needing a win on the last day, the club got it courtesy of Jonas Hofmann and Breel Embolo's goal, though they survived a late scare when Ibisevic scored for Hertha. There was no atmosphere of course, but it was a hugely important match for the club nonetheless.
Bet on Matches Now via Roger.com
You can wager on all games at Borrusia-Park with Roger.com. Get on via one of our highly recommended online bookmakers to bet quickly, safely and securely.